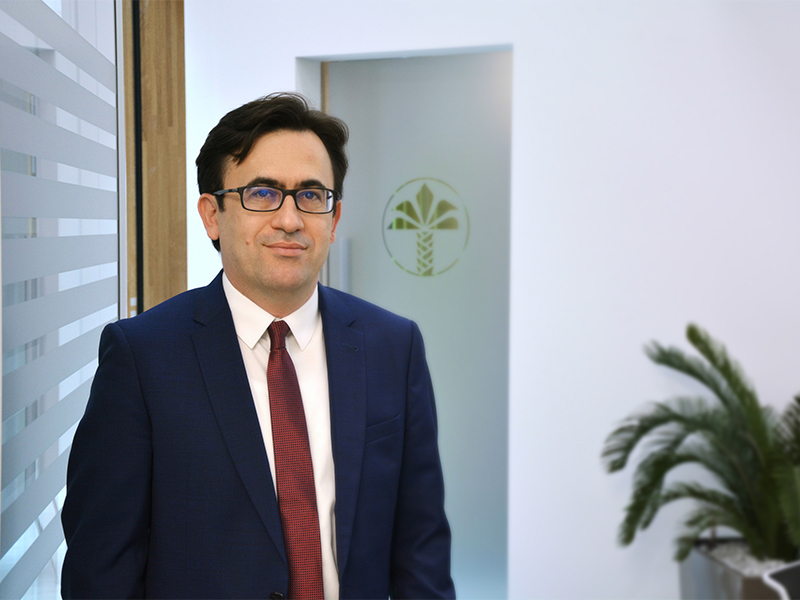 An Interview with Mr. Ahmet Kudsi Arslan, CEO and Chairman of the Management Board, KT Bank AG
As the first bank in Germany and the Eurozone to introduce comprehensive financial products and services according to the ethical, sustainable and transparent Islamic banking principles, KT Bank AG continues to be a pioneer and leader in Islamic finance. Today we sat down with the bank's CEO and Chairman of the Management Board, Mr. Ahmet Kudsi Arslan, to talk about their journey to today's success and how they carry on their mission to become the leading socially responsible and first choice house bank for the Muslim community as well as for all customers who are interested in ethical investments.
Good day, Mr Arslan! Thank you for spending time with us through this interview. You have been sharing your expertise with the Kuveyt Türk for almost two decades now. Can you share with us your professional journey – the positions you held with Kuveyt Türk along with the challenges in climbing up the ladder to success until you became the CEO of KT Bank? And how does a successful person like you would jumpstart a busy day?
Thank you for having me, the pleasure is all on my side. My personal journey and career path are very much intertwined with that of Kuveyt Türk Participation Bank in Istanbul, and since then it's been more than two decades. Kuveyt Türk is leading the Islamic banking market in Turkey for three decades. Its main shareholder is Kuwait Finance House, the most important financial institute with Islamic business model in the Gulf region.
I am with the group since I graduated in 1997 with a Bachelor of Science from the Middle East Technical University in Ankara. In September the same year, I joined my employer and gathered experience in different fields, including financial analysis, commercial and corporate marketing as well as branch management. From October 2009 until August 2013 I served as Corporate & Commercial Credit Manager and from September 2013 as Group Head of Wealth Management and Private Banking. Two years later I transferred to Germany to support KT Bank with its market establishment. KT Bank is a 100% subsidiary of Kuveyt Türk and the first bank in Germany and in the Eurozone, which introduced comprehensive financial products and services according to Islamic banking principles – a very exciting project. In January 2016, I was appointed as Deputy CEO of KT Bank and following that, in January 2017, I was made Board Member. Then, in April 2017, I was appointed as KT Bank's CEO and Chairman of the Management Board. This is a role that I enjoy very much and gives me a lot of energy as I work on a pioneering project in a promising market. My motivation and love for my job are the ultimate jumpstarts for my busy days but if you are looking for a specific winning formula I would simply say – try some Turkish coffee!
Last October 2018, the Global Finance Award once again recognised the KFH GROUP in several categories, and KT Bank AG was acknowledged as the "Best Islamic Bank in Europe". How important is this recognition for KT Bank AG?
As accolades like the Global Finance Award are happening on an international level with a lot of great publicity, we are delighted that our hard work as Islamic banking pioneers in Western markets has been recognised.
KT Bank AG was the first Islamic finance to open in 2004 in a country like Germany, which is home to one of the most competitive banking sectors in the world. Over the years, what have been the major challenges and barriers you have had to tackle?
Our market entry started with opening a representation office in Germany in 2004 followed by the granting of the financial services license from Germany, the third country deposit brokerage license in 2010 and resulted in the fully-fledged banking license in 2015 under German law for the provision of deposit and credit business in Germany. Kuveyt Türk had assumed a pioneering role in providing information about the ethical and socially responsible Islamic banking system in the German market from the very beginning. The duration of the licensing process was not surprising for the nature of such a trailblazing project in a foreign environment. The regulative implementation process was a challenge but we were supported all the way by the authorities and stakeholders who welcomed us with open arms. Yet the Islamic banking system had to be adapted to the legal framework in Germany, with all of its specific features and risks and we had to comply with all the regulatory, legal, and fiscal requirements applicable for conventional banks. The greatest challenge we faced in the process was the taxation. Germany does not provide an exemption or adaptation for our business model in that area. With regards to specific challenges, such as Islamic car purchase and real estate financing, we had to develop approaches to comply with the German legislation – e.g. our real estate financing products are set up in line with the model of the German civil-law association "Gesellschaft bürgerlichen Rechts" (GbR) to avoid double taxation.
What are the key factors of the Western market that affect Islamic banking and financial practice in Germany? How do you integrate these factors in making Islamic banking a universally ethical alternative to conventional banking in the country?
The Islamic economic law in general is based on justice and the economic well-being of society, with the market symbolising freedom and solidarity.
As a first mover in Germany and in the Eurozone, we have observed over time that European markets are becoming increasingly aware of the universally ethical qualities of Islamic banking's Quran-based values, thus attracting value-conscious clients of all beliefs. We are in a constant exchange with business communities and scholars and also support scientific research in our area. It quickly became very clear that faith-based finance models, in general, are on the rise in the Western world. Our business model shows that profits and ethics are compatible. Not only the Muslim communities here, but also the European clientele is becoming increasingly aware of the contribution of our business model to the real economy. We as Islamic bankers in Germany are thus carving out our position within the conventional banking sector, shoulder to shoulder with the ethical banking segment and on the way to sustainable profitability.
Executive Profile
Ahmet Kudsi Arslan is CEO and Chairman of the Management Board of KT Bank AG since April 2017, following his appointment as Board Member in January 2017 and holding the position of Deputy CEO since January 2016. Prior to these roles, he was part of KT Bank's parent bank Kuveyt Türk Participation Bank in Istanbul for more than two decades and in several leading positions, such as Group Head of Wealth Management and Private Banking, and Corporate & Commercial Credit Manager. Other stations of his career at Kuveyt Türk, which he started in September 1997, include branch management and financial analysis.
The views expressed in this article are those of the authors and do not necessarily reflect the views or policies of The World Financial Review.