By Terence Tse, Andrea Maria Cosentino and Mark Esposito
Non-fungible tokens – much has been said and written about them, but what is the truth? Do they have potential as a valuable commodity or is it all just digital smoke and mirrors? Maybe the success – or otherwise – of NFTs hinges on putting them to use in novel new ways, as this article explores.
It was not supposed to turn out like this. However, as repeatedly shown in the past, many novelties frequently see their spectacular rise in popularity matched by a quick decline soon after. Indeed, if the Gartner Hype Cycle is to be applied, it can be expected that the "trough of disillusionment" immediately follows the "peak of inflated expectations". The questions are often how swift the fall is and whether a technology can ever move to the next stage of the cycle – the "slope of enlightenment".

These questions are really relevant and timely for NFTs, or non-fungible tokens. Although they were once a darling for many investors, data drawn from Statista reveal that NFTs may have lost their appeal. Figures 1 and 2 show that NFTs are now trading at a small fraction of their historical high, in both sales number and value terms1.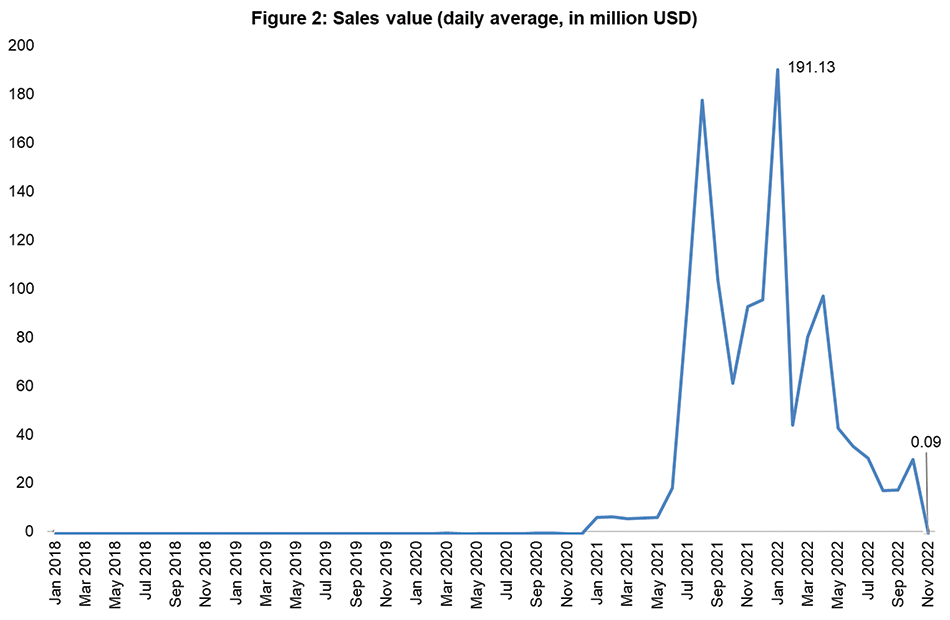 So, where are NFTs going? There is evidence that they could further decline, or return to rise from the ashes again.
Decline: wash trading
Despite the emergence of new NFT use cases, the path for NFT to regain their stellar popularity may be about to be hampered by wash trading. "Wash trading" refers to the action of a trader buying and selling the same asset repeatedly to manipulate the trading volumes, and it is an illegal practice.

The goals of the perpetrators are twofold. The first is to create an impression that there is demand for that asset, when in fact there isn't. The second is to inflate the value of an asset. A prospective buyer will be more inclined to pay top money for an NFT based on its (very active) transaction history. The result: the wash trading seller makes a profit, while the buyer ends up with an ordinary, overpriced NFT.

This has become common practice in NFT trading. As much as 58 per cent of all NFT trading in 2022 was thought to be wash trades. Indeed, January 2022 saw wash trading accounting for 80 per cent of the total NFT trading volume.2 Perhaps this should not be surprising, given that wash trading is found to be rampant in unregulated cryptocurrency exchanges. Recent research has suggested that 70 per cent of the reported volume of these exchanges was the result of wash trading.3 Wash trading is a lucrative business. It is estimated that, in 2021, 110 wash traders collectively made nearly US$8.9 million in profit from unsuspecting buyers who believed that the NFTs they were purchasing had been growing in value, and had been sold by one distinct collector to another.4

Such wash trading practice has serious consequences. Not only have these buyers lost out, but the whole industry is likely to be negatively impacted. Potential buyers are likely to become more cautious, which could lead to lengthier decision-making processes and also lower trading volumes. Artists and other NFT users, such as restaurants, often depend on the data embedded in their NFT smart contracts to track their reputation and credibility over time, a process based on transparency. Wash trading is likely to have deleterious effects on such credibility over time. Indeed, compounding with the collapse of FTX, cryptocurrencies as a whole – a market that relies heavily on trust – is probably going to get an even colder reception from potential investors and the general public in the near future. This, in turn, would only make it even more difficult for this already struggling nascent blockchain industry to expand beyond speculation and leverage, let alone going mainstream.
Rise: a new use for NFTs
Admittedly, the drop in popularity of NFTs is rather unexpected, considering that there was no shortage of speculation about the use of NFTs in real life. Films, music, gaming, and fashion have all been identified as areas where the use of NFTs could become widespread and hugely popular. However, up to now at least, such speculation has yet to turn into reality.

In fact, these tokens can potentially be used as a form of identity, certification, governance, licensing as a kind of "soulbound NFT", a non-transferable token that is specific to a particular person (or address), representing a "social identity in a decentralised society".


Of course, this doesn't mean that NFTs will slip into oblivion. New services to assemble and distribute NFTs are still being introduced. For example, Meta has just rolled out features that enable creators to sell NFTs on Instagram. Indeed, NFTs may now have found another new application: restaurants. The Flyfish Club in New York is scheduled to open this year. In its own words, it is a "members only private dining club where membership is purchased on the blockchain as NFT and owned by the token-holder to gain access to our restaurant and various culinary, cultural and social experiences".5 Essentially, NFTs have now turned into a tradable and digital membership card.

Others, such as NFTable, allow the NFT owners to be "on the list" and have "their own table" for every visit at partnered restaurants. Another is Front of the House, which helps restaurants sell "digital collectibles" (i.e. NFTs) that grant special access to holders. So, instead of having to put up with queuing or booking way in advance for very sought-after restaurants, one can pay $1,000 for the privilege of booking once a week with only 24 hours' notice. In effect, owners of these NFTs are paying to jump the queues.
Complicated but (not) promising
Is there hope for the non-fungible market? Perhaps the devil is in the detail. In July 2021, Damien Hirst, arguably Britain's richest artist, launched his first NFT collection, "The Currency". Each NFT corresponds to a physical painting featuring his signature multicoloured dots, made from enamel paint on handmade paper. The tokens were initially available for $2,000, which was considered affordable compared to Hirst's other output.

Fast forward to October 2022, when he threw hundreds of his artworks into a fire, including "The Currency" with 10,000 NFTs attached. Now, the token owners had to make a choice: take the painting and lose the NFT or hold onto the NFT to witness the painting bought for a handsome sum being burned live. The result was almost an even split – 5,149 opting to trade their NFT for the original painting, and 4,851 choosing the NFT.

Regardless of whether it was a publicity stunt or act of genius, NFTs are transforming the way artists can use blockchains and smart contracts, enabling more of them to sell and distribute their works – both digital and non-digital – as well as making the art market more accessible. The biggest benefit of linking physical artworks to NFT is that sellers and buyers can easily prove that the art piece is genuine, or not.
Films, music, gaming, and fashion have all been identified as areas where the use of NFTs could become widespread and hugely popular. However, up to now at least, such speculation has yet to turn into reality.
Yet it is not without complications. For instance, an artist could create a physical painting, then sell the digital print as an NFT to one buyer (or buyers) while selling the physical copy to another. Another issue is that, in most cases, buyers cannot display their NFT to the public, given that they own only the artwork, but not the copyright. Unless the copyright is embedded into the terms of the NFT, the owners do not have the right to share or distribute the artwork. Until these kinks are ironed out, it may remain difficult to inspire investors with confidence.

Enthusiasts believe that NFTs can also extend their application to real estate. This is particularly the case, as many would argue, with the arrival of the metaverse. As in the real environment, in this digital world it is possible to buy and own NFT houses, NFT flats in NFT buildings, and NFT lands. Indeed, some virtual real estate NFTs are even tied to physical properties in the real world. Other times, real-life real estate NFT can be created by registering a physical asset on a blockchain and creating a record of ownership, making it easier for the NFT to change hands and to keep records of the transaction.

As these use cases in the art and real estate markets illustrate, in theory at least, NFT has created a bridge that hybridises real life and virtual assets. This is arguably one of the best uses of NFTs. In fact, these tokens can potentially be used as a form of identity, certification, governance, licensing as a kind of "soulbound NFT", a non-transferable token that is specific to a particular person (or address), representing a "social identity in a decentralised society".6

However, with so many uncertainties still surrounding NFTs, it remains to be seen where they are heading. There are arguments as to whether it is the headwind or tailwind that is getting stronger. Either way, the non-fungible market is far from being a commonly used item in our daily life.

About the Authors
Terence Tse is professor of finance at Hult International Business School. He is also a co-founder and Executive Director of Nexus FrontierTech, an AI scale-up. Terence has appeared on television, in radio shows and in periodicals. He has given seminars, workshops, and speeches for and to some 50 organisations. Terence has written three books, with the next to be published by MIT Press in 2024. He is on the board of various entities, including Nexus FrontierTech, Thyreality, Tolar HashNET, and Circular Economy Alliance. Previously, he was in investment banking and consulting. Terence has a PhD from the University of Cambridge, UK.
Andrea Maria Cosentino, MSc, IMC is the founder and CEO of Impact Fundry, a venture capital studio and strategic consulting boutique that accelerates start-ups, SMEs and corporate enterprise to enable growth and sustainable value creation. He is a finance, digital transformation and entrepreneurship expert at the ESCP Business School and an advisor to several start-ups and accelerators, including Barclays Rise and Level 39 in London. He lectures at various universities around the world and speaks at multiple conferences, with publications on LSE Tech Review, World Economic Forum, and MIT Tech Review. He contributed to the book The Internet of Value published by the Blockchain Center at UCL.
Mark Esposito is a professor of business and economics at Hult International Business School. He is an entrepreneur who co-founded Nexus FrontierTech, and a bestselling author and a senior advisor to governments. In 2016, he was listed as one of the 30 prominent business thinkers by Thinkers50 Radar. Mark has written hundreds of articles between peer and non-peer review magazines, 11 books, including two bestsellers, and his next books on The Great Reset Ahead Of Us are due in 2022 with MIT University Press and Cambridge University Press. Since 2011, he has taught courses in business, government and society, and economic strategy and competitiveness, at Harvard University's Division of Continuing Education. Mark holds a doctoral degree in Business and Economics and works across Phoenix, Boston, and Dubai.
References
Chainanalysis (2022) The 2022 Crypto Crime Report Original data and research into cryptocurrency-based crime, February
Disclaimer: This article contains sponsored marketing content. It is intended for promotional purposes and should not be considered as an endorsement or recommendation by our website. Readers are encouraged to conduct their own research and exercise their own judgment before making any decisions based on the information provided in this article.


The views expressed in this article are those of the authors and do not necessarily reflect the views or policies of The World Financial Review.