Penny Stock trading is often promoted as a smart way for small traders to participate in the financial markets. Penny Stocks are stocks of small companies and they typically trade under $5 per share. Timothy Sykes is a well-known figure in the penny trading industry. He lives a glamorous lifestyle complete with an Instagram feed of exotic cars, global travel, posh mansions, and wads of cash. Interestingly, he also teaches people how to become successful penny stock traders and he supposedly has several millionaire students.
However, I asked some friends about him and the discussion was polarized on whether he is a successful penny stock trader or a charlatan making his money by selling a dream of financial prosperity.
After countless hours of research and not being any wiser, I decided that the best way to find out was to sign up and see for myself the quality of the penny stock trading education that he provides. This piece is a no-holds-barred, unbiased Timothy Sykes review detailing the good, bad, and ugly side gleaned from my first-hand experience of his training program.
Timothy Sykes Review: Who is this guy?
Timothy Sykes is reportedly a self-made multimillionaire who made his fortune trading penny stocks. According to his testimony, it all started when his parents gave him his $12,415 Bar Mitzvah gift money in what was supposed to be a learning experience for him. His parents figured that he will blow the money frivolously, but they were hoping that the experience will teach him about the finite nature of resources and the need to make intelligent financial decisions.
However, instead of spending the money on the latest fashion trends and gadgets, Tim first tried to trade the big stocks on Wall Street. And then he observed that his $12, 415 account was a tiny drop in Wall Street's ocean. His portfolio was small and the results he was getting didn't quite measure up to the energy and time he was expending.
He then started trading penny stocks and he discovered that he had a much better performance by riding the momentum of trending stocks. So, he devoted time to finding the most effective and efficient ways to trade penny stocks and he ended up turning that $12,415 into $1.65 million by the time he was a freshman. As at today, his lifetime trading profit is more than $5 million as seen in his PnL chart below.
Being a natural extrovert, Tim was always talking about his success with penny stocks and it wasn't long before friends and family members started requesting that he teach them how to make money trading penny stocks. He eventually standardized his training program to provide penny stock trading education to people all over the world.
Timothy Sykes Review: What is his trading strategy
Timothy Sykes's trading strategy is surprising in its simplicity, but it requires a great deal of self-discipline in its execution. Tim tends to build his strategy around technical analysis, but he is not oblivious to how fundamentals such as news events could move stocks in response to human nature.
I dare to say that Tim isn't usually interested in the underlying business of his target stocks. If you are approaching penny stocks with an investor mindset, Tim will disappoint you. However, Tim has expertise in identifying penny stocks that are already on the move, buying them just when the momentum kicks off, and then selling them just before the momentum drops. Hence, Tim typically holds his positions for a few hours, and he rarely holds a stock for more than two days.
While this sounds incredibly simple, many people tend to fall in love with their winning stocks and they hold on to winners until the market snatches back all the gains they've made. On a personal note, Tim's brash tough love teaching style has made me better at managing the emotions of fear and greed. If that's the only thing you gain from Tim, it's more than enough to make you a better trader.
Also, Tim has mastered the art of shorting penny stocks even though many traders and brokers make it seem as if it is impossible to short penny stocks.
Timothy Sykes Review: Training Programs and Packages
When I came across Timothy Sykes' online courses, my first response was sceptical as I recalled the old saying: "in a gold rush, it is better to sell picks and shovels". I was wondering if his training programs weren't a cleverly disguised way to sell picks and shovels to people looking for metaphorical gold in the stock market.
However, after digging deeper, I came to realize that Tim is passionate about trading education, he sincerely wants other people to achieve financial freedom, and he is going out of the way to make the knowledge accessible to all. Of course, many of his content is gated and you'll need to pay to access them, but he has hundreds of videos on his YouTube channel available for free if you'd rather not pay.
However, if you want a structured learning experience, Timothy Sykes offers three levels of trading education; namely, Tim's Alerts, PennyStocking Silver, and Tim's Challenge.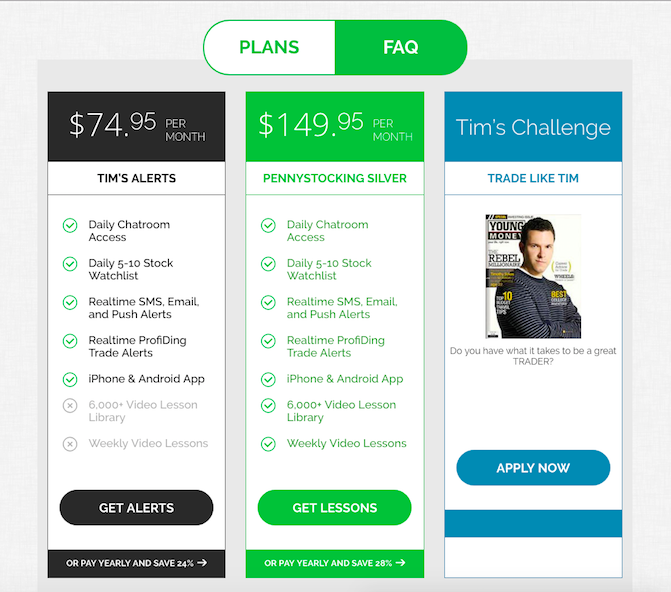 Tim's Alert costs $74.95 per month but you can get a 24% discount if you sign up for the annual plan. You'll have access to the chatroom, get up to 10 stocks on your watch list, and you'll get real-time Email, SMS, and Push trade Alerts to enter or exit trades. From personal experience, the alerts are only useful if you got them and respond in the near-instant that they were sent. The market is constantly moving, and an hour-old alert may not be of much use to you if the trading price has moved up/down from the price suggested in the alert.
The Pennystocking Silver plan is much a better deal because it gives you access to a 6,000+ video library and weekly video lessons in addition to all the benefits available with Tim's Alerts. PennyStocking Silver costs $149.95 per month but you can get a 28% discount with the annual plan.
The video lessons help you to understand the fundamental ideas behind each of Tim's trades. Hence, even if you didn't get the trade alerts immediately, you can still leverage the knowledge that you have gained to find better entry and exit points. Tim's goal is to equip people with the knowledge to make independent trading decisions and he strongly discourages people from attempting to copy his trades blindly.
If you have more time to commit to trading and have a bit more money to spend on your trading education, you should consider applying to Tim's Challenge. If you apply to Tim's Challenge and scale through the interview process, you'll be privy to a more immersive mentorship relationship with Tim.
You'll have access to watch 16 premium DVDs such as PennyStocking, PennyStocking Part Deux, ShortStocking and Learn Level 2 among others. I sat down to do the maths and I discovered that the DVDs available in Tim's Challenge have a total runtime of more than 180 hours. Apart from the DVDs, you'll also get access to curated 60 Video Intro Course, chat and chat archives, webinars, and trade Commentary among others.
However, I must warn you that Tim's Challenge is very demanding, I doubt that you can combine it will a full-time job because it requires you to put in serious time and efforts. However, if you can go through the program, you'll potentially be on the path to joining the alumni list of Tim's successful students.
Trading Tips for Beginners
Day trading tips for beginners can come in all shapes and sizes, which can cause a significant impact in one's wealth. Each individual trader may want something very different—from free stock picks to stock tips for newbies. We've tried to collate a number of useful tips for those just starting out in the market, ranging from the top 10 ways to make money, to more advanced methods for building wealth through day trading, like the concept of leveraging and leverage trading, and the concept of momentum trading.
In the beginning, it can be difficult to find profitable strategies. A great starting point is simply to follow the news. Be it a news story regarding economic activity in the United States or European countries, or any other news, you're bound to hear about stocks that are likely to rise or fall. This is a good place to start and a good place to get started.
Check the following trading tips for beginners:
A great strategy is simply to purchase a stock when there's good news going on and sell when there's bad news going on. However, this method can be risky and if you follow it religiously, you run the risk of losing everything. Therefore, a great place to start is to simply study up on the trends of the past, look at how the trends were affected by a number of variables, and try to discover how one particular trend was affected by a number of other factors.

Each trader is different, so it really depends on what you think is important to your own personal method of making a profit. In most cases, day trading for beginners' tips include a number of different strategies. The most popular among these strategies is the use of leverage. Leverage is a means of borrowing stock from a company and selling it for a higher price. As the name suggests, it's the ability to buy at a lower price than you can sell it for.

Of course, you do risk losing the whole sum if you sell the stock at a lower price than you bought it for, but it's a great way to supplement your income through day trading with a little bit of extra cash every week.
Final Verdict: Is Timothy Sykes a scam or real?
The subject of whether Timothy Sykes is a scam or not is a regular fixture in penny stock trading circles. Based on my personal experience and the information available on Profitly, my verdict is that Tim is very much the real deal.
However, I dare to say that Timothy Sykes' training is not meant for everybody. If you are looking for someone to tell you what stocks to buy/sell or if you want to be spoon-fed on when to buy/sell and at what prices, Tim Sykes won't meet your needs. Also, I don't think that Tim's Alert plan is particularly worth the expense; Tim is rarely in the chatroom and you might be lost in the "noisy" chatroom if you don't have some previous trading experience.
However, if you are ready to learn and willing to put in the hard work, Tim could set you on the path to taking responsibility for your trading journey and eventual success. Nonetheless, you should note that you aren't likely to become an overnight millionaire by trading penny stocks. Some of Tim's students have crossed the million-dollar mark but many more are stuck in the six-figure range. Success is attainable, but it won't be handed to you on a platter of gold.
Happy Trading!
Disclaimer: This article contains sponsored marketing content. It is intended for promotional purposes and should not be considered as an endorsement or recommendation by our website. Readers are encouraged to conduct their own research and exercise their own judgment before making any decisions based on the information provided in this article.


The views expressed in this article are those of the authors and do not necessarily reflect the views or policies of The World Financial Review.