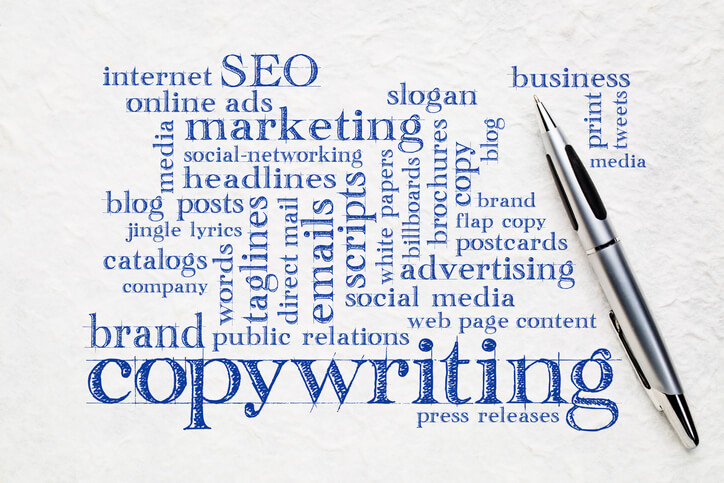 By Liz Slyman
Copywriting is so much more than throwing a few flashy sentences together on a page. And when it comes to copywriting for your business, nothing is more important than the first impression your copy makes on potential clients visiting your website, reading your promotional materials, and more.
The writing that represents your business should offer impactful, memorable messaging that leaves a solid impression on the reader. Quality copywriting immediately lets your reader know that your product or business is exactly what has been missing from their life.
Providing the reader – and potential customer – with the right perspective is what good copywriting provides. With endless online business options available online, clever, and concise copywriting is what helps make one business stand out above the rest. 
Here are a few essential copywriting tips from a copywriting agency owner to help you catch and keep your reader's interest, taking them from a potential client to a dedicated customer.
Promote Your Products & Services
Your business is your brainchild, and you already know you have a great product or offer an incredible service. Plus, you know your business has exactly what it takes to help potential clients gain what they are seeking.
Clearly identifying the value and worth of your business is one of the first things you must include in your copywriting. Lay out the details with easy to understand explanations of your services. The goal is to write in a way in which the reader has all of their questions answered once they are done reading.
Keep in mind that your reader may be coming to your business page for the very first time. They may have received promotional material from you for the first time and take in that first impression as a decision to contact you or not. They may have zero knowledge about your services and all that is offered. This is your time to shine by informing them of the benefits of your business and why they need to get involved with your business.
Do not be shy! Let people know exactly why your product is exactly what they need…and that they need it now! Clearly outline the benefits of utilizing your business and products. Explain how these products or services will change the life of those who choose them. Make it all about THEM!
Get to Know Your Audience
Knowing your audience is key when creating quality content. When you know your audience, you are able to write in the proper tone to properly relate to and target the interests of those who may be most likely to utilize your services.
Initially, you must evaluate your customer base. It is time to do your research and find out exactly who your audience is and why they are seeking out your services. Think of it this way, writing to an audience of millennials is not going to be the same approach as writing to an audience of boomers.
Your copy and tone need to be easy to understand and be sure to grasp and keep the reader's best interests in mind. Keep the copywriting clear and concise. Avoid the fluff language and get to the point. People tend to skim when they read, meaning they typically will not read every single word. This is why keeping your language and messaging short and to the point helps ensure your message gets across and does not get lost in the fluff of unneeded language. Stay relatable to the audience in which you have researched prior to writing. 
Hey You! Speak to the Reader
Once you have clarity of exactly who you are writing for and you know your audience, your copywriting should speak directly to them. When writing, use "you" not "we" when addressing the reader. Make the messaging about them. Addressing the reader directly as "you" ensures you are not only making the messaging more relatable, but it takes on a more personable tone, one that people are more likely to be more reactive to. 
A conversational yet professional tone brings comfort and confidence along with it. People tend to trust a tone that is smart and conversational, but still remains professional. If you need extra help figuring out how to talk to your ideal customer, don't hesitate to take copywriting courses.
Boast The Benefits
Take a step back and look at how a new subscriber or client sees your page. In most cases, they are coming onto your page with zero knowledge of your business. They most likely did a Google search and your business appeared. This is why your copy writing must stand out.
Clearly share the benefits and highlights of your products and services. What will the reader gain as a customer? How will their life improve as a result of utilizing your business and services? Speak about promos and offers customers receive or mention any exclusive products available to them as a customer.
Explain Why Your Business Trumps the Competition
Of course you know your business has so much to offer. But new customers have no idea. It is up to your copywriting and messaging to make sure they know!
First, do your research regarding your top competitors. Remember that while some potential new customers may have also already looked into your competitors, some may not. It is up to you to provide your reader with factual information on why your business is best. It is OK to reveal the weaknesses of your competitors. Just stay fair and honest with your commentary. This does not mean to trash talk your competition, rather highlight the strengths and benefits of your business and why you are the better choice.
Offer a Call to Action
Always include a call to action for the reader. When you do not have a call to action, you are leaving your reader hanging in a sense. The call to action adds a sense of closure and a step forward for the reader. Great calls of action are to invite the reader to visit your website. Be sure to include the link. Plus, invite them to follow your business on social media and include the proper linked icons. This not only gets them connected but helps build your audience of new and potential customers.
Effective Copywriting for the Win
Your copy writing should do more than entice your reader, it should make it a no-brainer for the potential client to turn into a new client. Effective copywriting is a very powerful tool in business and with the right copy, you can easily gain the new clients you seek and retain the ones already on board.
About the Author
Liz Slyman is the CEO of Amplihigher Copywriting Agency based in Austin, Texas. Over the last decade, Liz has thrived as an uber creative and talented copywriter and has written copy and content that has generated millions of dollars for her ever-growing roster of clients. Liz oversees a talented team of writers and editors at Amplihigher, and she offers a series of copywriting courses, kits, tools, and templates. Her love for writing is reflected in her passion and love of her work. You can find Liz working from her laptop anywhere a solid wifi signal reigns.
The views expressed in this article are those of the authors and do not necessarily reflect the views or policies of The World Financial Review.