Looking back on gambling in 2018, it's clear what one of the biggest and most seismic moments was. On June 14th, New Jersey Governor Phil Murphy placed the first legal bet in the state he represents. He made two wagers – $20 on Germany to win the World Cup, and another $20 on the local Jersey Devils hockey team to take next year's Stanley Cup. Modest bets perhaps, but it was still a landmark moment. It marked the beginning of legal US sports betting and the start of a business that could be worth $6 billion by 2023.
Seven states have since legalised sports betting (Nevada, New Jersey, Delaware, West Virginia, Mississippi, Pennsylvania and Rhode Island) while a further 19 states either recently passed a bill or had one introduced. Meanwhile, professional sports leagues that were previously opposed to legalising sports betting are scrambling to get in on the action.
The long road to legalisation
Murphy's first bet didn't come without a struggle. The road towards legalisation began in 2012 with Democrat Senator Ray Lesniak officially raising the issue of individual states being able to determine whether sports betting would be legalised within their borders.
Before that could happen, a federal law known as PASPA (Professional and Amateur Sports Protection Act) – which prohibited states from making their own decision on sports gambling – had to be overturned. Lesniak and his allies faced tough opposition from the likes of the NFL, Major League Baseball, the NCAA and the NBA, all of which were concerned that legitimising sports gambling could compromise profits.
Victory for proponents of sports betting finally came in May, however, when the Supreme Court ended 26 years of restrictions and set the stage for Murphy's bet just a few weeks later. It was a move that added more than £1.5 billion to the value of London-listed betting companies in the space of 24 hours. You can find out more about the initial reaction from that remarkable day and more analysis here in this insightful feature about US sports betting.
Sports leagues get on board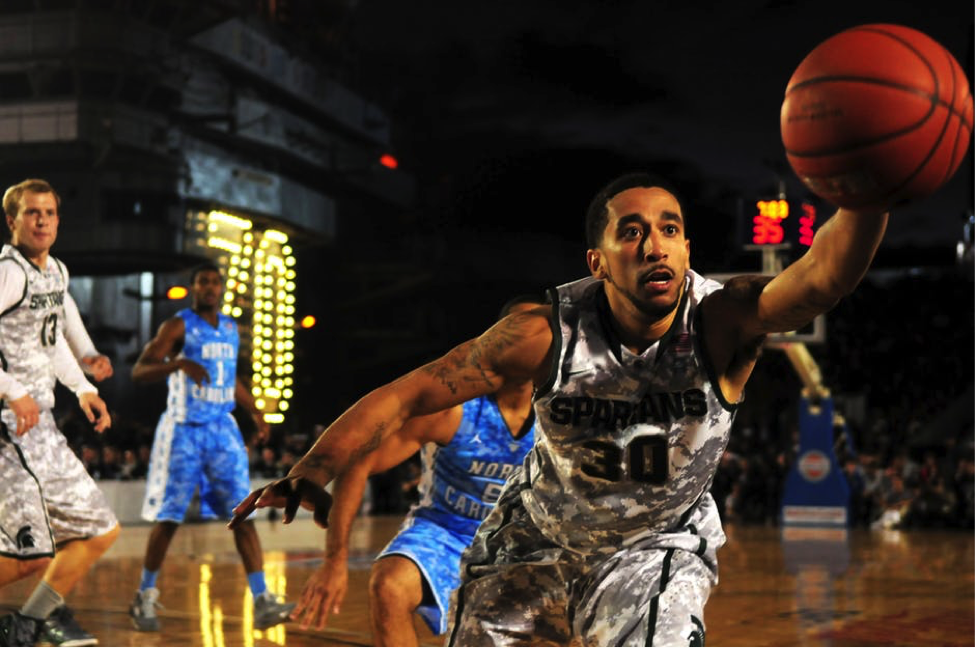 Despite an initial reticence to embrace sports betting, the major sports leagues are getting involved quickly. An initial hope was that they could collect a so-called 'integrity fee' of 0.25 per cent to one per cent of proceeds to cover the alleged additional costs associated with keeping their sports corruption-free. The gambling industry, however, has pushed back.
Speaking at a November sports betting conference in New York, MGM CEO Jim Murren said: "We're not interested in paying an integrity fee. We're actually offended by that concept. But we are willing to pay – and pay well – for data and sponsorships and co-branding. In-game betting is going to be so popular that to have league-endorsed data, the most relevant and current, is going to be critical."
An organisation that's been early to embrace this stance is the NBA. Scott Kaufman-Ross, vice president and head of fantasy and gaming for the NBA, said the league acknowledged and recognised the changing landscape brought about by the shift in legislation. "We're going to have better results in a regulated market than an unregulated market," he said.
The upshot is a deal with Sportradar and Genius Sports to distribute NBA betting data to sports gambling providers in the US.
Meanwhile, Major League Baseball, the NBA, WNBA and NHL have reached agreements to partner with MGM Resorts to become an official gambling partner. In the world of online gambling, one leading operator struck a deal with the New York Jets, which agreed to feature its branding during games. There's no doubt more partnership deals will be agreed in the coming months as more brands try to manoeuvre themselves into a commanding position for when the floodgates open and online sports betting and gambling is finally legalised across the US.
A potentially huge boost to the US economy
There are numerous arguments as to how much the US stands to gain from legalising sports betting – but by all estimates, it's pretty sizeable. Americans bet an estimated $4.76 billion on Super Bowl 52 this year – but only 3 per cent of that was done legally. The rest went offshore through international betting applications. One study claims the black market for sports betting is around $400 billion. Now that legalisation of sports betting is possible, there's hope that this kind of money can be kept in the economy, and reinvested in public services such as schools, transport and hospitals.
An Oxford Economics report commissioned by the American Gaming Association and published in 2017 found that sports betting could contribute $11.6 billion to $14.2 billion to US gross domestic product annually, depending on the specifics of which states adopt it and what tax rates they use.
Investment bank Moelis & Company has gone further, predicting that if all 50 states follow New Jersey's example the industry could be worth between $20 billion and $25 billion. Furthermore, the Oxford Economics report found that legal sports betting would create between 125,000 and 152,000 jobs, paying between $6 billion and $7.5 billion in total wages.
"It feels like a gold rush"
The United Kingdom, which has had legal sports betting since 1961, is seen by many as an example of the benefits legalised sports gambling can bring. The Gross Gambling Yield in Britain from 2016 to 2017 was £13.8 billion – the equivalent to £208.50 for each citizen. Online gambling has caused the industry to balloon, and now accounts for £4.5 billion annually. It's the UK's largest single source of gambling revenue.
In the US, research firm Eilers & Krejcik Gaming LLC estimates that online gambling could account for $9 billion of sports betting revenue thanks to the ease of access to mobile applications. As Sharon Otterman put it: "It definitely feels like a gold rush – the new industry with everybody trying to get a piece of it."
Whatever the future may be, it offers massive potential boons for sports leagues, gambling firms and sports fans alike, not to mention to US tax coffers that are losing billions of potential tax dollars to the black and grey markets.
Summary
In short, it remains to be seen what benefits legalised sports betting could bring the US – and indeed, when US citizens can begin to enjoy them. But momentum is certainly well behind this emerging industry that's already flourished in many other parts of the developed world.
The views expressed in this article are those of the authors and do not necessarily reflect the views or policies of The World Financial Review.