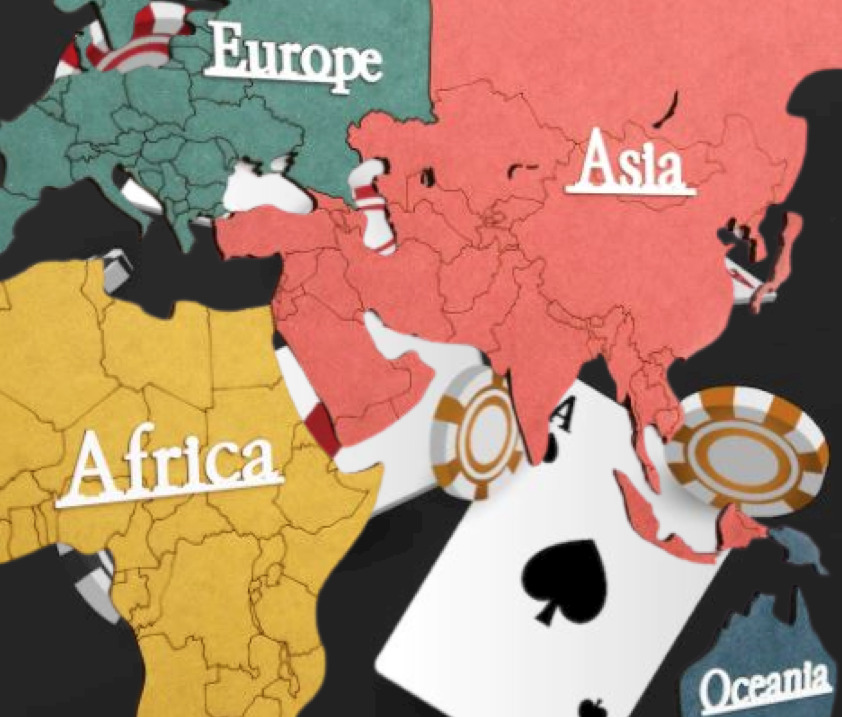 Millions of people around the world enjoy gambling, but it's not always easy to know where you can do so safely and legally. The landscape of online gambling is constantly changing, as new countries legalize it and others crack down on it. It can be hard to keep track of what's legal and what's not. That's why we've put together a comprehensive guide to legal online gambling around the world. Whether you're looking for information on a specific country or just want an overview of the current situation, we've got you covered.
North and South America
Gambling has been a popular pastime in the Americas for centuries, dating back to the pre-Columbian era. However, the twentieth century was not the best period in US gambling history. At one point, Las Vegas was the only legal gambling location in the United States.
By the end of 2022, most US states will have legalized at least some form of gambling. One of the major breakthroughs occurred early this year, when online betting became legal in New York, the nation's fourth-most populous state.
In Canada, the situation is very similar – each province determines its own gambling status. As a result, online gambling is legal in some parts of Canada but not in others. More provinces are expected to legalize gambling in the near future, as a result of Ontario legalizing sportsbooks and casinos. As Canada's most populous province, trends there tend to cause changes throughout the country.
It's a similar deal in South America as well, although the biggest country in the region, Brazil, still keeps most gambling forms illegal.In Central America, several island nations have made online gambling legal – Honduras, El Salvador, and so on.Further, some of those countries also serve as a fertile ground for gaming companies to register their online casinos. Curacao is the one that stands out the most. This is a place where literally hundreds of online casinos are licensed. Then, there's Costa Rica, which is where some of the most successful US-focused betting sites are based, (e.g., Bovada).
Asia
Some countries like the Philippines are completely gambling-friendly, with a booming online gaming industry. Other countries, like China (mainland), Indonesia, and the UAE, completely ban all forms of gambling. All the others fall into a middle ground. 
Thailand currently prohibits casinos, but many experts believe the COVID pandemic compelled the government to consider legalizing gambling in order to rebuild the country's tourism industry. Japan is preparing for their new integrated resorts while local online casinos remain illegal. Gambling at offshore casino operators is however not illegal as long as it's conducted through a licensed platform located outside of Japan. What this practically means is that Japanese casino players need to make sure they bet at legit, safe, and secure online casino sites. It's a similar situation in the Indian states of Goa and Sikkim, Kazakhstan, Azerbaijan, and so on. 
Africa
South Africa is the continent's leader when it comes to internet gaming. This country is where the industry is not only legal but regulated as well. Only gambling and betting sites with a South African license are allowed to operate. It's supposed to be a similar deal in many other countries around the continent, but things are going slow. As a result, in most African countries, online gambling falls into a gray area – it's not 100% legal but is tolerated.
Australia
According to a recent study, about 50% of Australians gamble on a regular basis. Brick and mortar casinos are particularly popular in Australia, but the online space is also quite robust. With AUS 9,419 spent on online casino games on average every month, Aussies are the biggest gamblers in the world. That said, it's no surprise that Australia's policy toward online gambling platforms is quite liberal. It's a similar case when it comes to New Zealand, with the only difference being that only locally licensed sites are allowed to operate as online casinos.
Europe
Looking at Europe it's clear there is a patchwork of different regulatory frameworks and some experts say the EU has a lot to learn from the new gambling regulations in the USA. The UK and Ireland are among the most liberal countries in Europe when online gambling is concerned. There are literally dozens, if not hundreds of gambling sites operating in those countries. However, all of them are licensed by the government – sites with no license aren't allowed to operate in those countries. Most other European countries are trying to follow the same example. The same kinds of laws are in force in Germany, France, Italy, and so on.
Malta, Cyprus, Gibraltar, and a few more countries and territories, are not just gambling-friendly but also offer great deals for businesses to launch their online casinos. Getting licensed in those places might not be as difficult as in, let's say, Germany, while the taxes are also considerably lower. 
The views expressed in this article are those of the authors and do not necessarily reflect the views or policies of The World Financial Review.