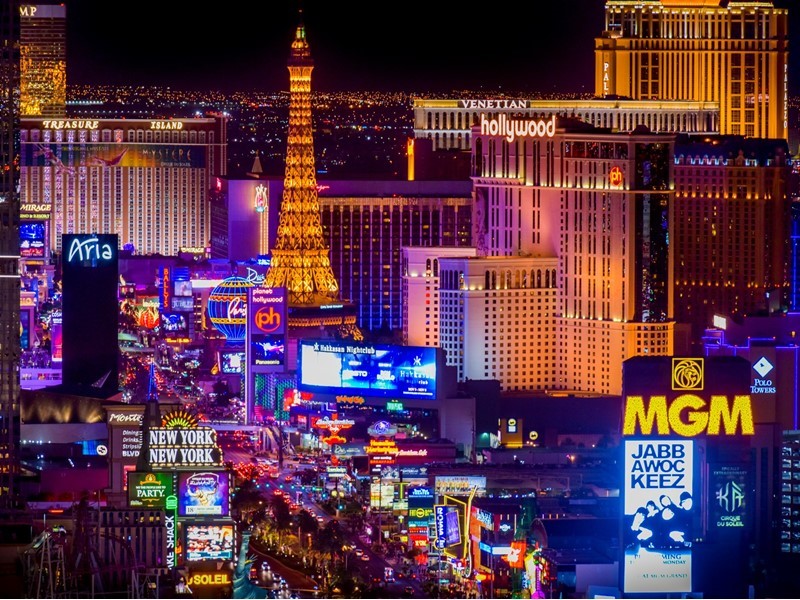 Las Vegas has a reputation around the world as a playground for adults. It is thought of as one of the leading destinations for gambling, entertainment, and partying. People from all over the world flock to its renowned casinos, live shows, and venues looking for a good time and to let loose.
A lesser-known fact about "Sin City," however, is that suspected haunted Las Vegas hotels have a widespread reputation as a home for the supernatural. Perhaps it's the many misadventures that have been had there, or perhaps it's the peculiar positioning of Vegas as a hive of bright shining lights in an otherwise remote desert environment. Either way, it's likely that supposedly haunted Las Vegas hotels haven't earned a reputation as a magnet for ghosts, hauntings, and paranormal activity by accident.
Some haunted Las Vegas hotels have had dark histories, and rumors have spread from past guests that have stayed in their rooms. In fact, many tourists also flock to Nevada to get a glimpse of these haunted hotels in Las Vegas.
So-called "dark tourism," or tourism geared toward exploring the darker aspects of a destination, has become common. Travelers don't just visit cities to experience their positive qualities any longer.  Many tourists are interested in peering into the darker underbelly of a city's history.
In Nevada, this often takes the form of staying in one of its many haunted hotel rooms in Las Vegas. Let's take a look at some of the most notorious among them in case you should ever have the courage to stay in one.
1. The Luxor
If you've ever visited Las Vegas, chances are that you've caught a glimpse of this ominous, pyramid-shaped structure. With a massive Sphinx at its forefront and an enormous pyramid with a beaming light shining powerfully into the sky, The Luxor hotel and casino is hard to miss. Luxor's design is modeled after the architecture of ancient Egypt. 
While its impressive design is internationally renowned, not many people know that the hotel has a dark history. Many construction workers died while it was being built. Many superstitious Vegas-goers believe that it's the ghosts of many of these workers that haunt its illustrious halls.
Perhaps it's for this reason that the hotel and casino are included in reviews and blogs by dark tourists that visit and stay in its hotel, hoping to have an experience of the paranormal.
Other accounts of paranormal activity at The Luxor mention the ghost of a teenage girl that is rumored to haunt the premises, wandering through its sizable rooms and terrorizing its guests.
All that being said, The Luxor still maintains a dedicated following and continuous patronage of clients, many of whom are completely unaware of its dark history. Aside from being one of the most well-known haunted establishments in Vegas, it's also a beloved hotel and casino. In fact, it's included in many lists of some of the best hotels in Las Vegas.
2. Bally's (The Old MGM Grand)
When searching for the latest and greatest haunts in Vegas, many tourists might not think to consider the MGM Grand. This is because many people don't realize that the MGM Grand's original location was rebranded to cover up a dark past. In fact, the MGM Grand fire in 1980 was the hotel fire with the second-largest death toll in United States history.
With a sticker price of $107 million, the original MGM Grand hotel and casino was one of the first luxury establishments of its kind on the Las Vegas strip.
The fire took 87 lives. Many died in horrific and gruesome fashion, suffering from life-ending burns, skull fractures, and carbon monoxide poisoning. Many victims, overwhelmed by the carnage, jumped from the top floors of the hotel to their death.
To make matters worse, many experts today believe the fire and its horrific effects could have been prevented. The combination of ignored safety protocols, cheap synthetic materials to make the hotel appear lavish, and lack of an adequate number of sprinklers caused the fire to spread quickly and suddenly. Had proper regulations been followed, the fire could have likely been prevented from spreading.
As a result, dozens of lawsuits filed against the establishment were settled for an amount totaling $223 million. According to Gamblers Daily Digest, so widespread were the rumors of ghosts haunting the premises after the fire that MGM Grand opened their current location down the block, where it still exists to this day. The original MGM Grand was renamed Bally's after being sold to a new owner, where it still attracts dark tourists from around the globe.
3. Caesar's Palace
One of the major staples and household names of the city, Caesar's Palace is an extremely popular destination in Las Vegas. Gamblers from around the world come to test their luck in their renowned casinos. Behind its luxurious, larger-than-life appearance, however, lurk rumors that the famous hotel and casino is haunted.
When asked for his opinion on Caesar's, casino expert Adrian Sireca of Online Casino Gems said that "Caesar's Palace is one of the most fun casinos in Vegas, and one of the most sinister. Many gamblers with a penchant for the dark and mysterious have been drawn to it and I expect that many more will in the future as well."
Most rumors stem from its eerie sense-activated fountains turning on and off on their own volition. Many believers in the paranormal also point to a crap table that was thought to be haunted for years, paying off a profit to gamblers for 13 months in a row – an event that is unheard of in the world of casino owners. 
In fact, some sources report that casino staff members were so unsettled by the table that one day it was taken out and burned. The statue-laden, Roman-influenced architecture of Caesar's Palace also creates a creepy, somewhat disarming aura, and gives the location a sinister demeanor. According to Gambling News Magazine, it remains one of the oldest and most popular destinations in Las Vegas to this day.
In conclusion, if you consider yourself a fan of the supernatural, weird, paranormal, and mysterious, Las Vegas might be a good place to plan your next trip. Aside from its reputation as a playground for grown-ups, it offers just what dark tourists look for in some of its most historical landmarks.
Disclaimer: This article contains sponsored marketing content. It is intended for promotional purposes and should not be considered as an endorsement or recommendation by our website. Readers are encouraged to conduct their own research and exercise their own judgment before making any decisions based on the information provided in this article.


The views expressed in this article are those of the authors and do not necessarily reflect the views or policies of The World Financial Review.