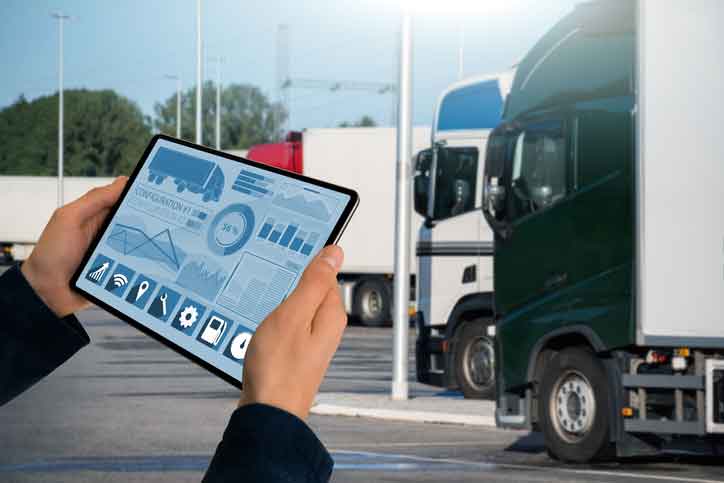 A fleet management software system is essential to any delivery service. Keep reading to find out the benefits of fleet management software and why you should invest in a quality software system.
What Fleet Management is and How it Works
Fleet management software is designed to provide businesses with data, tracking and route optimization features and automated processes to ensure the delivery stage is a success. It utilizes algorithms to solve modern delivery problems, especially with overcrowded and constantly-growing cities with traffic and layout issues. This software enables the collation of information using advanced artificial intelligence to find the best options when it comes to driver routes and ways to increase financial gains. It also allows for the monitoring of vehicles and drivers, including the details of driver speed and distance traveled. A good software system will collate data and then transfer it into visual information on how the business can improve its efficiency.
Benefits of Fleet Management Software
1. Improved Customer Satisfaction
Body: Fleet management software can optimize not only the delivery process, but also – as a result – the customer service quality. Their experience with the shipment will make or break their perception of your business, With 73% of consumers saying a bad delivery experience would be enough to make them take their business elsewhere. As such, it's no small feat that a good software system can prevent customer loss with the exceptional service it offers. One of the most satisfactory elements of a software system is the tracking feature. This includes real-time updates on the location of the delivery, along with access to live-map tracking. Detrack's fleet management software includes the Tap To Track, which enables customers to track their delivery in real-time. The result is a happy customer, which means repeat business.
2. Financial Savings
With a management software, route optimization means you'll have fewer failed deliveries and happier customers. This means you'll save money that would have otherwise been lost on inefficient and unsuccessful deliveries, along with the cost of losing customers. It costs 5 times as much to get new customers than retain old ones and, as such, the benefits of maintaining your customer base are invaluable. You'll see the savings before your eyes as customers will enjoy live notifications and real-time tracking, thus improving the chances of getting repeat business. Plus, you'll have great financial savings from less energy use of vehicles and increased deliveries. With an affordable system like Detrack's, you could see these financial results even sooner.
3. Efficiency
The improved time management – and resulting financial gains – are some of the biggest benefits of fleet management software. By increasing the efficiency of your fleet, you'll not only save money from energy saved from waiting in traffic or taking the longer route, but also from the repeat business from satisfied customers. With a quality software like Detrack's, you'll have access to route optimization. This is one of the best ways to guarantee efficiency as we use complex algorithms to find the best route with the least amount of traffic and the shortest distance. Drivers will also be assigned the most suitable jobs for their locations and with our user-friendly technology, they'll be able to navigate the system with ease. Customers will be satisfied with quicker deliveries and less delays, and you'll have financial savings from less energy use of vehicles and increased deliveries. Additionally, since your top expense will be fuel, you may want to consider using a fuel card for more ease in transaction, better expense tracking and discounted rates.
4. Improved Logistics
From the transportation hub to your fleet, a software system is a great way to create a united operations process. This includes enabling your business to have centralized dispatch. This ensures that information is more easily transferred due to the central location of data and records. It also means that communication will be more smooth-flowing between different parties, from drivers to employees. It reduces misinformation and miscommunication that occur when there are varying protocols at different locations. A centralized approach is a simple method that saves a lot of time and money. It also has a knock-on effect of improving customer service as there will be a standardized approach to conflict resolution and other concerns customers may have.
The views expressed in this article are those of the authors and do not necessarily reflect the views or policies of The World Financial Review.