In 2019, the number of tourist arrivals in Kenya was at an all-time high, totalling well over two million. Although that number dipped considerably following the ravages of the Covid-19 pandemic, it is steadily picking up once again.
Notably, in December 2021, the country was declared a world-leading safari destination by the prestigious World Travel Awards (WTA). It was the seventh time it was receiving this high accolade.
It is a long standing tradition dating back to colonial times, when the East African country was dotted on as a popular safari hotspot. Since then, international tourists continue to make repeat visits due to its numerous captivating attractions.
Recently, Kenya has attracted celebrities such as the Obamas, Queen Elizabeth, Prince William, and Kate Middleton in the recent past. Equally enthralled by the country were Demi Lovato, talk show host Ellen DeGeneres, Fernando Alonso, to mention a few.
To ramp things up even further, its tourism industry has introduced mid-luxury and budget safaris specifically curated to cater to modest-income travellers. But the diversity doesn't stop there. Travellers can opt to use open sides safari vehicles (mostly Jeep Grand Cherokee) 4×4 safari land-cruisers, or the pocket friendly safari vans. 
These innovative travel products have led to substantial growth in international tourist arrivals and an upsurge in domestic tourism.
This write-up looks at the country's unique features that make it a favourite destination with investors and travellers. 
We also highlight how its tourism sector continues to stimulate such interest.
1. Robust GDP
Besides being the 4th largest economy in sub-Saharan Africa, Kenya is also the dominant economy in the East Africa Community (EAC), boasting a GDP of $60 Million. So far, its GDP accounts for 50% of EAC's cumulative total. 
Consequently, the country is burgeoning with economic promise, which has caught the attention of big international investors in recent years.
Among them is British magnate Sir Richard Branson, whose flourishing Mahali Mzuri luxury camp was named the best hotel in the world in 2021 by the World's Best Awards.
The 12-tent luxury safari camp is located at the heart of the phenomenal Maasai Mara Game Reserve.
Other top celebrity investors include Formula one's icon Flavio Briatore, whose billion-dollar investments include two 5-star accommodations in the seaside town of Malindi.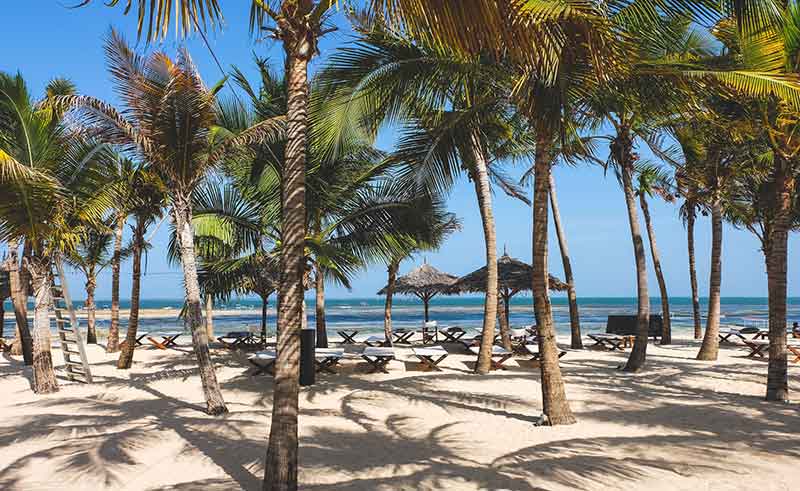 The accommodations, known as Billionaire's Resort and the Lion in the Sun Resort, have hosted numerous A-list celebrities over the years, including British Supermodel Naomi Campbell.
Speaking of Naomi Campbell, did you know that she too was so enamoured with Kenya that she even undertook to market the country for free? 
So what other factors compel these international moguls to invest in or visit Kenya?
2. Infrastructure
For starters, besides its high GDP, the country also comes with a well-developed infrastructure. 
These include a good road network, with all the major towns and cities having paved roads. 
Canvassing the country is thus reasonably straightforward, and over 80% of domestic transport is via road. Even visitors travelling to off-road locales are assured of smooth trips, courtesy of dependable safari vehicles and navigable roads.
Apart from the dependable road network, the country also enjoys a fast railway system, part of which meanders through the Tsavo National Park, one of the top tourist attractions. 
Kenya's power grid and telecommunications network are also among the best on the continent. 
Presently, the country's internet coverage stands at 72% (approximately catering to 32 million people); and is considered the highest in Africa.
Investors and visitors also benefit significantly from the country's highly knowledgeable and skilled workforce. 
Not only are most Kenyans highly innovative and adaptable, but they are also fluent English speakers, which eases communication with foreign arrivals.
3. Attractions
The country has a bevy of tourist attractions that appeal to different categories of visitors. 
It is a world leader in wildlife tourism, boasting over 40 game reserves and parks. 
Key among these is the Maasai Mara Game Reserve, which has incredible wildlife diversity, including dense populations of the Big Five (lion, leopard, rhino, buffalo, and elephant).
It is a country teeming with many large mammals, ranging from the most dangerous ferocious predators to relatively harmless giants.  
With more than 25,000 animal species, over 7,000 plant species and more than 1000 bird species, it is easy to see why Kenya's diversity piques international interest. 
Still, on the issue of global attractions, the country has a collection of splendid beaches scattered along its 1420Km long coastline. 
Among these is the multi-award winning Diani beach, whose clear turquoise waters and alabaster sands is the epitome of a perfect coastal getaway.
Thanks to the multi-faceted richness of Kenya's history, cultural and heritage tours are yet another attraction that draws in visitors. 
From the oldest town of Lamu- a UNESCO World Heritage site, to other ancient cities such as Mombasa and the remnants of an old abandoned village at Gede ruins, the country is rich in historical tales.
4. Security
Compared to her northern neighbours, Kenya has a stable socio-political climate and is a steadily improving destination for foreign direct investment (FDI). That is as per the 2021 World Bank Doing Business Rankings.
The country also has favourable investment policies designed to attract foreign investors and visitors to create jobs for its locals.
5. Market access
Urbanisation has been on a steady rise across most parts of Kenya. As a result, there is a growing middle-class and high demand for upmarket consumer goods and luxury items, including travel products.
Consequently, there has been growth in domestic tourism, with a corresponding increase in investments in this sector.
Of note is the rising demand for boutique travel products, such as affordable tours and getaways. 
While some travel companies have begun providing innovative travel products aimed at the mid-luxury consumer market, demand for affordable tourism products continues to be felt.

The views expressed in this article are those of the authors and do not necessarily reflect the views or policies of The World Financial Review.