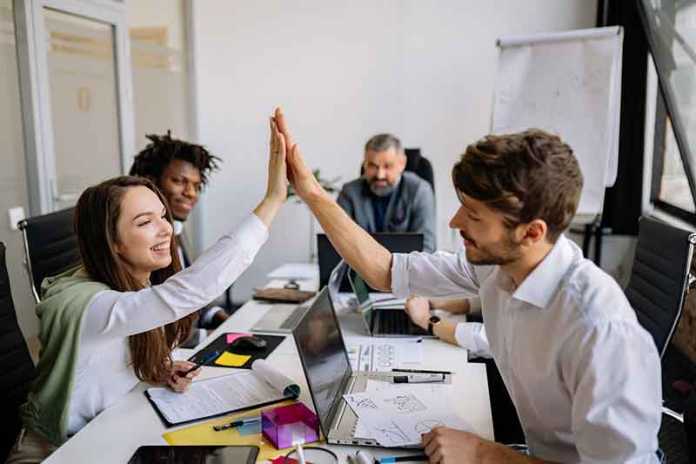 The COVID-19 pandemic dug potholes into the business sector's relatively straight and smooth path. It hampered their drive for growth and put them into the gutter. Limited operations caused supply chain disruptions, massive layoffs, and temporary shutdowns. For two successive quarters, the global economy was in a deep recession. 
Fortunately, businesses are starting to regain their footing and bounce back. Recovery is already within their reach despite the economic issues in large markets. Today, the challenge is how to keep up with the fast-paced new normal trends. This article will look at some tips to stay afloat amid the changing market landscape. 
Adapt to Digital Transformation 
The pandemic coincided with the advent of digital transformation. It was a perfect opportunity for businesses to take advantage of technology. 
When the government heightened restrictions, production and demand became limited. It prompted business owners to adapt amidst their stumbling performance. Technology is fundamental to the survival and success of businesses today. 
Here are some things you can do to adjust to the changing business landscape. 
Increase Online Presence
Going online today appears to be a safer and more convenient alternative. Despite the easing of restrictions, increasing online presence is still a wise move. 
In 2021, there were over five billion internet users, leading to 40,000 searches every second. This massive change had a positive effect on many businesses, especially SMEs. 
Also, 55 percent of internet users searched for business reviews and recommendations. Forty-seven percent went directly to company websites to buy products and services. 
Even those with physical stores did online transactions, increasing store visits by 26 percent. This year, online business transactions remain popular, comprising almost 30 percent of the total. 
These observations show that going online is helpful with or without a brick-and-mortar store. The biggest challenge is how to rise above your millions of competitors. 
Online marketing is another step once you make a business website. But you must think of greater convenience by making payment methods flexible. 
Digitize Payment Methods 
Adopting cashless payment methods is a big step towards business adaptability and growth. Now that many people prefer to stay home, having their items delivered remains normal. Physical and virtual cards and e-payments continue to exceed cash transactions, showing the increased preference for online payments in the last two years. 
Many mature and emerging economies have shifted their attention to new payment methods. For instance, Japan's cash usage dropped from 79 to 54 percent. 
Other parts of Asia have shown even lower values, such as Singapore and South Korea at 39 percent and 34 percent, respectively. In the Netherlands, the US, and the UK, cash transactions were only 14 percent, 22 percent, and 23 percent. 
Things will run more smoothly with cashless payment methods. With company credit cards, businesses can easily cover all business-related expenses of employees. It will help them keep track of their finances and transactions. If you adopt this method, you and your accounting staff will not have to check the piles of invoices one by one.
Optimize Workflow
Optimizing workflow helps you keep track of your transactions. Business workflows through technology may help streamline processes. That way, businesses can grow both on the production and consumer side. For the next few years, many expect companies to increase their online presence further. 
Workflow optimization may also lessen the tediousness of tasks and employee burnout. It is crucial, given the continued surge of resignation. Of course, you don't wish to see your prized employees jump ship. Hiring new ones may be more expensive than investing in the right tools. 
Keep in Touch with Your Customers
You and your employees can identify how the business process goes. But it's your customers or clients who can tell the quality of your products and services. They can dictate how your business will perform in the market. As such, you must get in touch with them to get their feedback and find more ways to improve. 
Whether starters or seasoned businesses, qualitative surveys are often done. For example, you can do food product surveys in supermarkets. You can also place slips or forms in every room for hotel surveys. You can also get customer feedback through online surveys and phone calls.
The problem with surveys is they can be challenging to quantify at times. Also, they may limit customer responses and overlook other aspects. Touchpoints like Quarterly Business Reviews (QBRs) will help achieve or realign goals. That way, you can determine how much your products affect your customers or their business. 
Today, QBRs are pivotal to programs by the Customer Success team. It makes communication with customers constant and comprehensive. It revolves around the assessment of the value of products and services delivered. And with proper application, this method can boost customer satisfaction and renewal. 
Often, QBR contains product performance reviews and performance assessments for the past quarter. It also discusses the gaps to fill and goals to realign and achieve. From there, you find ways to address the challenges and reach the target. There are templates available online if you want to try them. 
Be Mindful of Your Finances and Economic Changes 
You must keep track of your financial performance and check business reports. Doing this can help you measure your productivity and viability. You can also establish the optimal amount of products and services to produce. Doing so will help you sustain and grow your business. 
Also, watching the economic trends provides a broader view of your potential performance. Massive changes in the industry can affect prices and demand, and financial performance. The economy is still on its way to recovery, so you have to be more careful. Observe the inflation and interest rate movements since they are primary macroeconomic indicators.

The views expressed in this article are those of the authors and do not necessarily reflect the views or policies of The World Financial Review.