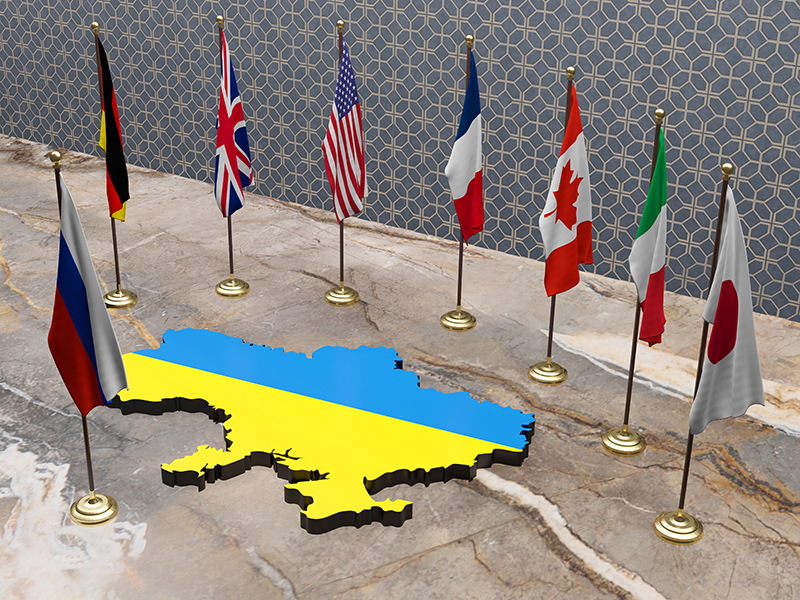 By Craig Mark
Despite being the core American ally in the Pacific since the Cold War, Japan has so far not been part of the intelligence-sharing agreement between the USA, UK, Canada, Australia and New Zealand, known as "Five Eyes". In recent times, various members of the Japanese political establishment, such as Japanese Ambassador to Australia Shingo Yamagami, have lobbied for Japan to join Five Eyes.1 The shock of Russia's invasion of Ukraine may yet provide the impetus for this to come about. 
Japan's Role in the Western Intelligence Network
After the post-war US military occupation of Japan ended, in 1952, Japan's intelligence community was reorganised to complement America's Cold War espionage efforts. Divided between the different branches of the Ministry of Defense and the Self-Defense Forces (SDF), the National Police Agency, the Public Intelligence Security Agency of the Ministry of Justice, and the Ministry of Foreign Affairs, Japan's various intelligence branches were limited in their overseas operations. This followed similar prohibitions on the overseas use of the SDF imposed by the pacifist Article 9 clause of the US-designed 1947 constitution. Such constraints, along with linguistic and cultural barriers, and security concerns about potential counter-intelligence vulnerabilities to penetration by the Soviet Union (and then Russia), China and North Korea, all contributed to keeping Japan from becoming a member of Five Eyes.2
Joining Five Eyes was raised during the leadership contest for Japan's ruling conservative Liberal Democratic Party (LDP), won by current prime minister Fumio Kishida last September.3 Kishida then led the LDP to a re-election victory in the Lower House election for the Japanese Diet on 31 October, albeit with a slightly reduced majority, in coalition with its junior partner, the Komeito Party.4 Since winning the premiership, Kishida has occasionally had to prevent his foreign and defence policy from being undermined by former prime minister Shinzo Abe, under whom Kishida served as foreign minister from 2012 to 2017. Abe's government passed controversial laws in 2015 which have since permitted the SDF to potentially participate in collective self-defence operations to aid friendly states, as part of an ambition to restore Japan to premier global power status.5  
Since stepping down in August 2020, claiming illness, Abe now leads the largest, most nationalist faction of the LDP.6 This ideological bloc is most prominently represented in cabinet by Abe's younger brother, defence minister Nobuo Kishi. He has pushed more hawkish stances which strain constitutional limits, such as promoting Taiwan's security as vital to Japan, which has disrupted Tokyo's long-running policy of strategic ambiguity.7 
Abe caused further controversy by advocating that in the wake of Russia's invasion of Ukraine, Japan should join NATO's nuclear weapon-sharing partnership. This would allow American nuclear weapons to again be stored in Japan, and potentially be deployed by the SDF, if there was an existential threat to the country. This radical proposal had to be quickly batted down by Kishida, who reaffirmed Japan's commitment to its Three Non-Nuclear Principles, that Japan will never acquire, use, or host nuclear weapons.8 
Abe caused further controversy by advocating that in the wake of Russia's invasion of Ukraine, Japan should join NATO's nuclear weapon sharing partnership.
However, the sincerity of this position is somewhat undermined by the consistent refusal of LDP governments to sign the Treaty on the Prohibition of Nuclear Weapons (TPNW), claiming that Japan is reliant on the extended nuclear deterrence provided by the US. The opposition Constitutional Democratic Party (CDP), under its new leader, Kenta Izumi, has pledged to have Japan join the TPNW but, given the CDP's poor performance in last October's Lower House Diet elections, any likelihood of a change of government in Japan, and hence any major shifts in its foreign policy, remains a far-off prospect.9 
Japan's Response to Putin's Aggression
The Kishida government was quick to condemn the illegal invasion of Ukraine ordered by President Vladimir Putin, and join the international coalition of at least 30 countries that have provided military assistance to Ukraine's resistance to Russian aggression. Staying within the constitutional constraints of Article 9, the SDF has sent non-lethal military equipment, including helmets and flak jackets, tents and medical kit, communications equipment, rations, and other logistic support materials. This is the first-ever provision by Japan of material support to a country involved in an armed conflict. Opinion polls have shown majority public support for the actions taken by the Kishida government in response to Russia's invasion.10  
Japan contributed US$100 million to a US$723 million package of World Bank loans and grants assistance to Ukraine, the largest co-contributor alongside the UK, as well as other European countries.11 Another US$200 million has been pledged in humanitarian relief aid to be distributed through international organisations to support displaced people and refugees in Ukraine and neighbouring countries.12 Remarkably, the Kishida government is hosting Ukrainian evacuees, with over 800 accepted as of the end of April. While this is, of course, only a tiny proportion of the over 5.6 million refugees that have fled Ukraine, it is still a dramatic departure from Japan's past policy of accepting only tiny numbers of refugees and asylum seekers.13
Japan contributed US$100 million to a US$723 million package of World Bank loans and grants assistance to Ukraine, the largest co-contributor alongside the UK, as well as other European countries.
Japan has removed Russia's most-favoured-nation trading status, and joined the range of harsh financial sanctions imposed on Russia. Several Russian and Belarusian banks are excluded from the SWIFT transfer system, and Russian oligarchs and other senior figures in the regime responsible for war crimes, including Putin himself, have had any Japanese-held assets frozen. Military-related Russian and Belarusian companies and entities have been sanctioned, with bans on exports of oil-refining equipment and dual-use products, including semiconductors and other technology. Luxury cars and a range of other premium Japanese exports have also been prohibited.14 
Japan has filed a complaint with the International Criminal Court over the extensive war crimes committed by Russian forces in Ukraine.15 Russia will now be listed as a security "challenge", alongside China and North Korea, in the upcoming National Security Strategy document of the Ministry of Defense. In retaliation, along with Australia and NATO, Japan is now listed by Russia as among its officially "unfriendly" countries.15 Russia has broken off negotiations towards concluding a peace treaty which would finally resolve post-1945 territorial boundaries, leaving the four small but strategically important islands north of Hokkaido known as the "Northern Territories" (called the "Southern Kurils" by Russia) under what Japan claims is an illegal Russian occupation.16
Japanese companies have traditionally faced little pressure from shareholders and consumers on human rights issues, but this has shifted as the humanitarian crisis of the war in Ukraine drags on, and Russia remains an international pariah, which worsens the exposure risk for Japanese investors, such as the part-government-owned Japan Tobacco, which has a large market share in Russia. Retailer UNIQLO came under pressure to close its stores in Russia, following the departure of other Western brands. However, only a relatively small number of Japanese companies, mostly in vehicle and machinery construction, have divested their investments out of Russia.17 
Significantly, Japanese banks, and resource corporations, particularly Mitsui and Mitsubishi, have so far retained investments in the Sakhalin-2 oil and gas development project in Russia's Far East. Given its high level of foreign energy dependence, like the European Union, Japan has so far not completely barred imports of Russian oil and gas; about 9 per cent of Japan's crude oil and LNG imports, and 11 per cent of its coal are from Russia. Although the crisis has encouraged Japan to increase efforts towards greater energy diversity, this has so far mainly involved seeking to restart more nuclear reactors.18 In response to the escalating atrocities committed by Russian forces, on 8 April Prime Minister Kishida announced Japan's expulsion of eight Russian diplomats, as well as tighter financial sanctions, a prohibition on any new investment in Russia, and phasing out Russian coal and oil imports, in line with its G7 partners.19
The Kishida Doctrine – Japan the "Solution Power"

 
The Russo-Ukraine War has exposed the dire failures of Russia's much-vaunted intelligence services in their poor assessment of both the resistance of the Zelenskyy government and the unified reaction of Western nations and their allies.20 It has also raised the issue of any potential role for Japanese intelligence in supporting the war effort against Russia. The Five Eyes partners have ramped up their cooperation since the Russian invasion of Ukraine, supplying battlefield intelligence to Ukrainian forces and publicly releasing strategic intelligence to deter and counter Russian operations.21 
Japan is far removed from the European theatre of operations (as are Five Eyes partners Australia and New Zealand), but as a "frontline" country facing Russia in the Far East, as well as China and North Korea, Japan has resumed its Cold War role of monitoring Russian military activity in the Pacific, particularly utilising the extensive signals intelligence resources of the SDF. Russia has already increased its demonstrations of force in the Pacific since its invasion of Ukraine, including sending warships through the Tsugaru Strait separating Honshu and Hokkaido, and holding drills in the Northern Territories, which have seen an increase in the size of Russian military installations in recent years. 22
Kishida has termed his foreign policy as "realist diplomacy for a new era", recommitting Japan's commitment to a "Free and Open Indo-Pacific", a term coined under the Abe government. Kishida envisions Japan tackling geopolitical tensions and other global problems such as climate change and the coronavirus pandemic in cooperation with its partners in the Quad, and ASEAN.23 A Reciprocal Access Agreement (RAA) was formally concluded in March with Australia, the first country other than the US to be granted mutual support and protection by the SDF. Negotiations for an RAA with the UK are now under way, which could potentially lead to Japan joining AUKUS in future, to increase its collaboration in cybersecurity and hypersonic missile development.24 These developments indicate that diplomatic alignment to have Japan join its major security partners in Five Eyes is building momentum. 
Kishida has termed his foreign policy as "realist diplomacy for a new era", recommitting Japan's commitment to a "Free and Open Indo-Pacific", a term coined under the Abe government.
Kishida remains open to the constitutional "revision", which has long been a frustrated ambition of the LDP's policy platform, to weaken Article 9 to allow greater overseas operations by the SDF. Kishida has continued to increase the defence budget to annually exceeded record levels; the FY2022 budget passed by the Diet in March was a record ¥107.6 trillion, with a record ¥5.4 trillion defence budget now set to exceed the traditional self-imposed informal limit of 1 per cent of GDP for the first time.25 According to Australian think-tank the Lowy Institute, Japan is the third most-comprehensive power in the region, with the third most-pervasive diplomatic influence, behind the USA and China.26
The LDP's policy platform maintained under Kishida has committed to the aim of eventually doubling defence spending to around 2 per cent of GDP, granting the SDF even greater resources, which could soon include cruise missiles, hypersonic missiles, and other combat systems enabling long-range strikes into enemy territory.27 The SDF has already formed new cyberwarfare and space operations units,28 and the Defense Intelligence Division of the Ministry of Defense is preparing to counter Russian disinformation operations.29  
In an address to the 2022 graduation ceremony of the National Defense Academy, Kishida condemned Russia's actions as a dire threat to international order, and alluded to the deteriorating geopolitical situation faced by Japan, threatened by China's rising strategic power, and by belligerent North Korea, which continues to test ballistic missiles.30 Despite being the leader of his own more dovish faction of the LDP, with his local political power base in firmly pacifist, anti-nuclear Hiroshima, Kishida has nevertheless shown himself willing to continue to exceed previously long-held political and psychological limits to wider use of the SDF, and similarly for the expansion of Japanese intelligence activity. 
By so quickly joining the coalition of democracies that have taken a firm stance against Russia's unlawful war of aggression against Ukraine, the Kishida government has thus only bolstered Japan's case for formally joining Five Eyes. But even if this does not soon occur, as a means of maintaining diplomatic flexibility and strategic ambiguity, it will be largely moot. The bilateral and mini-lateral intelligence cooperation between Japan's security partners developed since the Cold War is only intensifying, so Japan is effectively already the "sixth eye" of the US-led alliance, in this new era of dangerous great-power rivalry.
About the Author
Dr Craig Mark is a Professor in the Faculty of International Studies, at Kyoritsu Women's University, Tokyo. His publications include The Abe Restoration: Contemporary Japanese Politics and Reformation, and he is co-author of Understanding International Relations: The World and Japan.
References
1. Craig Mark, 'From Five Eyes to Six? Japan's push to join the West's intelligence alliance', The Conversation, April 22, 2021.
2. Richard J. Samuels, Special Duty: A History of the Japanese Intelligence Community, (Ithica: Cornell University Press, 2019), 121-122, 214.
3. Craig Mark, 'Who is Fumio Kishida, Japan's new prime minister?', The Conversation, September 29, 2021.
4. Craig Mark, 'Japan's ruling conservatives have been returned to power, but amid voter frustration, challenges lurk for Kishida', The Conversation, November 1, 2021.
5. Craig Mark, The Abe Restoration: Contemporary Japanese Politics and Reformation (Lanham: Lexington, 2016).
6. Craig Mark, 'Shinzo Abe, Japan's longest-serving leader, leaves office a diminished figure with an unfulfilled legacy', The Conversation, August 28, 2020.
7. Ryan Ashley, 'Japan's Revolution on Taiwan Affairs', War on the Rocks, November 23, 2021.
8. Purnendra Jain, 'Ukraine war triggers debate on Japan's nuclear option', The Interpreter, March 14, 2022.
9. Jessica J. Lee, 'Japan's Izumi makes first international appearance, draws firm contrast with hawks', Responsible Statecraft, March 22, 2022.
10. William Gallo, 'More Assertive Japan Stands Up to Russia Over Ukraine', Voice of America, March 18, 2022.
11. 'World Bank Mobilizes an Emergency Financing Package of over $700 million for Ukraine', The World Bank, March 7, 2022, at: https://www.worldbank.org/en/news/press-release/2022/03/07/world-bank-mobilizes-an-emergency-financing-package-of-over-700-million-for-ukraine.
12. 'Additional Emergency Humanitarian Assistance in Ukraine and neighboring countries', Ministry of Foreign Affairs of Japan, April 5, 2022, at: https://www.mofa.go.jp/press/release/press4e_003108.html.
13. 'Japan's Hayashi to take 20 Ukrainian evacuees to Japan from Poland', Kyodo News, April 5, 2022.
14. 'Japan Stands With Ukraine', The Government of Japan, March 25, 2022, at: https://japan.kantei.go.jp/ongoingtopics/pdf/jp_stands_with_ukraine_eng.pdf.
15. 'Referral of the Situation in Ukraine to the International Criminal Court', Ministry of Foreign Affairs of Japan, March 9, 2022, at: https://www.mofa.go.jp/press/release/press3e_000333.html.
16. 'Japan may label Russia as "challenge" in security strategy revision', Kyodo News, March 9, 2022.
17. Yuka Obayashi, Maki Shiraki and Yoshifumi Takemoto, 'Japan Inc feels the heat over Russia ties as rivals shun Moscow', Reuters, March 7, 2022.
18. Vijay Prashad, 'Rising Japan-Russia tensions cause for concern', Asia Times, April 5, 2022.
19. 'Japan to phase out imports of Russian coal and oil', The Asahi Shimbun, April 9, 2022.
20. Stephen Hall, 'Ukraine war: inside the complex web of Russia's warring intelligence agencies', The Conversation, April 2, 2022.
21. Jill Lawless and Aamer Madhani, 'Secret intelligence has unusually public role in Ukraine war', Associated Press, April 3, 2022.
22. Ryan Ashley, 'The Northern Territories: Russia's Front Line in the East?', Tokyo Review, April 2, 2022.
23. 'Policy Speech by Prime Minister KISHIDA Fumio to the 208th Session of the Diet', Cabinet Public Affairs Office, January 17, 2022, at: https://japan.kantei.go.jp/101_kishida/statement/202201/_00009.html.
24. Kei Koga, 'Japan and Australia step up defence cooperation', East Asia Forum, March 8, 2022.
25. Japan defense chief looks to boost defense capabilities "drastically"', Kyodo News, April 5, 2022.
26. Lowy Institute Asia Power Index 2021 Edition, at: https://power.lowyinstitute.org/countries/japan/.
27. Tim Kelly and Ju-min Park, 'Analysis: With an eye on China, Japan's ruling party makes unprecedented defence spending pledge', Reuters, October 31, 2021.
28. Garren Mulloy, Defenders of Japan: The Post-Imperial Armed Forces 1946-2-16, A History (London: Hurst & Company, 2021), 211-213.
29. 'Japan ramps up online messaging on Ukraine to prepare for hybrid war', The Mainichi, April 2, 2022.
30. 'Address by Prime Minister KISHIDA Fumio at the Graduation Ceremony of the National Defense Academy', Cabinet Public Affairs Office, March 22, 2022, at: https://japan.kantei.go.jp/101_kishida/statement/202203/_00024.html.
The views expressed in this article are those of the authors and do not necessarily reflect the views or policies of The World Financial Review.