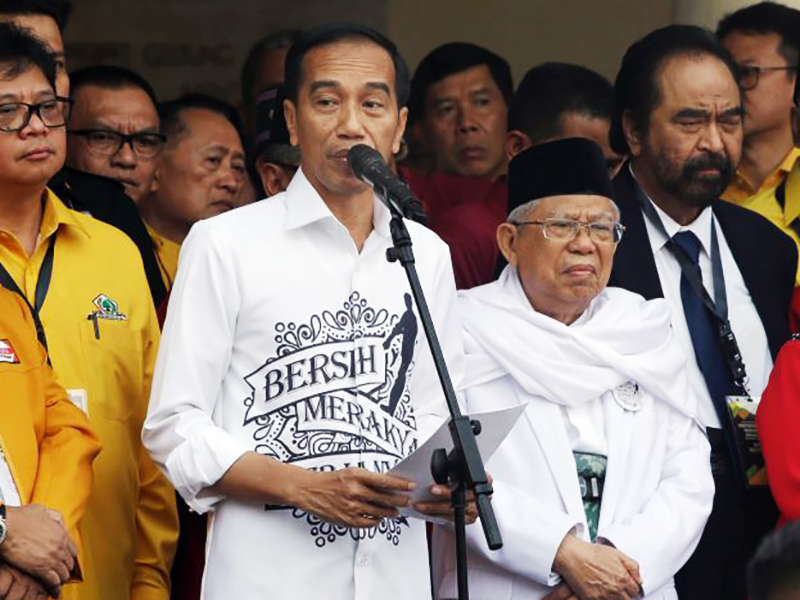 By Ahmad Dahlan
The issue of political Islam and the state in Indonesia apparently continues to roll ahead of the 2019 presidential election as President Joko Widodo from the Indonesian Democratic Struggle Party (PDIP) took Professor Ma'ruf Amin as a vice presidential candidate. Ma'ruf Amin is an ulema, scholar, and an expert in Islamic economics.
The declaration of cleric Ma'ruf Amin as President Jokowi's running mate in next year's presidential election has surprised many as the announcement occurred just hours after former Consitutional Court chief justice Professor Mahfud MD appeared to confirm he was the vice presidential choice of Widodo.
What also made the decision astonishing is the fact that Jokowi was nominated as a presidential candidate by the Struggle Indonesian Democratic Party (PDIP), the ruling party which had been perceived as a nationalist-red party and not too open to Islamic policies, although in the past presidential election, PDIP was supported by a mass Islamic-based party, particularly the United Development Party (PPP), the National Awakening Party (PKB), and several NU cadres.
Is the election of Amin as Jokowi's Vice President candidate aimed at alleviating tensions over political Islam within the country or Jokowi is purely  seeking victory?
Issues Exacerbating Political Islam in Indonesia
Indonesia is panicked by the extreme ideology of right Islam which had given birth to many militant-jihad attacks.
There are three recent major issues related to the exacerbation of political Islam in Indonesia. First, the left-wing issue relating to the rise of communism. Of course, prejudice about the rise of communism is inseparable from the parties involved in the September 30 movement. "According to historians, in 1965 – 1966 Islamic youth and paramilitary groups with military backing massacred between 500,000 and one million suspected communists across the country."¹
Second, the right-Islam issue is terrorism and Daulah Islamiyah. Indonesia is panicked by the extreme ideology of right Islam which had given birth to many militant-jihad attacks. Unfortunately, many Muslims are trapped in a circle of terrorism which is allegedly affiliated with the IS (Islamic State) movement in Iraq and Syria, and are willing to commit suicide terrorism. Even the latest Indonesia church attacks in Surabaya is very ironic, because the attacks were committed by a family of suicide bombers.2
About the Author
Ahmad Dahlan is a doctor in Islamic Economics and Finance, and lecturer at the Faculty of Economics and Islamic Business, IAIN Purwokerto, Indonesia. He wrote many books, articles, competitive researchers; was active in the Sharia Economic Community Expert Council (MES); and served as a Deputy Chair of the Indonesian Economists Association (IAEI), Banyumas Regency. His article, "Political Economy of Islamic Banking in Indonesia," was recently published in the American International Journal of Social Science (June 2018).
1. Lamb, Kate., "Beware the red peril: Indonesia still fighting ghosts of communism." The Guardian. October 1, 2017.  https://www.theguardian.com/world/2017/oct/01/beware-the-red-peril-indonesia-still-fighting-ghosts-of-communism.
2. Horten, Alex. "Family of suicide bombers kills at least 7 in Indonesia church attacks." The Washington Post. May 13, 2018. https://www.washingtonpost.com/news/worldviews/wp/2018/05/13/family-of-suicide-bombers-kills-at-least-7-in-indonesia-church-attacks/?utm_term=.3ea39b4b9fb9.
3."Dubes: Nilai perdagangan Indonesia-China meningkat." Antaranews.com. January 30, 2018.  https://www.antaranews.com/berita/681839/dubes-nilai-perdagangan-china-indonesia-meningkat.
4. "Jokowi-Ma'ruf Amin: Politik Identitas VS Isu Ekonomi," Tempo.co. August 20, 2018.  https://fokus.tempo.co/read/1118744/jokowi-maruf-amin-politik-identitas-vs-isu-ekonomi.
5. Karnanen Anwar Perwaatmadja, interview, Tuesday, July 12, 2016 at Jakarta. The sentence were processed by the author.
6. At that time invited PP No. 70, 71 and 72 concerning banking based on profit sharing principle.
7. Hefner, Robert W. "Islam, State, and Civil Society: ICMI and the Struggle for the Indonesia Middle Class." paper. Mujani Saiful. "Kultur Kelas Menengah Muslim dan Kelahiran ICMI: Tanggapan Terhadap Robert W. Hefner dan Mitsuo Nakamura." on the Nasrullah Ali Fauzi (ed.), ICMI Antara Status Quo dan Demokratisasi, (Bandung: Mizan, 1995), p. 76-77.
8. Bahtiar Effendy, Islam and the state: the transformation of Islamic political ideas and practices in Indonesia, thesis (doctoral), (Ohio: Ohio State University, 1994), p. 214.
9. Hefner, Robert W. "Public Islam and the Problem of Democratization", Sociology of Religion, Oxfort Journal, Published by: Oxford University Press, Vol  62, No 4, 2001, p. 504.
10. Hadiz Vedi R., "Indonesian Political Islam: Capitalist Development and the Legacies of the Cold War." Journal of Current Southeast Asian Affairs. 30, 1, 3-38.
11. Hefner. Public Islam, p. 505.
The views expressed in this article are those of the authors and do not necessarily reflect the views or policies of The World Financial Review.