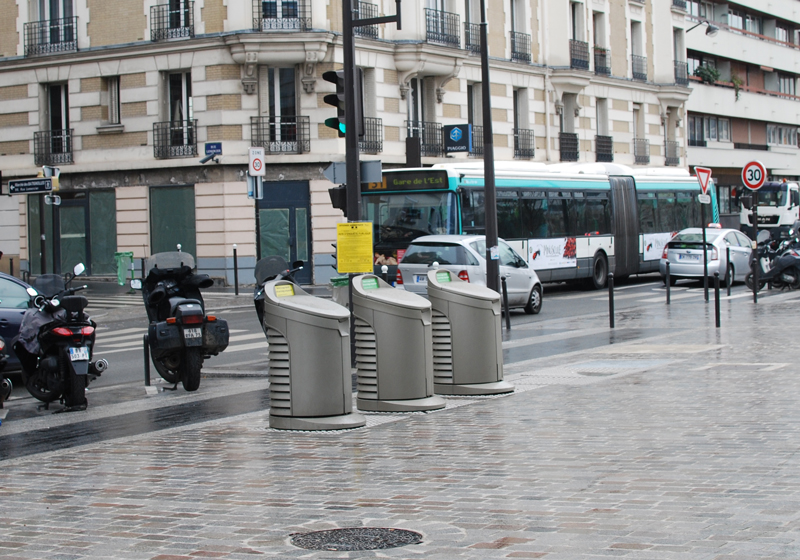 As urbanisation intensifies and sustainability climbs higher up the global agenda, new solutions to old challenges are more important than ever. Waste management is one such challenge, but by investing in cleaner, more efficient waste-removal systems governments can, Jonas Törnblom argues, take a crucial step on the road to building more sustainable cities and a more sustainable world.
Back in 2007, just before the economic crash took hold, the biggest industry buzzword across most sectors was arguably "sustainability". Then, as countries prioritised keeping their economies afloat over keeping them green, the cost of being sustainable was all too often prohibitive and the term fell out of favour.
However, there has been a resurging interest in sustainability – albeit in its new guise of the "circular economy": the practice of replacing the typical approach of make, use and dispose with re-using and recycling as much as possible. In fact, it is moving further and further up the political and business agendas. And with its ability to boost countries' GDPs and create tens of thousands of new jobs it's easy to see why.
The European Commission has recently unveiled a new approach to waste and recycling targets to accelerate Europe's transition to a circular economy, which requires member states to recycle 70 per cent of municipal waste and 80 per cent of packaging waste by 2030. The UK government, for example, has even set aside a €3.1million fund to help launch SMEs with circular economy-focussed business ideas.
The Role of Waste in the Circular Economy
The waste industry, rubbish removal London and rubbish disposal services will undoubtedly play a pivotal role in working towards a circular economy. However, in a global society where the population is rapidly increasing and developable land, all of which is finite in size, is diminishing, how can waste collection safely and sustainably support this circular vision?
As residential and commercial development grows upwards due to restrictions placed on developing outwards, how can cities across the globe contend with the throng of people, vehicles and waste that will inevitably descend on them? Population growth, increasing urban density, and growing consumption combined with a pressure to increase recycling and minimise waste generation make waste management one of the critical challenges for city development.
Technologies such as Envac's Quantum system enable planners, architects and municipalities to future-proof their waste collection methods whilst occupying as little private and public space as possible.
We should ask ourselves: is it time to draw to a close the traditional truck and tip approaches to collection, where multiple heavy vehicles make multiple manual collections all day, every day? After all, there are now other ways to collect and treat waste without burdening streets, sidewalks, squares and parks with industrial vehicles and dirty, space-intensive transfer stations, many of which manage waste as close to its source as possible. And let's not forget that sustainable living isn't just about reducing the level of waste and carbon emissions we produce, but also using the minimum amount of shared resource in order to satisfy our individual needs.
So, as sustainable living in attractive cities increasingly involves replacing busy roads with pedestrian zones, parks and cycle routes, how will the waste collection trucks of today even gain access to bins and waste containers in the developments of tomorrow?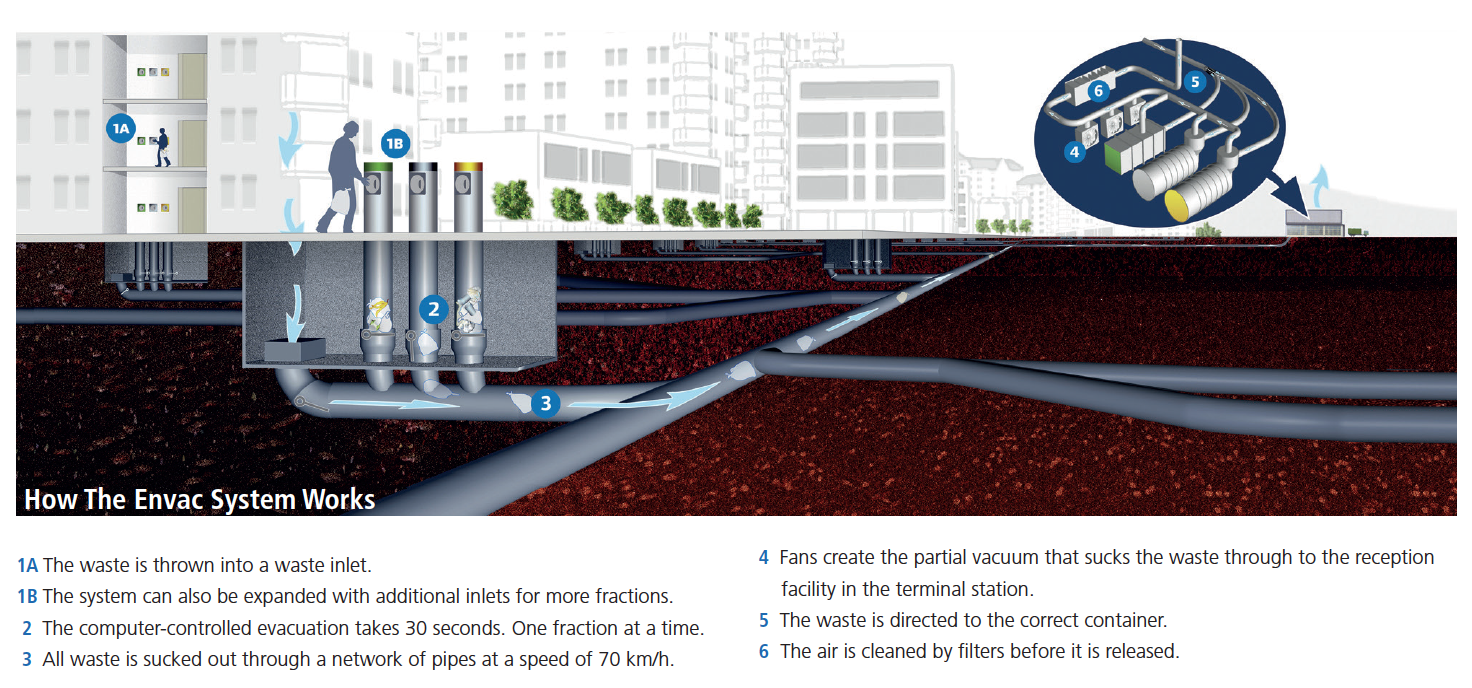 Technology is the Gateway to a Circular Future
Envac is an automated waste collection system that uses an underground pipe network to suck waste from strategically placed inlets to a central waste collection station, typically located on the periphery of the development or where there is unrestricted vehicular access.
Waste inlets are placed at various points throughout the city or site and a fan system sucks the waste through underground tubes to a central waste station at high speed, for distances as long as 2km. Different inlets, depending on the type of waste or user – such as households or commercial users – ensure that different types of waste do not mix and that each waste type is directed into its correct container in the collection station. The waste generated by each individual can even be monitored by type, quantity and the time of day it is deposited. The results can then be directly fed back to the user in order to change behaviour and play a role in reducing their waste output. When full, the containers at the collection station are hoisted onto refuse vehicles and taken away by the local council or a waste collection contractor, ensuring proper handling of hazardous waste collection.
Recent advancements to the system mean that the waste can be directly 'piped' into facilities that use it to generate energy, such as in Korea where Envac has two installations converting waste directly into electricity. Similarly, a typical Envac waste collection station can now be integrated with a Materials Recovery Facility (MRF) that separates co-mingled dry recyclables into different material streams such as paper, plastics and metals. The first installation of this type is about to be introduced in the state of Gujarat, India.
Another way in which Envac supports a circular economy is by making better use of collection stations. The collection station is a natural drop-off point for residents to bring waste that cannot be transported in the pipe network, such as furniture, books and electrical items, for recycling. In Scandinavia, for example, we're currently exploring ways in which to make our collection stations dual-purpose by converting them into local 'resource centres', whereby people would be encouraged to deposit any item that has the potential to be reused or repaired.
As part of a development's infrastructure, the Envac system transports waste underground so that it remains unseen by those using the system. Moreover, it reduces carbon emissions associated with manual collection and promotes a circular economy by making waste collection and recycling cheaper, cleaner, more efficient, more environmentally friendly and safer than manual methods.
A recent UN forecast, which predicts the pace of urban development to rise exponentially and the number of people living in cities to increase from 50 per cent currently to 70 per cent in 2030, has even been behind the launch of the Envac's latest system, entitled Quantum. Unlike the current Envac system, Quantum is capable of handling up to double the capacity of waste volumes despite using smaller pipes, which makes installation alongside new or existing service corridors easier. The patented Quantum technology compacts the waste already in the inlets, which in turn also reduces collection frequency and energy usage.
In order to develop truly sustainable cities, we need new technologies and new approaches.
Technologies such as Envac's Quantum system enable planners, architects and municipalities to future-proof their waste collection methods whilst occupying as little private and public space as possible.
Barriers to Achieving a Circular Economy
Whilst waste collection and its subsequent treatment is a key piece of the circular economy puzzle, it is only one of the many factors that need to be addressed in order to complete it. The model's ultimate goal is to reduce waste, consume less and re-use more, drive greater resource productivity, create more competitive economies and position countries to be better able to address emerging resource scarcity and security issues in the future. Technology such as Envac addresses all of these issues, yet without the appropriate infrastructure in place they will prove difficult to resolve. Equally, a resistance to new technology and to trialling new solutions to old problems will also hinder the progress of the circular economy. In order to develop truly sustainable cities – and by that I mean cities that consume less, inhabit a population that is content with its surroundings and retain an international appeal – we need new technologies and new approaches.
In the UK, the Green Investment Bank has invested over £200m in the waste sector and has the potential to bridge the gap where infrastructural development for innovative technologies is held back by a lack of finance. Without initiatives like this there is a danger that governments may not realise the true vision of a circular economy.
Cities of today face pressure on two distinct levels. Firstly, there is a pressure to compete with other cities around the globe on a financial footing. Secondly, there is a pressure on cities to consume less and demonstrate an on-going commitment to the environment and the people they serve. There is a general misconception that you can have only one or the other. However, the beauty of the circular economy is not only that the two go hand in hand, but that both elements are co-dependent. Technologies such as Envac are not only helping to break down these barriers but are also actively playing a role in bridging the gap between the two. Equally, there needs to be cultural change to the point whereby carbon-reduction avoidance – as a result of choosing a familiar yet out-dated solution, particularly where a more sustainable alternative is available – would be treated with the same level of disdain as tax avoidance.
The concept of a circular economy is hugely commendable; however, Government now needs to be the key driver for change. Without its support there is a danger that sustainability, under its new cloak of the circular economy, could be sidelined once again.
About the Author
Jonas Törnblom is Senior Vice President at Envac AB, where he has been since 2001. An environmental industry innovator, thought leader and driver for change, Jonas has built a reputation as a champion of sustainability within the built environment. Jonas has chaired the Swedish Environmental Technology Network's steering committee, helped to develop the SymbioCity concept, and recently initiated the Sweden China GreenTech Alliance.
Envac is a global leader in the vacuum waste collection industry and invented the automated underground vacuum waste system. These can now be found all over the world in residential areas, business premises, town centres, industrial kitchens, hospitals and airports. Envac has 40 offices across Europe, North and South America, the Middle East and Asia.
For more information please visit www.envacgroup.com
The views expressed in this article are those of the authors and do not necessarily reflect the views or policies of The World Financial Review.