Whisky is rapidly becoming the new wine as people look for different ways of investing and growing their cash. Independent whisky expert Dominic Roskrow looks in to the rise of liquid gold.
In October 2011 The Dalmore made headline news around the world after selling an exclusive bottle of whisky for a record breaking £125,000.
It shouldn't have come as a surprise, as the brand has some form in this area. It was the first distillery to sell a bottle for a six figure sum in the form of Trinitas in 2010. Two bottles were snapped up by collectors for £100,000 each at launch, and a third sold through Harrods at £120,000 six months later.
Both of these industry milestones captured the imagination of the media and proved that whisky is now a viable investment opportunity.
Recent analysis carried out by Whisky Highland, an investment house specialising in so called "liquid gold", backs this up. According to their statistics, if you had invested £100,000 in the top 10 performing bottles back in 2008 they would now be worth more than £400,000 – an incredible gain of more than 300%.
So it's no wonder that people are paying top dollar for exclusive bottlings, and distilleries are mining their stocks to create rare and exclusive whiskies to meet this rising demand.
Purchasing rare six figure bottles of whisky is fantasy land for most of us, but they do help put the spotlight on the whisky category in general. But more than that says The Whisky Shop's managing director Andrew Torrance, the big money sales help signpost the fact whisky is a good investment. And he claims you can start investing at any level you like.
"When we had some Macallan Laliques we must have had 15 people desperate to buy one and they were £14,000 each," stated Torrance.
"But at the same time whiskies such as Glenfiddich Snow Phoenix at £59.99 a bottle have proved to be great investments. We have affordable but exclusive bottles of collectable whiskies such as Bowmore 1982 or The Dalmore 1995 and these are good investments."
He also points to The Whisky Shop's exclusive range of whiskies, or special bottlings in duty free, some of which retail for under £40, but due to their limited release they can rise in value.
"We are definitely seeing a movement towards investment on two distinct levels," he says. "There are those with serious amounts of investments and others who are just dabbling."
"People with any amount of money in the bank are realising that it's not doing them much good there, and they have seen the evidence of whiskies going up in value. So the average man on the street is now investing in affordable yet valuable whiskies. They're actively researching the market and seeking those bottles out as a result. And the more people get involved, the more demand goes up and the more the value of the whisky goes up."
Dalmore was the first distillery to sell a bottle of whisky for a six figure sum in the form of Trinitas in 2010, proving that whisky is now a viable investment opportunity.
So how do you go about investing in whisky?
Andy Simpson runs Whisky Highland, which plots whisky prices on sale on the internet and at auction. His advice remains to invest in 'premier cru' whiskies but also to seek out whiskies which will become rare but also taste good, and will therefore be in demand to drink as well as to invest in.
"There are always exceptions. Loch Dhu, the black whisky, is the only whisky I've ever poured down the sink because it was disgusting, but that now sells for a healthy amount of money," he says.
"As a rule, though, the best whiskies are the ones from the top distilleries which taste good. There is enough information around now to see the trends. For instance, the data shows that The Macallan has been at the top of the Whisky Highland Index for the last year and The Dalmore has been at number two. Port Ellen, which is a closed distillery of which there is very little stock left, moved from five to four and then to three over the year, pushing Glenfiddich and The Balvenie down to four and five respectively."
Simpson's advice is to stick with Scottish single malts.
"I'm biased," he says "but I can't get past Scottish single malts because they have the history and heritage which people are seeking out. My advice on blends and blended malt whiskies is stay clear of them as an investment unless they're pre world war one.
"Again there are exceptions. The Mackinlay's Shackleton blended malt is a good investment because it is limited, it has a fantastic heritage and history story and it tastes good. That's the ideal combination."
But surely limited American whiskeys launched in the Autumn which quadruple in value in six months have great investable value?
"People who buy today to sell on EBay tomorrow or even in six months are taking huge risks and are the floor traders of the whisky investment industry," he says. "I'm looking at long term investment over 10 or even 20 years, and that's a very different thing."
Simpson offers a word of caution to potential investors talking to whisky companies who release rare whiskies and say they are collectable.
At the moment rare bottle auctions account for just over £3 million in sales, by 2020 this will be worth nearer £17million.
"Lots of whiskies such as grain whiskies from closed distilleries are definitely collectable but I would say that you should steer clear of them if you're looking to make money. There are three whisky markets – the drinking market, the collecting market and the investing market. Lots of bottles are collectable but only 10 per cent of them will make money. And that's the 10 per cent I'm interested in – and investors should be interested in."
David Robertson, the rare whiskies director at Whyte & Mackay which owns The Dalmore, also urges people to do their research and to keep an eye on the auction houses.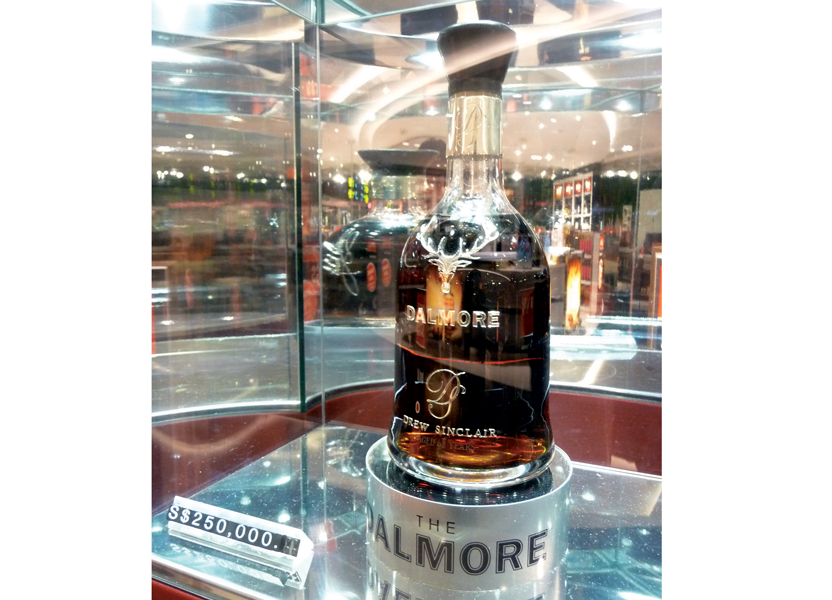 "Whisky auctions used to take place maybe once a year and only the real whisky aficionados took any interest. That has changed dramatically with auction sales now taking place 2-3 times year through different auction house and growing at a rate of 20% a year. At the moment rare bottle auctions account for just over £3 million in sales, by 2020 this will be worth nearer £17million."
But most of all, says Robertson, have fun with whisky and find a level of investment you're comfortable with.
"Look out for single cask releases, very limited volumes, highly drinkable distilleries," he says. "Buy two bottles. Drink one and keep one, and at least you will be doing your bit to take some supply out of the market, helping to push the price of your remaining bottle upwards."
Compared to other investments, whisky remains virgin territory and there are great deals to be done. This year alone The Macallan Royal Marriage has quadrupled in value, Ardbeg Feis Ile has gone up significantly and the Highland Park Eark Haakon has proved to be a great investment. And if you're looking to explore totally new territories then there is evidence that top end Irish whiskeys and aged Japanese whiskies, of which there are shortages, are worth seeking out.
The views expressed in this article are those of the authors and do not necessarily reflect the views or policies of The World Financial Review.