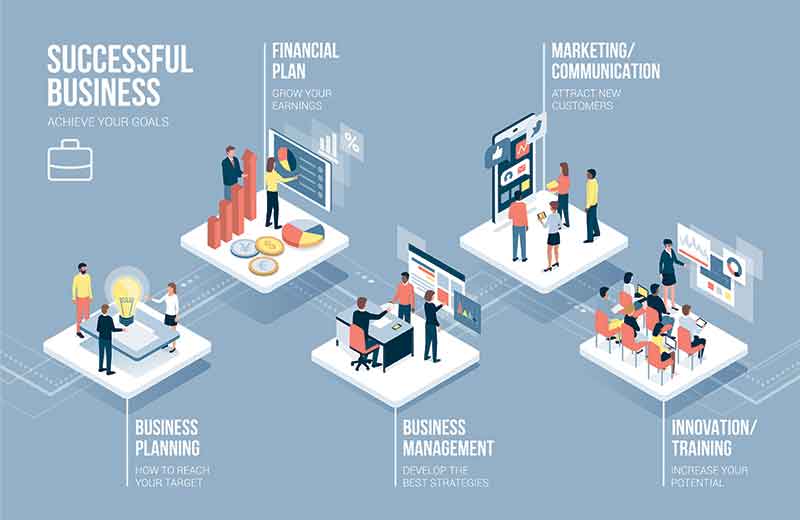 For your organization to fully transform, you must evaluate progress. One important thing that plays a part is to line up your financial aspects with every other part of the company. You do this towards supporting the growth and discovery of innovative ideas. This is where innovation accounting (IA) comes in. 
Many organizations are now benefiting from innovative accounting softwares. According to industry analysts, the global market value for business accounting software is projected to grow to $4.10 billion by 2024. 
IA describes how you measure your organizational growth against necessary standards like: 
ROI 

Market share 

Revenue 

Customers 
It's a tool that allows you to measure the progress of a risky project in an unforeseen domain. This helps you establish whether a specific task is worth investing your resources in. 
In short, innovation accounting does the following: 
It offers a chain of indicators that predict organizational success. Each element in the chain is essential and, when broken, needs immediate attention. 

It's a tool for teams to focus on the most crucial ideas they've made concerning a project. 

It's a common device that helps negotiate the use of resources among divisions, regions or other competing organizational functions. 
It enables teams to align research and development into a system that follows a clear process for funding innovations. The process is often audited to attain value creation.  

It allows comparisons between two or more similar startups to evaluate which investment is most worthy of continuing. Thus, it provides a way to see a startup project as an authorized financial instrument. The innovation has specific values which reflect future financial outcomes. 
Innovation Accounting in Practice 
Understand that practical and workable innovative accounting should inform your team whether an individual project is flourishing or not. It should be clear whether the innovation department is working best towards this.  
In the end, the team must point to a particular number showing that it's headed in the right direction. If not so, the innovation department won't exist for long. 
Thus, innovation teams should: 
Measure the potential ROI on a specific project, and  

Quantify the possibilities of the company generating projects with ROI. 
The early indicators of project success are usually unclear and undefined. Thus, innovation departments need not seek the early marks of success for the project. Instead, they should look for these indicators in the individual team. Important questions here include: 
Could the skill of the team be the leading indicator? 

Can you measure an innovation culture? 

Can you measure the innovation ecosystem? 

How many ideas exist?  

How many ideas/projects display an actual market need?  

How many ideas/projects seem to create a product that meets the market need?  
Subjective guesses can measure the practicability of the project's progress. Remember that this is only an attempt at measurement, and it may quantify actual results. 
What Does Innovation Accounting Lean Startup Mean? 
Innovation accounting lean startup implies that a startup business atmosphere is about creativity and innovation. Are you starting up a new project? Note that if you're not planning for something new, then you're not identified as a startup. 
IA is a crucial component of the lean startup approach. It incorporates the build-measure-learn cycle, thus allowing business developers to create valuable metrics. These are metrics that give deeper insight into: 
Product-market suitability, 

User engagement, and 

Scalability. 
What Are the Innovation Accounting Levels? 
The different IA levels tend to align with an organizational dashboard. And it gets more complex with each level. 
Level 1 – Tactical Innovation Accounting 
This level measures progress. It uses simple metrics that enable a team to track progress at the project's initiation. The team will understand what's working and what seems not to work. The main focus here involves the following. 
Running experiments 

Learning from the experiments 

Progressing from ideation to scaling 
For example, if customers fail to try on a product, it no longer matters what their repeat purchase rate would be. 
Level 2 – Managerial Innovation Accounting 
This level involves measuring the funnel. It focuses on having a well-thought-out business plan. At this point, the teams have complete assumptions about what can be tested. The aim is to help the organization make informed investment decisions.  
The decisions are based on evidence and the current innovation phases the teams are in. Thus, this level represents the whole interaction with a customer. You get to understand variables like repeat purchases and poor customer retention levels. 
Level 3 – Strategic Innovation Accounting 
This level stems from the learning obtained from the first two IA levels. It entails measuring ecosystems. The knowledge gained is actualized by rerunning the original business case with every new set of data collected at the initial levels. 
The main aim is to help a company's board analyze the overall performance of their investments in line with innovation. It's done in the context of connecting the overall organizational strategy to particular decisions. 
What Are the Innovation Accounting Metrics 
Apart from the three levels of IA, there are also two types of innovation accounting metrics: 
Performance metrics focus on how great the teams are doing regarding the innovation process. 
Result metrics measure the visible results that emerge from the organizational innovation activity.  
Most organizations tend to focus on performance rather than result metrics. That is okay in the initial stages to help indicate signs of success. But, ultimately, innovation has to show results, which is now the actual impact on the organization.  
Taking into account the results metrics means focusing on what the numbers have to say.  
Are the quantified result metrics indicating the possibilities for a sustainable project?  

Are there chances to have a repeatable and scalable business model? 
It helps to look at performance and result metrics at every phase of the innovation framework. 
Key Takeaways 
Innovation accounting is a fundamental principle of the lean startup business approach. It's formulated specifically to address the fact that a startup has no market data history or a standard of measure. Instead, it involves choosing essential metrics that allow you and your team to discover and measure what matters for your business's success.  
Before implementing a product, ensure you understand its value through the level of user engagement. Working with the innovation accounting metrics allows you to create a product highly-suited to the target market. This becomes the primary focus for all the project team members.

The views expressed in this article are those of the authors and do not necessarily reflect the views or policies of The World Financial Review.