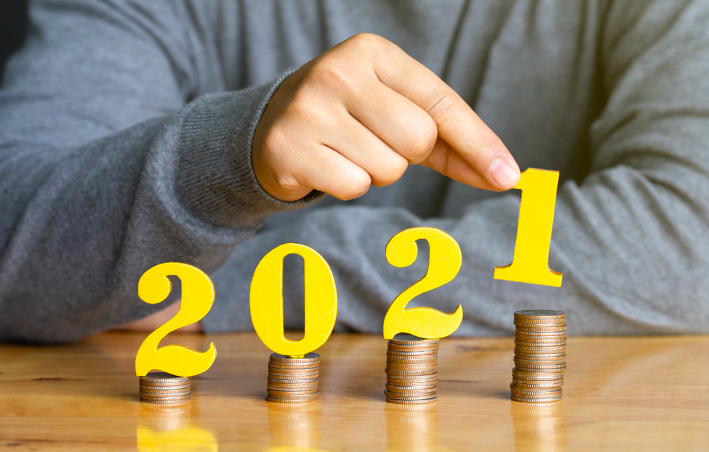 If you didn't accomplish any of your personal finance–related resolutions for 2020, you aren't alone. Few could have anticipated the year full of protests and political upheaval that challenged the economy in more ways than one, and even fewer could have predicted the rise of a virus that would spark a global pandemic. You might not feel that you and your family are in a strong financial position at the end of this year, but you shouldn't feel that 2021 will play out the exact same way — especially if you make a concerted effort to start 2021 right.
While your precise financial plans will depend on your unique financial situation and goals, here are a few tips for starting out on a stronger financial footing in the New Year:
New Year, New Budget
Everyone knows that the budget is the backbone of financial stability — but most people misunderstand how to use a budget properly. Budgets aren't documents that you set and forget. As your life changes, you should be sitting down to change your budget accordingly.
If you haven't touched your budget in months, you should take the New Year as an opportunity to start your budget anew. To begin, you should take the time to think and talk about your financial goals for the New Year. Goals will vary depending on your age and your position in life; you might want to save up for a college degree or a down payment for a house, or you might set a goal for replenishing your emergency savings or increasing your income. 
Using personal finance software, you should connect your financial accounts to your budget to allow for accurate tracking of income and expenses. You should also commit to revisiting your budget often to check on your progress and ensure you aren't overspending in certain categories. Throughout the year, you might need to adjust your budget, as your needs, wants and goals shift.
Side Hustles in the Gig Economy
If your career isn't providing enough income to help you accomplish your financial goals, you might consider acquiring a side hustle. The best side hustles don't take any energy or resources that you require for your primary career; they might consist of hobbies that allow you to generate extra income or gig work that leverages existing skills and tools at your disposal.
You can start thinking about side hustles that work into your schedule and skillset now and start applying for available positions come January. Even though this is secondary income, you shouldn't cut yourself short on your wages. In fact, because you won't be relying on this income to fulfill your needs, you should feel empowered to negotiate for higher prices than you might otherwise risk in your regular career.
Debt Consolidation and Elimination
If your debts increased during 2020, you shouldn't feel the need to beat yourself up about it — but you should make a plan to consolidate and eliminate your debt in 2021. This will increase your financial freedom beyond 2021, making it easier to reach more difficult financial goals.
There are dozens of strategies for paying down debt quickly and efficiently. Perhaps the most common debt elimination strategies are the snowball and the avalanche. The snowball entails paying down debts starting with the lowest balance and finishing with the highest balance. In contrast, the avalanche arranges debts by interest rate, requiring you to pay down the highest-interest debt first. You can consider either of these options or any other method you find applies appropriately to your lifestyle and budget.
Resume Boosters
Finally, though you might not think of your career credentials as contributing to your financial success, the truth is that certain skills and qualifications vastly improve your earning potential. You might make it a financial goal to pursue certain licensing or advanced degrees to position yourself better within your career ladder. If you aren't certain how to boost your resume, you might talk to your boss — or better yet, you can search for a mentor within your desired field to give you guidance throughout your career journey.
A certain virus is likely to stop wreaking havoc at some point in 2021, which means the financial hardships suffered by many throughout this pandemic crisis finally have an end in sight. You can put your household in a better financial position by thinking ahead about your goals and taking steps to improve your finances come January 1, 2021.
Disclaimer: This article contains sponsored marketing content. It is intended for promotional purposes and should not be considered as an endorsement or recommendation by our website. Readers are encouraged to conduct their own research and exercise their own judgment before making any decisions based on the information provided in this article.


The views expressed in this article are those of the authors and do not necessarily reflect the views or policies of The World Financial Review.