Online survey scams are very common and people generally fall for them every day. It's important to understand that legitimate paid survey sites are well-designed, have rules and their objective is to provide useful information to the customers. If you want to earn money from a paid survey site, it's crucial that you must check the online testimonials or you can also go through the detailed reviews available on third-party websites like LearnBonds to see whether or not the website is genuine or fake.
The purpose of this post is to discuss some of the proven ways that can help you check the legitimacy of paid survey sites.
Real VS Pseudo Online Survey Websites
A pseudo survey site is basically a scam website that is run by a marketing or lead generation company instead of actual marketing research company. These websites has the appearance of a real online survey site but it usually includes very limited and unclear information.
Real Online Survey Websites
These websites are operated by legit marketing research companies

These websites never sell/share user registration information to the third parties

Data provided by users is used for research purposes only

You can contact the actual marketing research company to clear your doubts

Panelists are not asked to register with other marketing or survey companies

Users are not required to submit their credit card information

These companies offer realistic rewards and compensation

They have detailed privacy policy available on their website containing information about usage terms, Habeas mail seals, etc.
Fake Online Survey websites
These websites are generally run by marketing or lead generation companies

These websites sell/share user registration information to the third parties

Users are encouraged to register for other survey companies and offers

Users are required to provide their confidential details including credit card information

These websites send spam as a result of registering for other services

The marketing company is not easily contacted

These companies offer unrealistic rewards and incentives

Pseudo websites only list a basic privacy policy on their websites
How Does Survey Scam Work?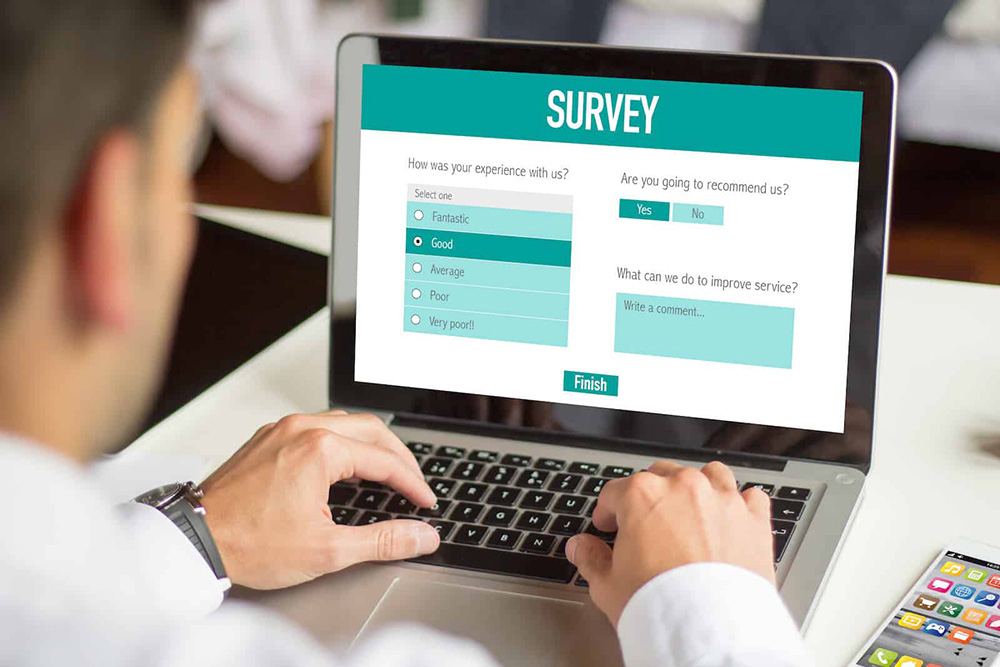 Many fake online survey companies will ask you to pay upfront to join the panel. Never ever pay any advance money to join the panel as they're the ones responsible to pay you for using your services. Some of these fake companies will ask you to register for other relevant services and offers and will tell you that you can get paid immensely if you pay them some basic fee upfront or subscribe for other services costing anywhere from $30-$50. If you choose to pay this basic fee considering you'll get long term benefits, you'll either get nothing, or will receive a long list of other panels to register (information that is already available online). There are some fake survey websites setup for no other objective than
to have your email id so that they can forward lots of irritating spam. Although, these services may not harm you financially, they're most likely to share your id and personal information to third parties.
Features of a Fake Online Survey Website
Unrealistic rewards/compensation and outrageous earning potentials for either signing up instantly or taking online surveys

Offers listed that are too good to be true

There is no company information or contact details listed on the website

Great rewards for referring website to others

Unprofessional website layout, poor grammar or spellings are yet another indication that the survey website is fake or unreal
How Can You Be Sure a Paid Survey Panel isn't a Scam?
Generally, fraudulent survey websites make money in two ways:
When you provide information on the homepage of the website, the company sells this information to data collection companies, who then further share your details to firms looking to attract people to promote their products.

When you provide your details and fulfill the registration requirements, the website prompted you to register for other relevant services. The website takes certain amount of money for directing every user.
If you're really looking to register for authentic and legitimate paid survey, then you must not provide your personal details to the websites we have discussed above. Make sure you look for proofs that the survey company does real business and isn't just stealing email addresses. Look for a phone number or contact details and get in touch with the company to ask a few questions. Also, check the website's name on Google and you would be able to access lots of reviews and testimonials about the company. Go through some of the current reviews as it will help you make your decision.
In conclusion, avoid paying to register to survey panels, be careful about websites that look unprofessional, and do thorough research online before you choose any paid survey service.
The views expressed in this article are those of the authors and do not necessarily reflect the views or policies of The World Financial Review.