By Rose Klukas
"At Kitimat the setting for a good life must be hewn out of the unknown wilderness. Pioneers must become old-timers, bound to Kitimat by enthusiastic love of their town and its qualities. They must be given the utmost freedom to develop their lives. And so the plans of Kitimat, both operational and physical, have been developed to serve as a flexible setting for good living that is open to continuous growth and expansion."
Clarence S Stein, original planner of Kitimat, 1952
Nestled at the head of Douglas Channel in northwestern British Columbia, the District of Kitimat enjoys both natural beauty and a strong industrial heritage. Safe neighbourhoods, ample recreational opportunities and affordable housing make Kitimat a welcoming community. The townsite is located on one of the few wide, flat, coastal valleys in British Columbia, with a stunning backdrop of rugged Coast Mountains and the glacier-fed Kitimat River, which ties it to the resource-rich B.C. interior. Kitimat is bursting with new activity. More than $30 billion (CAN) in direct inward investment has been announced and work has begun on several major projects. New businesses and residents are flocking to Kitimat, recognizing the unique opportunity and potential in the region.
Kitimat is home to a diverse and thriving economy, based on value-added manufacturing, natural resources, tourism, and transportation.
Kitimat is a world-class port and manufacturing centre on the Pacific Rim and an emerging energy hub and transportation link for Asia-North America trade with existing infrastructure, secondary industry, a skilled workforce, and ample space for new industrial development. Connections to international trade networks, access to western Canada's natural resources, and proximity to key Asian markets make Kitimat an increasingly popular location for manufacturing, processing, and transportation operations.
Carved out of the coastal wilderness in the 1950s, Kitimat has become a vibrant community of approximately 10,000 residents. The town was initially built to house workers for the adjacent aluminum smelter, but has become much more than a company town. Kitimat is home to a diverse and thriving economy, based on value-added manufacturing, natural resources, tourism, and transportation. Tourism is based on Kitimat's wilderness setting, world-renowned fly-fishing, and sailing and powerboating on Douglas Channel. Skiing and hiking options abound, and the challenging 18-hole Hirsch Creek Golf Course offers an unparalleled golfing experience in a pristine wilderness setting.
Famed American planner Clarence Stein designed Kitimat according to Garden City ideals,. Quiet residential neighbourhoods are connected by footpaths, and numerous parks, playgrounds, and schools serve the population. Arterial roads funnel vehicles away from pedestrian spaces and ensure efficient traffic circulation through the town. Industry is well accommodated, and separated from the residential neighbourhoods by parklands and the pristine Kitimat River. Fishing, hiking, boating, and winter sports are in our backyard. Cultural activities, urban amenities, and a mild west coast climate provide an extraordinary quality of life for residents.
The first population surge to the Kitimat Valley came in the early 1900s, with speculation that the Grand Trunk Pacific railroad would terminate at the head of Douglas Channel. The railroad instead went to Prince Rupert and population declined, not recovering until the 1950s, when the Aluminum Company of Canada (Alcan) began construction on a smelter, townsite, and associated hydro-electric project. The District of Kitimat was incorporated in 1953, and by 1955 the town's population had grown to over 8000 permanent residents. Families moved to Kitimat from all over the world to take part in the birth and growth of this dynamic new town. Today's vibrant Portuguese, German, Quebecois, and South Asian communities are a legacy of that era.
Long before construction of the aluminum smelter, the Kemano hydroelectric facility, and Kitimat, the region was home to the Haisla First Nation. The Haisla people are "the dwellers downriver," and they have always lived and worked on the waters of Douglas Channel. Today the Haisla are business owners, partners, and proponents in several ongoing projects, and are driving the discussion on new projects.
Kitimat offers significant strategic advantages to attract businesses to locate in Kitimat, including the ice-free, wide deep sea harbour and private port and a seamlessly integrated international transportation network. Kitimat is seeing increased trade and business linkages with Asia.
From the beginning, Kitimat was designed for industry. Recognizing the hydro-electric potential of the region, Alcan launched what was at the time the largest private sector project in Canadian history. Construction began in 1951 on the Nechako reservoir and generating station, smelter site, and Kitimat townsite, and the first aluminum ingot was poured in August 1954. 35,000 workers were involved in this project, which set records for speed and efficiency. The Kitimat smelter has operated uninterrupted ever since, and is currently undergoing a massive modernization upgrade that will increase production by 50% while achieving reduced emissions intensity. After completion, the Kitimat smelter will be one of the most efficient and cost-effective smelters in the world.
Through its history Kitimat has had a diverse and varied economy, primarily based on value-added manufacturing and natural resource processing. The Eurocan pulp and paper mill produced linerboard and kraft paper for over 30 years, until closing in 2010. Ocelot Industries/Methanex operated a methanol plant from 1982-2005 producing 500,000 tonnes of methane and ammonia annually. The same features that attracted Alcan, Eurocan, and Methanex to locate their operations in Kitimat are today drawing interest from numerous and varied proponents. Announced projects include natural gas liquefaction (LNG) facilities, pipeline projects, and associated shipping terminals. Kitimat's economic development office is increasingly busy fielding inquiries from other resource industry, energy sector, and manufacturing proponents.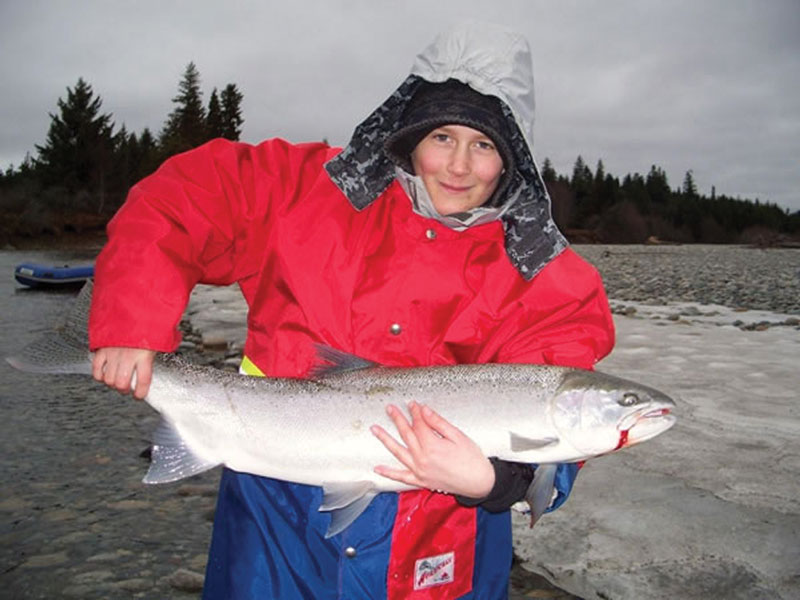 Kitimat offers significant strategic advantages to attract businesses to locate in Kitimat, including the ice-free, wide deep sea harbour and private port and a seamlessly integrated international transportation network. Kitimat is seeing increased trade and business linkages with Asia. Canada's northern transportation corridor spans over half of continental Canada, reaching into the American Midwest, and forms the straightest, shortest, and flattest route for Asian–North American trade. The northern corridor is a full day closer for shipping to or from Asia than southern transportation routes, offering time and cost savings. Kitimat's port is the third largest on the west coast of Canada, and is one of only a few fully private ports in North America. All port facilities are built, owned, and operated by private enterprise. There is no federal port authority and no harbour dues – just steady, productive levels of shipping. The port has vehicle clearance to 320,000 DWT. Customs brokers, shipping agents, and tug, barge, and pilot services are in place to serve shipping needs.
Kitimat Valley is unique on the west coast of North America. It is the only wide and flat coastal valley with an inventory of available greenfield land. Tidewater and inland sites, both large and small, are pre-zoned and available for industrial development.
The provincial and federal governments are dedicated to working with industry to make British Columbia's ports the preferred gateway for Asia-Pacific trade, with the most competitive port system and supply chain on the west coast of the Americas. This commitment builds on Canada's longstanding and strong cultural and economic ties with Asia. In the new global economy, Canada's Pacific Gateway is a path to the future.
Kitimat has been an industrial town since its inception, and today has a skilled workforce, support services and excellent infrastructure for growth. Northwest Community College and the Kitimat Valley Institute offer industry training programs and employment skills geared to the needs of local industry.
After more than sixty years of heavy industry, essential infrastructure, an experienced labour force, and a comprehensive supply and service sector are in place. Location, harbour, growth potential, and industrial heritage make Kitimat one of the most promising trade and manufacturing locations in North America. Kitimat British Columbia is a marvel of nature and industry.
Contact Kitimat

Economic Development Officer

Tel: 001 250 632 8921

Email: rklukas@kitimat.ca

Kitimat's economic development team is knowledgeable, experienced, and available to work confidentially and directly with businesses, investors, and all levels of government.
The views expressed in this article are those of the authors and do not necessarily reflect the views or policies of The World Financial Review.