In an article based on his recent book, Transnational Marketing and Transnational Consumers, Ibrahim Sirkeci argues that there is a paradigm shift in business and marketing management. As the speed of communication and transportation increases, local consumers and organisations are ever more connected but not identical despite the blurring national boundaries. Companies face a tough challenge to achieve efficiencies while customising to the extreme to satisfy "glocal" consumers in this new era of transnational marketing.

The top 100 Transnational Corporations list by the United Nations is periodically updated since 1970s. Nevertheless the list is not exhaustive. There are many more small or large companies around the world showing similar characteristics and as the day passes their numbers are growing. The formula to measure the transnationality of a firm is a simple average of the three percentages: sales abroad within total sales, staff abroad among all staff, assets abroad. Countries of origin of these companies are increasingly ever more diversified, while the number of state-backed companies are on the rise as transnationals. These are not "global" brands but transnational as they recognise and address the local and national differences and distinct needs and wants. Among them are giants such as Nokia, Nestle, Vodafone, and Unilever. In my new book, Transnational Marketing and Transnational Consumers, I argue that the globalisation is over.1 This conviction is based on two observations. First, despite some efficiencies gained through globalisation of manufacturing and some services, consumers remain local and loyal to some national characteristics and habits. Second, the diversity in consumer behaviour and attitudes has driven many companies, large or small, to customise and adapt to the local and national specifications. Third, people around the world are reaching beyond national borders, and like companies, they are more "connected" than ever. This is through human mobility as well as faster and easier communication and transportation available to people and organisations.

Understanding those transnationally connected consumers and the firms addressing their needs, wants, and desires are crucial for successful businesses.

Hence understanding those transnationally connected consumers and the firms addressing their needs, wants, and desires are crucial for successful businesses. The key feature here is the diversifying nature of consumer behaviour as opposed to "convergence" predicted by the Globalisation school three decades ago. Today, in a more competitive global market, transnational players are competing to appeal to distinct groups of customers who are local and yet pretty mobile. The economic crisis and growing competition from emerging markets pushes companies to pursue sales abroad as they more often face competition from foreign firms in their own markets. Reduced costs of international transactions and transportation enable online businesses to pursue sales in as many markets as they can reach and serve.

Connected consumers on the other hand are behaving "badly". For instance, for some internet savvy consumers, price comparison goes well beyond the high street. I call these "sofa transnationals" who are knowledgeable and experienced in online technologies and electronic shopping. They are also either equipped with the knowledge of prices and costs in foreign markets or have intuition to step outside the box. For example, a British consumer, at the comfort of her sofa, can easily check prices at the German site of Amazon and is likely to get the things delivered to her door at a cheaper rate.

There are two broad classes of consumers: Transnationals and Nationals. Both categories have subgroups characterised by their mobility (or non-mobility) behaviour and connectedness. These are transnational mobiles, transnationals (including the "transnationally connected") on the one hand, and national mobiles, nationally connected, and locals falling under the second category. Mobile consumers are those who either move to another country or another place within a country. These movements also include commuting. The movement can be permanent, temporary, or of a circulatory nature. The connected groups are those who have some connection to another place although they do not move. These can be those who have been left behind, such as families and friends of movers, for example. The final group is locals who are people with no connection to other places in the country they live in or abroad. Hence we are segmenting the consumers by mobility, movement, and connectedness (Figure).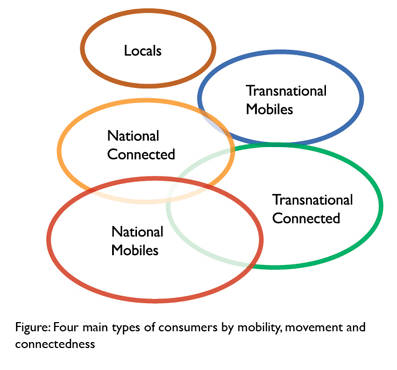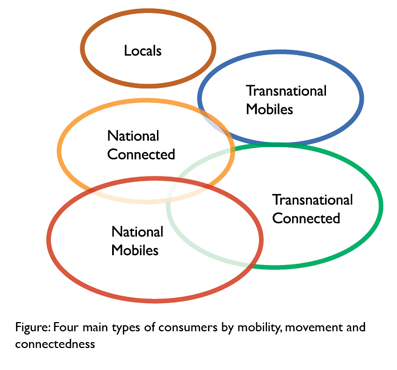 Here our focus is on the transnationals, mobiles and connected ones alike. In terms of connectedness, a hierarchy exists: The "locals" are not connected to anybody beyond their locality and they are not mobile nationally or internationally. The "National connected" consumers are not mobile but they are likely to be friends or family of some mobile people and those who live in other towns and cities. The "national mobiles" are likely to have domestic migration experience and/or experience commuting long distance. They are also often connected to others nationally and some of them also connected transnationally. The "transnational connected" are similar to the "national connected". They have family and friends in other countries and possibly pursue some business and career connections reaching beyond the national boundaries but they do not internationally move though they might have some mobility within the country of residence. The final group is the "transnational mobiles" who have experienced international move(s) and are likely to maintain connections in more than one country. They are both connected and mobile. Following the "cultures of migration" model2 we can possibly argue that mobility behaviour is accumulative, therefore past migration experiences, domestic or international alike, are likely to facilitate and encourage further mobility. Hence consumers, once they become mobiles, they are likely to continue moving.

People move between countries and weave networks, of business, of family, of friendship. Mobiles create a transnational space, which is also a "transnational consumption place" where the mobiles and the connected join. This is where businesses need "glocal" marketing.

Why do we bother with mobility and movement of consumers? What difference does it make? Well, mobile consumers, we argue, consume differently; or at least their demand for certain products and services is higher than the others. For example, mobile internet services are more likely to be used by mobile people. International roaming charges may not bother most, but they do if you are a flying professional spending her life travelling back and forth between several countries. Both domestic and international migrants and their families and friends (i.e. the connected ones) also differ from others. For instance, you may not imagine that an old and frail 80 year old Greek lady in Greece watches BBC news without a blink though she cannot even understand a word of English. But she does, if she has a daughter in London! She just looks at pictures and tries to make something out of sounds and pictures so she can figure out what is happening in London during the August riots. Not only that, another lady of the same age and village follows the weather forecast until she gets Berlin where her son lives. If they were not connected, they would probably switch off after the local news and local weather are spelled out.

Over 220 million immigrants are out there in the world. In 2012, over 1 billion international individual trips were made. This means up to one in seven people crossed a national border. Travel research shows that visitors to France stay 6 days on average while it is over 30 days in India. This means a lot of time spent abroad and also much exposure to new markets. People move between countries and weave networks, of business, of family, of friendship. Mobiles do create a transnational space, which is also a "transnational consumption place" where the mobiles and the connected come together. This is also where businesses need "glocal" marketing. It does not mean convergence, but new features added to the mix. These mobile consumers do open the gates to new markets.

Before the arrival of Turkish guest workers in Germany, we would not imagine "doner kebab" becoming the favourite fast food in Germany: "Some 15,500 doner places in Germany sell about 400 tons of doner meat every day".3 Similar stories are there for "Greek Feta Cheese", "Italian Pizza", "Indian Curry". Nevertheless, often it is the case with any of these products that the original one is done is a particular way back in the countries of origin. Thus, these are, as we know them outside their home turf, transnational products bringing together some of the original features, ingredients, etc. with some new ingredients. Or they are produced in new ways. Therefore they are not necessarily the same old products but innovative new entries to the transnational marketing space.

"All good marketing is local. Global companies know this and are going glocal." Philip Kotler.

However, these transnational consumers living outside of their countries of birth do also demand certain products they were accustomed prior to their moves. Hence, for instance, we see some Bangladeshi confectionary brands entering the UK market. Such internationalisation would be unlikely without the half a million strong Bangladeshi minority that has appeared in the UK over the last three decades. The same goes for Turkish and Greek dairy brands being available across Western Europe.

The world has become more connected and despite some convergence in certain sectors and markets, the importance of national and local remains intact within an ever more interconnected world of individuals, companies, and nations. There are more and more companies adopting transnational strategies and building transnational organisations benefiting from multicultural, multinational boards, teams and portfolios. They aim to customise as much to satisfy local customers while also pushing the limits for efficiencies through standardisation. The UN list of top transnational corporations is not an exclusive club for American and European brands anymore as there are increasing number of Asian organisations. These trends were noticed by many companies long ago. Famous marketing guru Philip Kotler sums it all in his endorsement of Svend Hollensen's Global Marketing text book: "All good marketing is local. Global companies know this and are going glocal".4 The globalisation is over, it is now the era of transnationals and "born transnationals." It is therefore advisable for managers of companies both in developed and developing countries to follow the steps of their increasingly more connected customers, but being cautious and careful pays off. A successful formula is in the details and finding the right level of synergies between markets. Lower entry barriers mean more competition, therefore constant screening of the markets is crucially important.

About the Author

Ibrahim Sirkeci is Professor of Transnational Studies and Marketing at Regent's University London. He is the author of the book Transnational Marketing and Transnational Consumers (2013), published by Springer. He is also the editor of Transnational Marketing Journal.

References

1. Sirkeci, Ibrahim (2013). Transnational Marketing and Transnational Consumers. Heidelberg, New York: Springer.

2. Cohen, J. H. and Sirkeci, I. (2011) Cultures of Migration: The Global Nature of Contemporary Mobility. Austin: University of Texas Press.

3. Grieshaber, Kirsten (2011). "Doner kebab becomes Germany's favorite fast food". http://usatoday30.usatoday.com/travel/destinations/2010-04-11-germany-doner-kebab_N.htm

4. Svend Hollensen (2013). Global Marketing, Sixth Edition. Harlow: Pearson.

The views expressed in this article are those of the authors and do not necessarily reflect the views or policies of The World Financial Review.