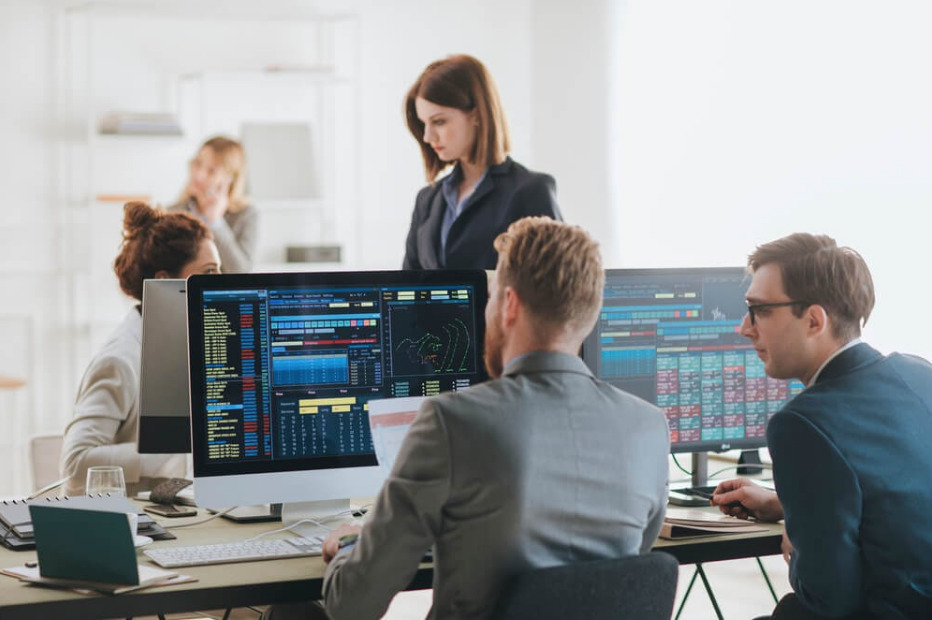 Copy trading is the action of closely following the trades of someone with more experience in the financial markets than yourself. With technological advancement over the last ten years, copy trading has now become an automated process that many major platforms offer.
As early as 2012, MIT professors were looking at the success of copy trading, their papers concluding that those that participate in copy trades fare between 6-10% better than working as an individual trader. Copy-trading has seen major developments since 2012, with a range of platforms springing up to directly accommodate this function.
In this article, we'll be discussing five social trading platforms that allow you to copy trade, touching on the best that's currently out there. We'll be reviewing:
NAGA
BingX
eToro
AvaTrade
PrimeXBT
Let's get right into it!
NAGA
NAGA places community engagement at the center of its platform, making this a strong ecosystem for copy trading. Providing a worldwide point of connection that allows users to follow traders from anywhere on the globe, NAGA's autocopy feature is one of the shining stars of its platform.
Once you start following a trader, you'll copy their trades instantly, with NAGA guaranteeing no delays in transactions. Without any slippage, this means you'll be able to get the very same price on stocks as the traders you're following, taking the idea of copy trading to the max.
NAGA also incentivizes professional traders to sign up for the platform, with traders with a big following getting generous payouts due to building up a community. As traders are actively paid to create a following, many seasoned professionals have flocked to this copy trade platform.
If you don't want to match the amount of money that a certain trader is putting down, you'll also be able to set flexible rates. For example, you can choose a trader and select 50% to then put down ½ the amount of cash that they do when making an investment. These proportional features allow you to bring a further level of control to copy trading.
The in-app ranking system allows you to see which traders have made the largest amount of profit in a recent period, looking at their win ratio, total profit, and amount of autocopiers currently following their trades. The complete transparency of NAGA gives you all the information you need to make smart trader selections. With truly impressive returns and an easy-to-follow layout, NAGA makes it easy to get started with copy trading.
BingX
Focusing on Forex, commodities, indices, and cryptocurrencies, BingX is one of the most recently founded companies on this list, launching in 2018. Upon signing up for an account with BingX, you'll be able to browse through the lists of top traders on the platform. 
Each trader has several metrics assigned to them, letting users see their profit rates, current follower count, and trading style. These statistics allow you to get a better idea of how a trader works. By clicking on a trader's profile, you'll also be able to see all of the recent transactions they've initiated, seeing how their recent trades are fairing on today's markets.
BingX allows its users to set limits on the amount they designate into copy trades. You'll be able to set both daily and trader-specific limits, ensuring that you only put down an amount that you're comfortable with. 
An additional feature that sets BingX apart is the ability to practice with virtual currency. You'll be able to follow certain traders with virtual currency, testing them out without costing yourself a penny. This lets you build up a level of familiarity with how traders work before committing with real funds. 
Especially if you're looking for crypto-driven copy trading, BingX has a wonderful ecosystem that you can take advantage of. 
eToro
By far the most popular option on the list, eToro has a user base of millions, with top traders initiating actions continuously on the platform. One feature that sets eToro's copy trading features apart is the direct community focus. Alongside copying other traders' actions, you'll also be able to see blog posts written by them, with viewpoints and ideas shared freely in the community.
Additionally, the filter options allow you to search for traders that work within a particular trading market. For example, you'll be able to search for traders with a return of 20%+ that work within cryptocurrency or one with a 40%+ return that works within commodities. No matter what strategy you want to perform, there will be a trader to copy for you. 
Currently, CopyTrader is one of eToro's most popular features, cementing itself as a valuable asset for the business. eToro boasts an average yearly profit of 83.7% across the 50 most copied traders for 2021, demonstrating the incredible potential returns of this service. 
One downside to this platform is that you must put in at least $200 minimum when copying a trader, meaning this isn't' the best platform if you don't have a lot of starting funds. 
AvaTrade
Branded as 'Social Trading' by AvaTrade, their form of copy trading is aimed at helping new traders learn more about trading by following the examples of experts. Instead of a singular database with a range of traders and their information, AvaTrade offers three external platforms within their ecosystem. 
Each of these three platforms offers a range of different signal providers, allowing users to find a strategy that works for them. By pulling from three platforms, AvaTrade's international selection of traders you can possibly copy makes this a valuable platform for diverse strategies.
Currently, the options on AvaTrade are as follows:
Zulutrade –

One of the world's largest collections of signal providers allows you to get a broad approach to copy trading.

Duplitrade –

A more convenient approach makes copy trading simple and allows you to copy multiple traders at once.

AvaSocial –

The in-app platform allows you to find your AvaTrade peers and friends, copying their trades and automating the trading process from your device.
Within these platforms, you'll have access to hedge funds, money managers, expert stock exchange brokers, and regular people that have a history of success in the financial markets. No matter which of these platforms interests you most, the diverse selection that AvaTrade offers is why it makes this list. 
PrimeXBT
PrimeXBT has a comprehensive community structure that allows its users to copy the trades of more experienced traders. They have a three-step program that new traders can follow that allows them to copy other people's trades. 
These steps are:
Find and choose

– A user will be able to browse through hundreds of different traders, learning more about their specific trading strategies, as well as learning more about their overall portfolio performance. Once you find a trader that has great returns and a desired trading strategy, you'll be able to go into their profile for even more information.

Amount regulation –

Of course, although copying trades is effective, the amount that you're willing to trade might be significantly less than a professional trader. Due to this, PrimeXBT allows you to allocate a specific amount that you're willing to trade, this then being translated into % investments on whatever actions the trader you're copying performs.

Trade –

Hit the follow button after confirming the amount you want to trade to begin copy trading. You'll be able to follow more than one trader at a time, building up a comprehensive portfolio with a range of different strategies.
One of the main benefits of PrimeXBT is how simple this platform makes copy trading. With in-depth portfolio reviews and statistics, you'll be able to find out everything you need to know with just the tap of a button. 
Some of the top traders on this platform have truly ridiculous returns, with the simple breakdown system demonstrating their total profits, daily returns, and the number of accounts following them.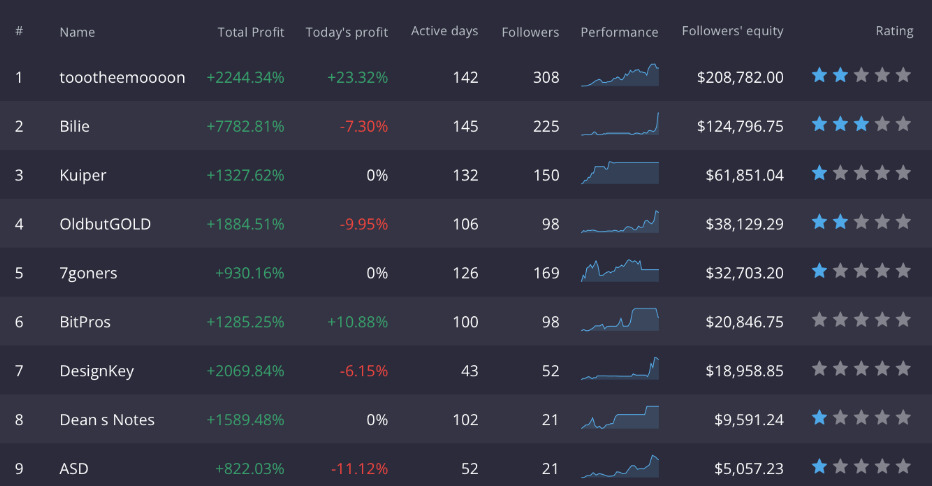 Final Thoughts
If you're a beginner trader, don't have time to constantly check markets, or simply want to take the concept of trading off your own hands, then copy trading is a wonderful solution.
As this field of trading has grown over the last 10 years, a number of platforms have come to fruition that make copy trading easy. From the advanced flexibility of NAGA to the broad approach of AvaTrade, there will be a platform on this list that matches the strategies you're looking for when copy trading. 
Disclaimer: This article contains sponsored marketing content. It is intended for promotional purposes and should not be considered as an endorsement or recommendation by our website. Readers are encouraged to conduct their own research and exercise their own judgment before making any decisions based on the information provided in this article.


The views expressed in this article are those of the authors and do not necessarily reflect the views or policies of The World Financial Review.