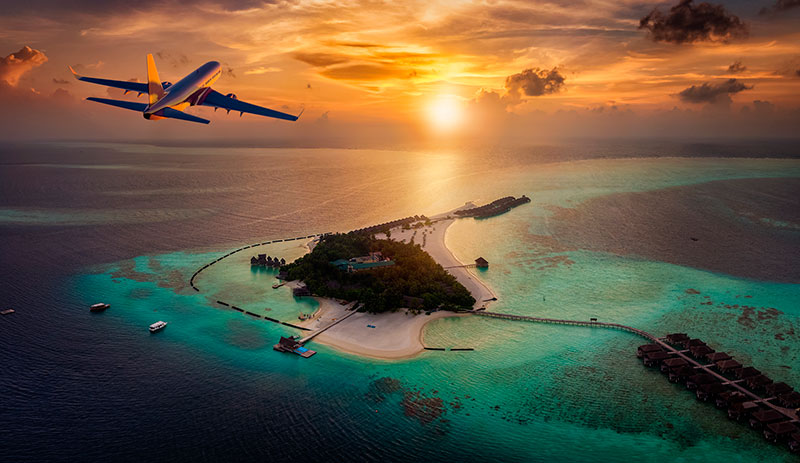 By Fazeel Najeeb and Peter Rudge
In June 2021, Abdulla Shahid, Foreign Minister of the Maldives, became President-elect of the 76th session of the United Nations General Assembly. The election brought to the fore the impact not just of climate change on these and similar Small Island Developing States (SIDS), but of the impact of the coronavirus pandemic on the economy and livelihoods of island peoples who rely so heavily on the blue economy, and on tourism in particular.
SIDS were first recognised as a distinct group at the United Nations Conference on Environment and Development in June 1992, a group of island countries that displayed certain characteristics, such as small size, limited resources, and geographical dispersion.
The Maldives, itself a SIDS, has enjoyed remarkable development in the past five decades, thanks largely to the advent of tourism in 1972.
They are, however, a diverse group with varying population sizes, cultural characteristics, and development progress. Like some other island states, the Maldives has officially become an upper-middle-income country and is classed by the World Bank as a development success, with the second-highest Human Development Index (HDI) rank in South Asia, and an income per capita of $11,890.1
On the other hand, in the same Indian Ocean region, the Comoros has a per capita income of $1,362, with 23.5 per cent of the population living below the poverty line.2 However, this diversity does not mean that SIDS do not also share some notable common characteristics and vulnerabilities.
The most-often cited of the SIDS' vulnerabilities are their small population sizes, their remoteness from economic markets and principal trade routes, and their often dispersed populations. These dispersed populations mean that domestic markets are small, limiting the economies of scale that larger countries with more condensed populations benefit from.
There is a recognition that for SIDS to build resilience against these external shocks, it is important to broaden their economies away from these traditional sectors and to support digital, knowledge-based and technological innovation and entrepreneurship. The need for innovation in solving the considerable sustainable development issues faced by small island developing states is perhaps more acute and urgent than ever. The COVID-19 pandemic has highlighted the fragility of island economies centred almost exclusively on the blue economy, and many island governments are now struggling with significantly reduced foreign revenues coupled with rising national debt and an increasing inability to service that debt.
Making their economies more resilient, then, by driving island-based innovation and entrepreneurship is not just desirable, but now absolutely critical.
The ability of island states to develop and grow their entrepreneurial culture and output rests on a number of pillars, but no doubt central to all of them is access to suitable finance for private-sector R&D and innovation.
It is also important to see this investment in the light of the drive to implement the 2030 Agenda and the challenges of engaging entrepreneurship and the whole private sector in that process. Many of the challenges are real, such as increasing the ease of doing business in developing countries, improving and implementing IPR legislation, and building the educational and research infrastructure of innovation and entrepreneurship.
This is particularly true of the private-investment community, as simply basing SDG finance on shifting a percentage of global GDP is unrealistic. However, making that happen, encouraging a shift in capital allocation to SDG-aligned investments, requires governments to remove the constraints to capital supply and to incentivise private-sector finance into these sectors.
This will widen the approach to targeting development capital, understanding that the 2030 Agenda is not going to be delivered simply through the funding of large-scale, infrastructural investment, but also by the engagement of MSMEs in that process. Finding mechanisms for this, such as the implementation of blockchain-based technologies and smart contracts within a suitable policy framework, can ease the restraints that entrepreneurs in SIDS or other developing regions face in attracting and accessing seed, start-up, and scale-up finance.
Beyond finance, though, MSMEs in SIDS and developing regions contribute to sustainable development through the positive impact of innovation and commercial activity in their localities. Building local production and inserting this into regional and global value chains contributes to the ability of these communities to become sustainable. This collective effort, of governments, development organisations and the whole range of the private sector, is essential if the "Decade of Delivery" is to have any chance of being realised.
Whilst many concessional finance flows are in response to natural and humanitarian disasters, there has to be an element of this that is proactive and not just responsive. At least a proportion of this finance has to be channeled towards interrupting the cycle of low growth and vulnerability that so often dominates the SIDS narrative.
For instance, finance aimed at developing stronger domestic private-sector activity, particularly in the realm of knowledge-based, technological and digitally focused SMEs, can break the dependence on a few exports that exacerbates the vulnerabilities that come with economic openness.
It is important, though, that available finance, whether public, private or in combination, should be used to build entrepreneurially focused policy and regulatory frameworks that can support a broader private sector beyond tourism and the wider blue-economy-related sectors.
This is going to require some innovation in terms of the approaches to sustainable finance flows, government strategies, and the frameworks put forward by the key international agencies. In a post-pandemic world, however, this innovation is critical, as reliance on the blue economy has been shown to be a significant weakness.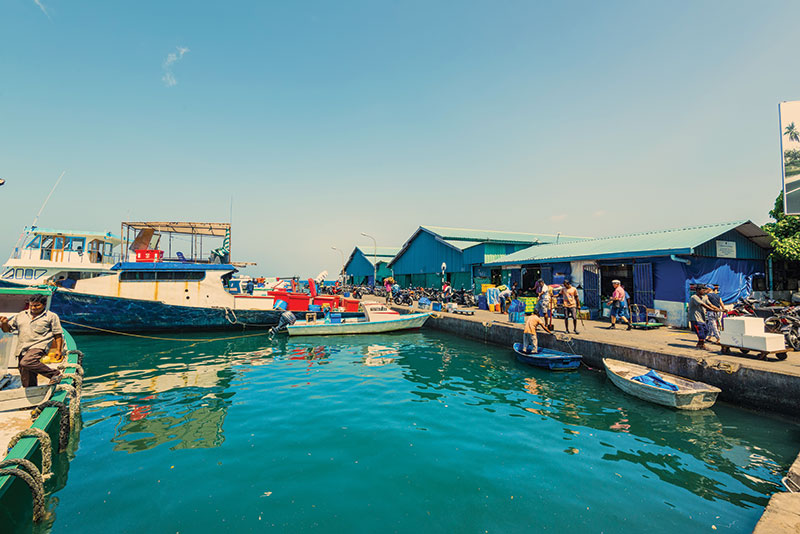 The Maldives
The Maldives, itself a SIDS, has enjoyed remarkable development in the past five decades, thanks largely to the advent of tourism in 1972. The world now recognises the Maldives as the "Sunny Side of Life" and numerous accolades have been showered on the country, including that of the world's most preferred destination. The country is marking its fiftieth anniversary of tourism this year.
The key lesson from tourism development in the Maldives is that the government refrained from heavy regulation of the sector, but rather contributed to its development by facilitating the tourism industry with minimal intervention. The largest emphasis in this regard has been in destination marketing in concert with the industry. As the contribution by tourism plateaus, policy must now be shifted and focused on additional sources of development and growth, and, in this regard, entrepreneurs often lament that financing for entrepreneurship is a – if not the – major constraint on entrepreneurial development.
Their concerns may not be entirely misplaced. The predominant form of financing available for entrepreneurs, among them start-ups, in the Maldives is commercial lending by banks at high rates. ASverage borrowing rates range 12-13 per cent. Financing at these rates is a disincentive in itself to entrepreneurs, as it makes a project unfeasible in most sectors. While finance leasing is available, the leasing rates are similar to commercial lending rates.
Recently, one of the commercial banks launched a portal for crowd financing, the country's first and only such platform at present. If successful, this is likely to be a very useful initiative for aspiring entrepreneurs, while the parent institution of this platform also stands to benefit from additional liquidity raised as finance through the platform.
But limitations in forms of financing did not hold back the self-made Maldivian tech phenomenon Nasrullah "Nattu" Adnan, one of the founders and Chief Technology Officer of LottieFiles. Nattu, without formal academic or professional qualifications, co-founded LottieFiles with its lightweight graphic file format that has gained popularity and investment of millions of dollars. In 2021, it landed US$9 million of Series A financing, led by M12, Microsoft's venture fund. This year, it further secured US$37 million of Series B financing, led by Square Peg Capital, with participation from XYZ Venture Capital, GreatPoint Ventures and M12.
LottieFiles is now used by designers and developers from more than 135,000 companies worldwide, including Microsoft, Netflix, the BBC, Google, TikTok, Spotify, Nike, Amazon, Disney, Uber, Airbnb, and many more.
Nattu's story is an inspiration to millions of aspiring young entrepreneurs and start-ups and could be spread across SIDS tech communities. For SIDS governments, there are lessons to be learned from this story, in that Nattu succeeded without government help. One can imagine that, with government support and focus, more success stories such as Nattu's can be achieved.
While not every entrepreneur and start-up may go on to capture the imagination and interest of tech giants such as Microsoft and Google, an enabling environment and support mechanisms that can facilitate them is one thing that SIDS governments ought to bring into sharper focus.
Some SIDS are also often in the blind spot of global tech giants. For example, PayPal does not offer inward payment services to bank accounts in the Maldives, a disincentive for start-ups, especially MSMEs that aspire to compete in global markets. This prohibits Maldivian entrepreneurs from receiving direct payments, since they have to then rely on periodic payments made to their accounts, which puts them in a disadvantageous situation liquidity-wise compared with their competitors in other countries. How this can be addressed may be, among others, a matter of SIDS governments taking it up collectively with tech companies such as PayPal.
SIDS governments may also facilitate aspiring tech entrepreneurs' access to angel investors, venture capitalists, and crowd funding sources. A vibrant tech sector can help diversify SIDS economies, while also contributing to the development of a knowledge-based economy.
Many SIDS are heavily reliant on one or a few economic sectors for their growth. While some SIDS may have significant contribution from the financial services industry, others benefit nominally from this sector. In the Maldives, for example, the financial sector's contribution to GDP is around 3 per cent, which cannot be compared with the above 30 per cent contribution by the tourism sector.
Fiscal authorities in SIDS may often be constrained in their abilities to support entrepreneurs through direct financial incentives, as they struggle to manage persistent budget deficits. But this should not prevent them from working towards setting up mechanisms within which to encourage the domestic private sector to participate in and support innovative entrepreneurial projects. But expectations of any immediate results from this must be realistic, since venture capitalists and angel investors may be few in these countries in comparison with other, more advanced developing and developed countries.
The paucity of such financing sources domestically means that efforts must be redoubled to help and support budding entrepreneurs and start-ups to get access to international sources of inexpensive financing sources like these.
In the Maldives, such an effort by the government is lacking, although its Strategic Action Plan (SAP) 2019-23 does speak to a number of technology-based initiatives targeted at MSMEs. However, an important achievement of the SAP has been the establishment of an MSME financing institution by the government, which lends to these enterprises at comparably low rates. The establishment of the SME Development Finance Corporation (SDFC) has been a welcome development for the MSMEs, even though the process of securing financing from it remains onerous. Constraints on funding SDFC's lending activities, as well as increasing numbers of applicants for finance, mean that a significant amount of demand for finance goes unmet. This is the point at which the need for exploring financing possibilities existing outside the country is more acutely felt.
An enabling domestic environment and simpler, but objective, ways of doing business also need to be addressed in a manner that is conducive to entrepreneurial growth.
SIDS can take comfort from the fact that innovative entrepreneurship abounds amongst them. However, such entrepreneurship is constrained by limitations in financing sources. With a wider choice of financing sources, SIDS entrepreneurs can tap into them to contribute more to their development as knowledge economies.
SIDS governments must also recognise that financing is but one aspect of enabling entrepreneurs to achieve their potential. An enabling domestic environment and simpler, but objective, ways of doing business also need to be addressed in a manner that is conducive to entrepreneurial growth.
The metanarrative of vulnerability and the tunnel-vision approach to certain industry sectors have the potential to limit the success of sustainable economic development in small island states. What can challenge and overcome those limited views is the innovation and entrepreneurship of island peoples that ultimately builds the opportunities for a strong, creative, entrepreneurial future.

About the Authors
Fazeel Najeeb is an assistant professor at the Maldives National University. He is a co-founder and co-editor of the Maldives Economic Review and director and chairman of Atoll Capital Finance. He is also a founding member of Maldives Policy Advocacy Caucus and member of its council of advocates. Earlier, he was the governor of the Maldives Monetary Authority and ex officio chairman of its board, and an expert at Qatar Central Bank. He was also a chief trade negotiator for the government of Maldives.
Peter Rudge is Associate Professor at Staffordshire University and author of Beyond the Blue Economy: Creative Industries and Sustainable Development in Small island Developing States, published by Routledge in 2021. He is a voting member of the British Academy of Film and Television Arts, a Fellow of the Royal Society of Arts and a member of the World Economic Forum Expert Network.
References
World Bank, 2020. Country Profile, accessed at http://worldbank.org/en/country/Maldives

World Bank, 2018. Comoros Poverty Assessment Washington, DC
The views expressed in this article are those of the authors and do not necessarily reflect the views or policies of The World Financial Review.