Interview with Chris Frost
While road and rail links in many areas of Africa remain underdeveloped, the business aviation industry is taking off. Here we speak to Chris Frost of ExecuJet, Africa about the role that non-scheduled aviation will necessarily play in the development of trade and business in the continent.
How is ExecuJet Aviation Group embracing and adapting to new aviation technologies in order to best meet increasing demands for comfortable, efficient, and environmentally sustainable travel?
Private business jets or high end turbo-prop aircraft are becoming increasingly sophisticated with advanced digital cockpits (there are very few analogue dials in the modern cockpit today), while many larger business aircraft have wi-fi, internet access and advanced climate control.
Although ExecuJet embraces the latest technology, we can only hope to influence a prospective business aircraft owner to purchase a later generation aircraft. ExecuJet does not actually purchase their own aircraft, rather we manage aircraft on behalf of their owners. During the aircraft selection process we do advise customers of the latest trends and cabin technology in an attempt to secure the safest and most environmentally acceptable business aircraft.
ExecuJet has been consistently expanding its presence in Africa; how can this contribute to sustainable economic development in the continent?
ExecuJet services, be it VIP air or VIP ground services, are geared for the business traveller for whom time has value. As the need for air travel to more remote locations on the continent increases, so ExecuJet is able to fill the need. Business travellers want to "get in, do the business and get out" as efficiently as possible. The better they can do this the more trade deals that can be secured, thereby enhancing economic development in the region.
How can African businesses harness ExecuJet's services in order to expand their operations and contribute to economic development across the continent?
It's simple – phone in or email the company's meeting itinerary and we do the rest! However, there are ways to get the best travel deals in business aviation. Regular users of private business aviation can take advantage of JetCards, Service Level Agreements or Air Charter Contracts.
Firstly though, there has to be recognition by businesses operating in Africa that private aviation is no longer the domain of the company Chairman. What was termed the "Chairman's Chariot" is today more aligned with the "key-person's chariot".
ExecuJet often provides on-demand air service for those visionary African companies expanding beyond their own borders long before the airlines come on board.
Secondly, there has to be recognition that time has value and that most of the benefits of non-scheduled flying are intangible rather than tangible. Very often you can achieve a complex, multi-destination travel itinerary in Africa in far shorter time than when using commercial airlines.
Once this culture is applied then the company is able to select business aircraft services to take advantage of the speed and ease of travelling to growing business areas on this large continent.
Developing African trade has been a key focus in the continent over the past few years; how has ExecuJet been involved in this process?
Typically the ground transport infra-structure is poor in Africa and this factor, coupled with the difficult challenges African airlines face, has lead to an increase in non-scheduled air services. Private air travel in Africa for expanding African companies is a necessity not a luxury. Scheduled airlines are usually slower to respond to market demand, they have to wait for a particular new route to show consistent demand before they can inaugurate a route. ExecuJet often provides on-demand air service for those visionary African companies expanding beyond their own borders long before the airlines come on board.
What will an expansion in intra-African trade mean for the development prospects of the continent?
Without doubt, efficient trade among African countries will benefit the people of the continent. It is economically proven that healthy trade boosts the economies involved. To bring about the efficiency needed, however, will require forward thinking by each country's leaders to reduce the bureaucracy, corruption and cost of doing business with each other. There is no true open skies policy in Africa that can encourage businesses to grow beyond their own borders. Doing business in Africa has to be made easier, which means that air transport will play a critical role whilst road and rail transport systems are being expanded.
How can the development of the business aviation industry encourage greater investment in Africa?
Face to face business relationships in Africa are critical. Investors need to be able to visit remote sites to assess the real situation on the ground. Business aviation is recognised worldwide as providing itinerary flexibility – therefore it is easier to do face to face business. Despite the improvements in communications technologies, the way of doing business in Africa is through development of personal relationships – and this means face to face business is critical. Business aviation makes it easier to achieve this and therefore increases the chance of investment.
ExecuJet, Africa has also been commended for its contribution to African aviation development more generally; what does ExecuJet see as the future for this industry in Africa?
There has to be a leap in improvement in general aviation safety standards and a culture of safety and quality inculcated in every aviation-related company. This is where ExecuJet starts when contemplating expansion into Africa. Everything hinges on the safety and quality record. Further, there is a definite need for the development of general aviation-related skills throughout the continent. ExecuJet supports this need through partnerships with fledgling local general aviation companies to grow the local aviation industry and at the same time assist with development of the skills needed to support the industry. The days of a foreign-based aviation company providing their own air crews, ground handling staff and specialist administration staff are being limited by each country's domestic aviation legislation, in order to protect their local market. Unfortunately, some countries are too eager to promote their own interests to the detriment of safety. A balance is required between the need to develop a domestic general aviation industry and judicial use of foreign service providers to maintain high standards of safety.
How does ExecuJet account for the growing demand for its business charter services in Africa in recent years?
Africa is bursting with mineral wealth and the increase of mining and oil and gas exploration activity has resulted in increased demand for non-scheduled flying services. ExecuJet is well known for its expertise in travelling throughout Africa, with a well-established support network throughout the continent, so is well positioned to take advantage of the increased demand. Also, the brand name ExecuJet, developed over 24 years, is synonymous with international safety standards, VVIP quality of service and cost-efficiency. These factors, together with a varied fleet of forty business aircraft on the continent, has allowed us to continue to grow to meet the demand.  
What is ExecuJet's vision for the future of sustainable air and business travel in Africa?
Air travel in Africa will remain a necessity not a luxury. Africa currently has a poor reputation when it comes to aviation safety standards. Whilst some African aviation organisations subscribe to international best practices (in the commercial airline sector and the General Aviation sectors), there are too many who don't. As a continent we cannot continue in this way if we are to expect international companies to make use of African-birthed aviation services. There is an unhealthy perception among first world countries that all African countries are the same – we are, therefore, only as strong as the weakest aviation country. Private General Aviation organisations and Government leadership need to work together to enhance the African aviation reputation and in so doing can become less reliant on foreign service providers. ExecuJet Aviation Group intends to remain at the forefront of the business aviation revolution that will be experienced in Africa over the coming years.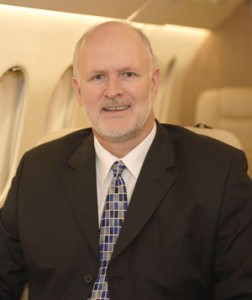 Chris Frost is Sales Manager of Flight Operations at ExecuJet Aviation Group, Africa. Chris gained valuable experience as Key Account Manager for Manufacturing and Retail at Siemens Nixdorf (now Fujitsu) before working as General Manager for a specialist Industrial Cleaning Company. He later worked in marketing and advertising as owner of a niche publishing business. Chris has always been passionate about aviation and joined ExecuJet in 2001. He has extensive experience in the sales, management and charter of business jets and turbo-prop aircraft and has overseen steady growth of the Air Charter business unit over the past 5 years.
The views expressed in this article are those of the authors and do not necessarily reflect the views or policies of The World Financial Review.