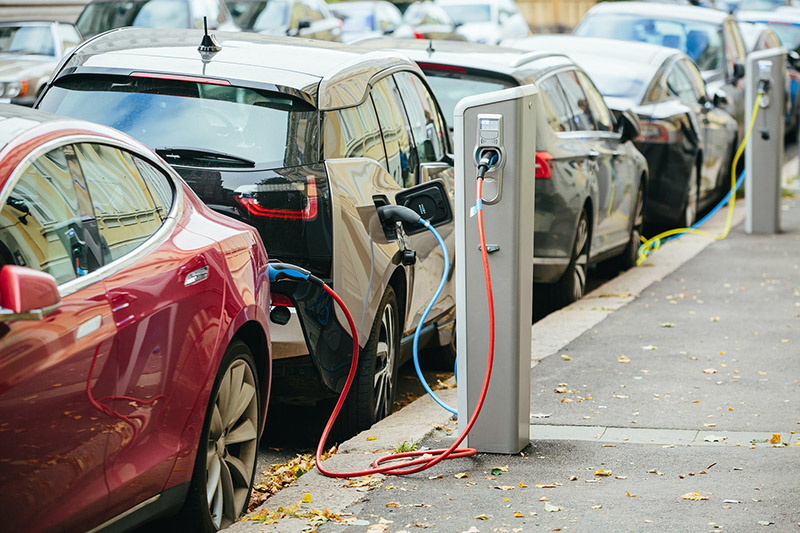 By Dr. Parveen Kumar and Anshika Singh
A worldwide revolution is unleashing to drive the adoption of Electric Vehicles (EVs). Countries are embarking on the decarbonization journey with ambitious EV sales targets and are enabling the transition with fiscal and non-fiscal incentives for both supply and demand-side, innovative business models and supportive regulations.
Globally, momentum is building to increase the adoption of Electric vehicles (EVs). Fueled by a host of issues ranging from climate change to air pollution and crude oil prices, several countries have announced ambitious targets to phase out fossil fuel-powered vehicles. While EVs appear as the poster child for promoting sustainable transportation, embarking on the decarbonization journey requires addressing the key barriers including higher upfront purchase costs, range anxiety, and supply chain vulnerability.
Over the last decade, diverse support policies were instituted in key markets to address these barriers and upscale EV adoption with fiscal and non-fiscal incentives for both supply and demand-side. EV penetration, currently confined to China, North American, and European countries provides an opportunity to find enabling mechanisms for EV uptake that could help developing countries like India bridge the gap between the demand and supply dynamics and help cultivate a cohesive EV environment.
China
Across the globe, China remains the largest EV market, accounting for 41% of EV sales in 2020. Setting the ambitious goal of achieving 40% EVs on its road by 2030, China has made wide strides with an array of policies to induce the demand for EVs in the nation. It pumped huge investments through its central subsidy program in 2009, covering 30-50% of the vehicle cost for EV buyers. Through its 'Ten Cities, Thousand Vehicles program' launched in 2009, China aimed to deploy at least 1000 new energy vehicles in 10 pilot cities with the help of a one-time purchase subsidy. The subsidy structure is further supported by a variety of policy initiatives including an exemption from travel tax, parking privileges, and road access. The substantial role the purchase subsidy played in China's success was highlighted when EV sales declined in 2019 growing by a mere 4% y-o-y compared to 62% in 2018 as it announced a phase-out of subsidies from 2020. China's policymakers then boosted EV production by mandating automakers for selling certain percentages of their total vehicle produced to be EVs while simultaneously backing them through vehicle production subsidies.
Figure 1. Electric vehicle targets and achieved EV penetration of different countries
Another vital role was played by the local governments through city-level implementation policies, which include innovative incentive policies and business models, that spurred EV uptake several times at the city level. Shenzhen, a southern Chinese city, started with the development of a comprehensive institutional framework and additional purchase and operational subsidy policies to promote the development of the local EV market. Through the above policy actions and collaborative efforts between local governments, third-party financial institutions, EV manufacturers, and charging facility operators, using leasing and vehicle sharing mechanisms, Shenzen was able to increase the total number of EVs ~58 times compared to 2012. During 2015-2018 (scale development phase), the number of e-buses increased 4-fold (from 4,000 to 16,000) whereas electric taxis and private cars grew 10-fold. It also invested heavily in charging infrastructure, and the city has an average of one fast charger per 0.16 km2. Today, Shenzhen emerges as a source of inspiration with the world`s largest e-bus fleet and almost 100% electrification of taxis and urban logistics vehicles.     
Europe
Europe, giving close competition to China in the growing global EV market, has richly varied electric mobility support policies across its markets. It hosts the countries with the largest penetration of e-car sales including Norway (54%) and the Netherlands (21%). While in Europe, the financial incentives are based on CO2 emissions; different countries have different mechanisms for putting EV adoption in place and each of them is unique in its place.
Norway, with 54% e-car sales penetration in 2020 remains the global leader in EV market share and is also the closest to achieving its national zero-emission vehicle (ZEV) target of 100% e-car sales by 2030. Norway's success in EV diffusion can be traced back to the outstanding amounts of subsidies the government deployed. Starting back in 1991, Norway exempted EVs from registration taxes and then value-added tax while later it waived tolls and parking fees to EV owners and gave preferential access to bus lanes. In addition to this, the government strongly subsidized charging infrastructure development across the country through direct grants to the service provider. Similar local initiatives were established by city administrations which considerably decreased barriers to development during the early years of diffusion and increased EV adoption by more than 200% after five years in Norway.
Similar local initiatives were established by city administrations which considerably decreased barriers to development during the early years of diffusion and increased EV adoption by more than 200% after five years in Norway.
The Netherlands standing second to Norway in terms of EV adoption has a target to sell all-electric cars by 2030. The introduction of purchase subsidies for even second-hand EVs in chorus with fee waivers for vehicle registration, road tax has led to soaring consumer demand from just 1% EV sales penetration in 2015 to 21% in 2020. Its dense charging network of  1 public charge point for every 5 EVs, has been one of the factors behind a successful EV adoption. Over 80% of charging points deployed into the country's regime were done through a partnership with municipalities. Moreover, the cooperation among the national, regional, and local level governments to implement the subsidy model, as well as incentives for EVs, has been a worthy tool for mass EV uptake in the Netherlands.
United States
The US was the earliest adopter of EVs, however, the pace of growth has been relatively slow when compared to Europe and China. It had a national target of adopting 18 million EVs on its road by 2030 but was able to achieve only 10% of it by 2020. While EV penetration in the nation remains low, efforts at the state and local levels have gained impetus over the years. The major responsibility for the deployment of publicly available charging stations was undertaken by the states by directing national funds.
Today, the state of California stands as a flagbearer with its set of progressive policy measures aiming for 100%  electrification of all new car and passenger light truck sales by 2035. Complementing the federal subsidy, California introduced state-level tax credit on EV purchases followed by high occupancy vehicle (HOV) lane access and utility incentives for EV owners. The state tax credit stands unique as it incentivizes EVs for a family according to the EV purchase price and its household income to ensure that the credit goes to the real buyers in need. California further introduced the world's first ZEV mandate for automakers similar to that of China.
At the local level, cities have increasingly adopted more detailed EV strategies and goals to guide future actions. The cities of San Francisco and Los Angeles have aimed for all registered vehicles to be ZEVs by 2030 & 2050 respectively and have adopted stronger EV-ready building codes for facilitating charging infrastructure deployment to this end. As a result of these far-fetching policies, California today accounts for close to half of the EV sales(101,628) made in the US with a 3-fold increase in the EV market share from 2016. Although EV adoption has so far lain on the shoulders of a few state governments, the new US Government is advancing federal support to transition its fleet to ZEVs and establish a nationwide charging network.
India
To meet the global commitment of lowering emission intensity, India has been upping its electrification game with a bunch of progressive policies aiming to achieve 30% EV penetration by 2030. In 2015, the central government announced demand incentives under its flagship Faster Adoption and Manufacturing of (Hybrid &) Electric Vehicles (FAME) schemes, to prioritize the electrification of public transportation and commercially used vehicles across various segments. Unlike other western nations, where e-cars dominate the market, the EV landscape in India is built on e-2Ws and e-3Ws with an EV market share of 61% and 37%, respectively. Further, multiple initiatives were put forth to accelerate EV adoption including reduction of Goods and Services Tax (GST) on EVs, regulation for allowing the sale of EVs without batteries to encourage battery leasing/swapping, scrappage policy for old fossil-fuel-powered vehicles, etc. While national-level efforts for EV promotion have been in place since 2012, it was only in 2017 that the state governments started devising their state-level EV policies. 20 out of 28 states have announced their EV uptake targets and incentives under EV policies during 2017-2020, whereas 6 out of the 20 states have approved or revised their EV policy in 2021.  Some states (e.g. Gujarat) are even developing EV policy roadmap at the city level. Financial incentives ranging from purchase subsidies, battery buy-back schemes, exemption from vehicle registration, and road tax to boosting charging infrastructure through capital subsidy are some of the enablers deployed at the state level to boost consumer confidence in EVs. The introduction of these policies in conjunction with national schemes has been a gamechanger in growing India's EV sales share by 17 times from 0.1% in 2015 to 1.7% in 2021.
Figure 2. Registered EV sales trend in India (January-2020- November-2021
Government support is further prospering competition in the industry and keeping the stakeholders on their toes with innovative business models like vehicle leasing and battery swapping. Energy Efficiency Services Limited (EESL), a public sector undertaking drove the initial adoption of e-cars by partnering with demand aggregators like ride-hailing services and state governments for leasing vehicles procured in bulk from automakers and achieving economies of scale. Further demand in light-duty vehicle segments is currently boosted by the adoption of EV fleets in the last mile connectivity and last-mile delivery sector. Under public transportation, the adoption of e-buses is largely driven by Public-Private Partnership (PPP) model. Government-run State Road Transport Undertakings (SRTUs) are operating ~1061 e-buses under the Gross Cost Contract model, where the private operator receives payment from SRTUs on a fixed cost per km basis.
For the widespread deployment of charging infrastructure in India, the initial action was taken by EESL by partnering with municipal bodies and electricity distribution companies. With the broader target for setting up one public charging station at every 3 km in metropolitan cities, states like Andhra Pradesh, Uttar Pradesh, Bihar, and Telangana have fixed state-level targets to be achieved with investor-friendly policies, supply chain connectivity, and land availability.
Moreover, to boost an EV manufacturing base and reduce import dependence in India, the central government recently launched the Production-Linked Incentive Scheme (PLI) for strengthening different EV component sectors including a planned outlay of INR 18,000 crore for 5 years for manufacturing of Advance Chemistry Cell (ACC) batteries for EVs. Ultimately, it is this continual investment that will support the EV industry with the requisite infrastructure and significantly cause a reduction in the cost of EVs. Although challenges to mainstream EVs on Indian roads still exist including lack of EV models and end-user financing, if these pertinent actions continue to build, the 2030 electrification targets could well be within reach.
Summary
EV adoption has picked up steam in recent years, fueled by a confluence of circumstances and enabling parameters. While many EV promotion activities are used at national and local levels, fiscal support measures and charging infrastructure deployment is among the most prominent ones. Federal and state governments have an important role to play in initiating EV adoption but it is going to take more than government support to realise the electrification targets. Since every component is likely to have a varying degree of stakeholder involvement, innovative and strategic alliances through public-private partnerships remain key to facilitating and optimizing the interplay amongst various actors in the EV ecosystem as seen in Shenzen.
The world's largest EV markets demonstrate that while a top-down planning approach is of paramount importance to shape and direct the investments at the supply end, a bottom-up planning perspective is equally important to take advantage of local conditions and overcome barriers to adoption. Despite the fact that India is a long way off from reaping the gains of sustainable mobility, it can take heed from these learnings and steer the transition to an electric mobility future.
About the Authors
Dr. Parveen Kumar is a senior program manager at WRI India under the Cities program. Currently, he is associated with projects related to the electric vehicle ecosystem. He has previously worked at the Indian Institute of Science (IISc), Bangalore, and has received a Ph. D. from JMI, New Delhi. He has more than 14 years of post-PhD experience in science, technology, and policy research. He has published several peer-reviewed papers in reputed journals and articles in the leading magazines.
Anshika Singh is currently working as a Program Associate with the Electric Mobility team at World Resources Institute India. She currently holds a Master's degree in Transport Planning and a Bachelor's degree in Planning from the School of Planning and Architecture, Delhi. Her areas of interest include climate change, sustainable transportation, green mobility, low-cost transportation.
References
Avendus. (2020). "Electric Vehicles: Charging Towards a Bright Future", Avendus, Retrieved from https://www.avendus.com/india/ev-report
Bjrch, S. (2020). "McKinsey: Chinese and EU markets drive demand for EV sector". Energy, Retrieved from https://energydigital.com/smart-energy/mckinsey – chinese – and – eu – markets – drive – demand – ev – sector

Dua, R., Hardman, S., Bhatt, Y., & Suneja, D. (2021). "Enablers and disablers to plug-in electric vehicle adoption in India: Insights from a survey of experts", Energy Reports, 7, pp. 3171-3188.

International Energy Agency. (2021). "Global EV Outlook 2021: Accelerating ambitions despite the pandemic." International Energy Agency, Retreived from https://iea.blob.core.windows.net/assets/ed5f4484-f556-4110-8c5c-4ede8bcba637/GlobalEVOutlook2021.pdf

Schulz, F., & Rode, J. (2021). "Public charging infrastructure and electric vehicles in Norway", Energy Policy, (160), pp. 1-12.

Stauffer, N. W. (2021). "China's transition to electric vehicles", MIT News, Retrieved from https://news.mit.edu/2021/chinas-transition-electric-vehicles-0429
Trivedi, A. (2021). "China Cracks the Trillion-Dollar EV Question", BloombergQuint, Retrieved from https://www.bloombergquint.com/opinion/biden-s-ev-infrastructure-plan-should-take-a-page-from-china
The views expressed in this article are those of the authors and do not necessarily reflect the views or policies of The World Financial Review.