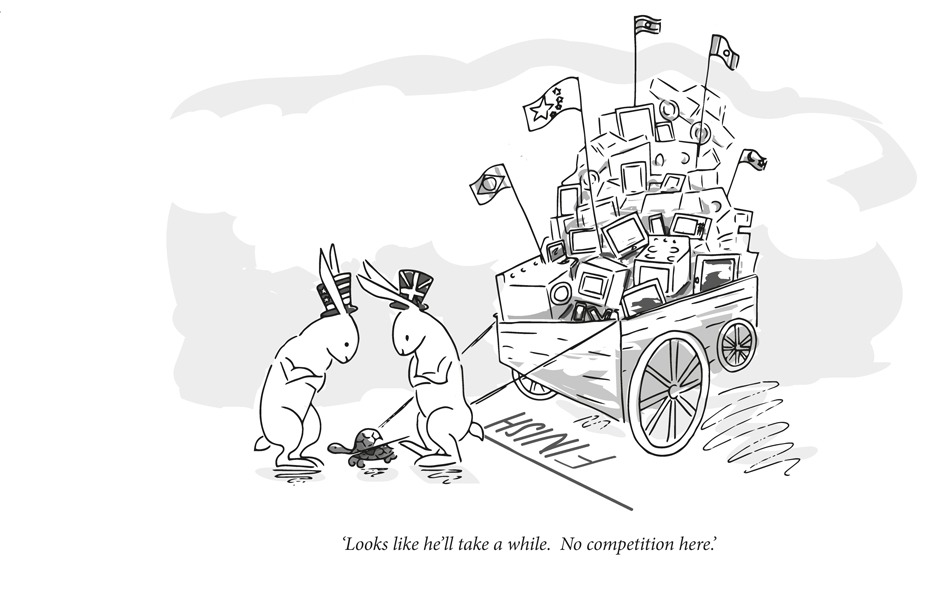 By Jan-Benedict E.M. Steenkamp
In an article adapted from Brand Breakout: How Emerging Market Brands Will Go Global, Jan-Benedict E.M. Steenkamp argues that emerging market brands will become increasingly global, and suggests that the strategies these companies should use to build global brands are not traditional.
Popular lists of 100 global brands (such as the Interbrand) demonstrate that all the leading global brands originate from the developed world. Historically, they come out of the USA and Western Europe. But in recent decades, as Japan and South Korea have risen economically to join the nations of the developed world, brands from these two countries (e.g., Cannon, Honda, Hyundai, Kia, LG, Panasonic, Samsung, Sony, and Toyota) have emerged as global brands. What is remarkable is that despite the rise of the emerging markets, especially China, no emerging market brands are viewed as brands that are beloved by consumers in advanced economies. In fact, studies indicate that the percentage of U.S. or European consumers who could spontaneously recall major Chinese brands ranges from 2-7 percent.
Yet 127 companies from emerging markets feature on the 2013 Global Fortune 500 list of the world's largest corporations by revenue, including 95 from China. Is there something about emerging market firms that precludes them from building global brands, or perhaps, Western consumers are resistant to these brands? Are they all going to be like Hon Hai (a.k.a. Foxconn), the 30th largest company on the Fortune 2013 Global Top 500?1 With sales of $132 billion, it is ahead of technology powerhouses like H-P, Hitachi, IBM, and Sony but unknown to consumers around the world, who use its products when they read on their iPad or make a call with the iPhone.
Brand Breakout

We believe that this situation, in which Western brands have the world all to themselves, is about to change. In our new book (with Nirmalya Kumar), Brand Breakout: How Emerging Market Brands Will Go Global, we argue that, in the coming decade, emerging market brands will become increasingly global and present in the Western world. Our conviction is based on three fundamental observations. First, the push to global sourcing means that leading emerging market firms, especially in China, have now built world-class manufacturing capabilities. Second, the traditional emerging markets model based on low-cost labor is breaking down, again especially in China. The time when emerging market companies could rely on low cost products for export growth has ended. Turning products into globally recognised consumer brands supported by innovation and marketing, has become the ultimate goal for many emerging market firms. Third, although we would not go as far as The Economist and call it the 'Great Deceleration',2 there are indications that the period of breakneck economic growth may be over. Lower growth at home means that companies for whom until now the domestic market was sufficient to meet their goals have an additional impetus to pursue sales abroad.
Haier, a Chinese brand, exemplifies the trend of emerging market companies building brands that are being accepted, if not recognised, by the Western consumer. Haier has sold more major appliances by retail volume than any other company and had $26 billion in sales in 2012, selling dishwashers, microwaves, and washing machines in 165 countries. Last year, the company had one of the largest exhibition spaces at the Consumer Electronics Show in Las Vegas and has been an official sponsor of the National Basketball Association since 2006. It is an incredible turnaround for a company which twenty years ago was a nearly bankrupt state-owned enterprise, and is now seeking to become one of the first names that buyers in the developed world think of when purchasing their next stainless steel fridge or big-screen HDTV.
Yet, the path to becoming a household name will not be an easy one. Companies that hail from emerging markets, such as Brazil, Mexico, Turkey, India, and China, face many obstacles when marketing to Western consumers. The countries from which they originate are often associated with poor quality or unsound environmental practices. They generally do not have the marketing talent and leadership experience in place to build powerful global brands. And many do not yet understand either what Western consumers want or the kind of emotional relationship they have with the brands they choose to buy.
But while we are not blind to the seriousness of these hurdles, we argue that Haier and other developing-world brands will one day become household names. Look at Japan in the 1980s or South Korea in the 2000s, both of which built global automobile and technology brands, much to the surprise of their competitors in Europe and the U.S. In fact, there is no historical precedence for a major country that has come to economic prominence that has not also developed strong brands. The question, then, is not if these companies will gain a global following, but how. In Brand Breakout we seek to answer that question and offer a roadmap for the best ways for emerging market companies, as well as their counterparts at global multinationals, to build their brands in developed markets. We propose eight 'pathways' for growth that illustrate the strategies these companies should take to go global, which are different than those for developed market players. These are not the traditional approaches. And they are about 'next practice', not about (backward-looking) 'best practice'.
Eight Routes to Global Brands

The most robust strategy for emerging market companies trying to gain a toehold in developed markets is to take, as we have called it, 'the Asian Tortoise route'. This approach is considered the 'the mother of all routes'. You start by entering Western markets with a decent but very low-cost product, and then build name recognition and economies of scale in order to gradually grow quality and price over time. The strategic sequence is: 'Build to Cost' – 'Build to Volume' – 'Build to Quality' – 'Build to Brand'. Ultimately, when these companies are ready to go after the premium market, they typically introduce a separate moniker that's distinct from the original brand's more pedestrian history (such as Toyota's Lexus or Honda's Acura).  Companies like Haier, South China Tire & Rubber, and Pearl River Piano follow this approach.
A second approach is for emerging market firms to launch as 'business-to-business' (B2B) companies in the West then add on a consumer brand identity over time. Such a strategy might never be taken by a B2B company from the developed world as it expands globally, since it is far too risky. But because many emerging market companies start out as original equipment manufacturers, making this transition may be necessary. By building a B2B brand first, managers can begin building a platform for global expansion, developing name recognition (even if it is with a narrower audience), and attracting better talent to the company. When the company is ready to start marketing to consumers—often in an adjacent product category—it has a foundation on which to build.
Take Huawei, for instance. The Chinese telecom equipment maker has grown into the world's second largest (behind Sweden's Ericsson); selling products first in developing countries like Brazil and Mexico and later in European markets such as Ireland and Finland. But it's now also going after the consumer market, too, selling cheap handsets to lower income consumers in countries ranging from Nigeria to the U.S. By the end of 2012, Huawei became the world's third-largest smartphone vendor behind Samsung and Apple. China's ASD (cookware) and Galanz (microwaves) and India's Mahindra are a few other examples of companies pursuing this strategy.
Another of the eight pathways is to 'use the diaspora as beachhead', or to go after an ethnic population living in the developed market. The idea is that one day the brand will generate interest from non-ethnic consumers, too. For instance, look at Reliance BIG Cinemas, part of the Indian conglomerate Reliance Group, which now owns more than 200 screens in U.S. cities where a large Indian diaspora resides. The theaters feature a range of Bollywood and mainstream Hollywood films in an effort to expand the market for Indian films outside of India, both with Indians living in other countries and hopefully one day, non-Indians, too (Reliance also has a film production and distribution arm). India's ICICI and Malaysia's Maybank Islamic are two other examples.
A good example of the 'brand acquisition' route is the Chinese computer maker Lenovo, which bought IBM's PC group in 2004. By taking this pathway an emerging market company acquires a Western company, a move that allows it to 'buy in' to the developed market and gain both an instant international reputation and access to distribution channels in the process. While Lenovo opted to migrate the IBM brand to the Lenovo brand, India's Tata Motors decided to keep its acquired brands – Land Rover and Jaguar – as separate brands. In this case, the brand equity of Land Rover and Jaguar was so much higher than that of Tata (which has more of a value position in India) that brand migration would mean brand destruction.
The most robust strategy for emerging market companies trying to gain a toehold in developed markets is to take, as we have called it, 'the Asian Tortoise route
The purpose of the 'positive campaign route' is to overcome the country of origin disadvantage. Rather than flaunting where they are from, companies that use this approach deliberately suppress their country of origin either by hiding it or attacking the stereotype developed-market consumers have of their countries. Hyundai has had to overcome many hurdles that emerging market brands face, in its case the perception of the inferiority of Korean cars. By employing this positive strategy, it has slowly changed its image into one of well-built, reliable and durable cars – as evidenced by its fivefold increase in market share in ten years. Nation-branding campaigns or focusing on favorable 'nuggets' in the overall negative country of origin image are other ways to go.
The 'cultural resources' route or leveraging the country of origin for global advantage means positioning the brand on positive cultural myths. Because Western consumers often associate certain emerging markets with specific positive attributes, an apparent weakness can be turned into strength. For example the Chinese clothing company Shanghai Tang has used cultural branding to great effect, creating an aspirational luxury brand instilled with deep cultural meaning. Brazil's Havaianas positioned its casual footwear (flip-flops) on the Brazilian national identity of beach, fun, sensuality, youth, and vibrant colors. It now sells on the high street in the U.S., UK, and many other countries.
A seventh pathway is to 'brand natural resources'. A brand can be created for natural resources, standing in as both a quality guarantee and a provider of emotional satisfaction. Often, it's done by either explicitly linking it to a country or by branding the commodity itself. An example of this strategy is the South African company De Beers, which in 2008 introduced diamonds branded under the Forevermark name. These diamonds are distinguished by their traceability and the brand promise that they are responsibly sourced. Café de Colombia used this route to brand its coffee and receives a price premium of around 8-24% over other arabicas.
A final pathway is to call in the power of the State. The 'building national champions' strategy is followed when a company is championed by the State and receives subsidies or preferential treatment to expand domestically and, subsequently, internationally. There is plenty of evidence that this pathway does not always produce winning brands but Emirates, Dubai's (United Arab Emirates) airline, illustrates how the state can effectively and strategically implement this route. In a brutally competitive industry it has bucked the trend and created a hugely successful national champion. And Comac may emerge as a rival to Airbus and Boeing.
Lessons for Managers of Western Companies

While the pathways are invaluable for managers at emerging market firms looking to expand their products or services to developed markets, in addition to highlighting the eight key strategies for doing so, we share some critical lessons from the brands that have already begun to make these moves. For one, patience counts: this is a gradual process that will take time. Those who try to move too fast too early can fail. In addition, far too many of these managers don't understand the fickle relationship that U.S. and European consumers have with the brand they buy. Emerging market firms think too often that brands are about functional quality, whereas to be successful in the West, a brand has to evoke emotions. To put it differently, a strong brand has both logic and magic.
That said, knowledge about the new wave of global brands from emerging markets is also designed to be a 'wakeup call' call for managers in companies from developed markets that don't yet see the threat their overseas competitors hold. As The Economist writes 'The West's great brands should listen to those words and tremble'.3  Indeed, Western firms who fail to look over their shoulder for these fast-approaching emerging market global brands will be making a fatal mistake. A golden rule in strategic management is to understand your competitors. This is a crucial prerequisite for being able to develop effective counterstrategies. In the past, companies ranging from RCA, Chrysler, and American Motors to Philips Electronics, Thomson, and Peugeot were caught napping while Japanese and Korean brands entered the global marketplace. Where are these companies now? They are either bankrupt or relegated to a minor position in markets they once dominated. There is less room for complacency and surprise than ever before. Henry Gomez, PepsiCo's VP Business Development Latin America calls these brands 'our new competition'.
By understanding the strategies the new competition might take, Western executives will better understand both what moves their competitors might make next, as well as assess the potential for acquisition targets in emerging markets. They should plot both counter-and cooperative strategies, to forge successful alliances, use mergers and acquisitions, and by no means underestimate emerging market companies attempting to take their brands global as they break out into international markets. Estée Lauder's Juan Alanis emphasises that knowledge of these new brands from emerging markets is necessary 'for all of us who compete against them in their own territories'.
Consumers will increasingly be looking for the best brands around the world, no matter where they originated. This is illustrated in our experience of flying with foreign airlines such as Emirates, Thai, or (increasingly) Air China, which are incomparable to U.S. airlines, even (or actually, especially) in business class. These 'emerging' airlines clearly prove the fact that the equity of brands from these emerging markets is lagging behind the actual quality of what they deliver. And that it's only a matter of time before they catch up.
This article is adapted from Brand Breakout: How Emerging Market Brands Will Go Global, by Nirmalya Kumar and Jan-Benedict E.M. Steenkamp. Copyright © Palgrave Macmillan
About the Author

Jan-Benedict E.M. Steenkamp is C. Knox Massey Distinguished Professor of Marketing & Marketing Area Chair at the Kenan-Flagler Business School, UNC-Chapel Hill. He is the author (with Nirmalya Kumar) of the book Private Label Strategy: How to Beat the Store Brand Challenge (2007), published by Harvard Business School Press.
References

1. Fortune, "Global 500 – The World's Largest Corporations," July 22, 2013, F1-F7.

2. The Economist, "The Great Deceleration," July 27, 2013, 10, 20-22.

3. The Economist, "The Emerging-Brand Battle," June 22, 2013, 62.
The views expressed in this article are those of the authors and do not necessarily reflect the views or policies of The World Financial Review.