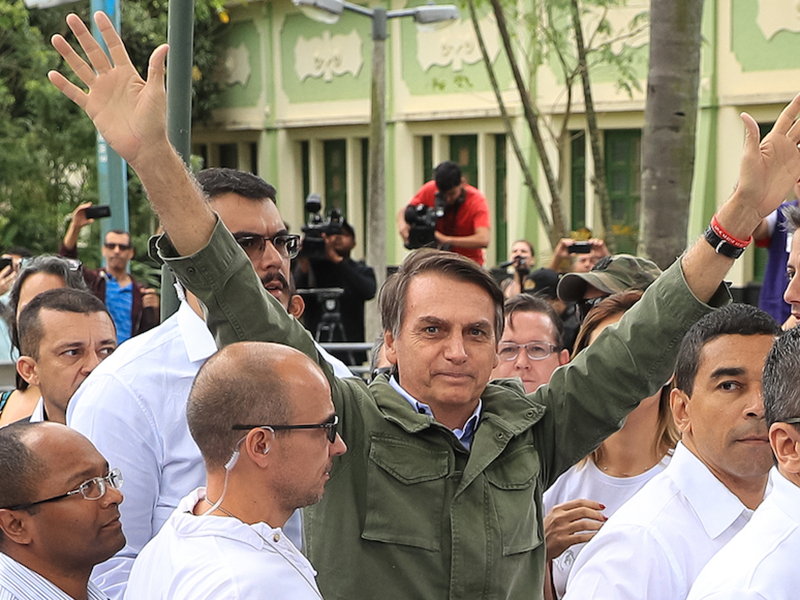 By Peter Koenig
One week before the second round of voting in Brazil, Jair Bolsonaro, the extreme right-wing candidate from the Social Liberal Party (PSL), against Fernando Haddad from the Worker's Party (PT), Lula's Party, for Brazil's Presidential run-off elections – Bolsonaro leads to polls by double digits, about 58 against 42. And the gap is growing, despite the fact that as recent as end of September 2018, Brazilian women campaigned massively against Bolsonaro with the hashtag #EleNao (Not Him). His misogynist record left him with only 27% of women supporters only a couple of weeks ago. Massive cheat-and lie-propaganda increased that ratio by now to 42%. – Does anybody seriously believe that Bolsonaro has changed his racist character and his women-degrading attitude? – It is mind-boggling how people fall for propaganda lies and manipulations.
The usual propaganda of deceit from the right has infiltrated every election in the last 5-10 years, starting with the sophisticated internet and propaganda fraud invented by Oxford Analytica (OA), which is largely believed having brought Trump to the White House, Macri to the Casa Rosada in Buenos Aires, Macron to the Elysée in Paris and Mme. Merkel for the fourth time to the German Federal Chanceller's office in Berlin – among others. OA is also said having helped the BREXIT supporters. In the meantime, OA's dirty election manipulation methods have been mainstreamed to the mainstream media – with lots and lots of corporate and banking money.
In fact, the frontrunner Bolsonaro is currently being accused by his opponent Fernando Haddad, of a 'fraud and fake news' campaign, and that just a few days before the run-off. The charge is that Bolsonaro is running a multi-million-dollar defamation campaign against Haddad, via whatsapp and other social media. This means sending out literally millions of tailor-made messages to potential groups of voters. That's the way of the of OA's algorithms.
Leading to an indictment of Bolsonaro is hardly a realistic chance, as he is supported by the current corrupt and fascist-type Temer Government and all the high judges who have impeded Lula's legitimate request for running for Presidency.
According to RT, Haddad told a media conference in Rio, "We have identified a campaign of slander and defamation via WhatsApp and, given the mass of messages, we know that there was dirty money behind it, because it wasn't registered with the Supreme Electoral Tribunal." This, after the Folha de S.Paulo newspaper uncovered a suspected election fraud. The publication alleges that a group of entrepreneurs are backing a multi-million-dollar slander campaign that would use several popular social media apps to reach out to Haddad supporters and smear his name with 'fake news'.
About the Author
Peter Koenig is an economist and geopolitical analyst. He is also a water resources and environmental specialist. He worked for over 30 years with the World Bank and the World Health Organization around the world in the fields of environment and water. He lectures at universities in the US, Europe and South America. He writes regularly for Global Research; ICH; RT; Sputnik; PressTV; The 21st Century; TeleSUR; The Vineyard of The Saker Blog, the New Eastern Outlook (NEO); and other internet sites. He is the author of Implosion – An Economic Thriller about War, Environmental Destruction and Corporate Greed – fiction based on facts and on 30 years of World Bank experience around the globe. He is also a co-author of The World Order and Revolution! – Essays from the Resistance.
Peter Koenig is a Research Associate of the Centre for Research on Globalization.