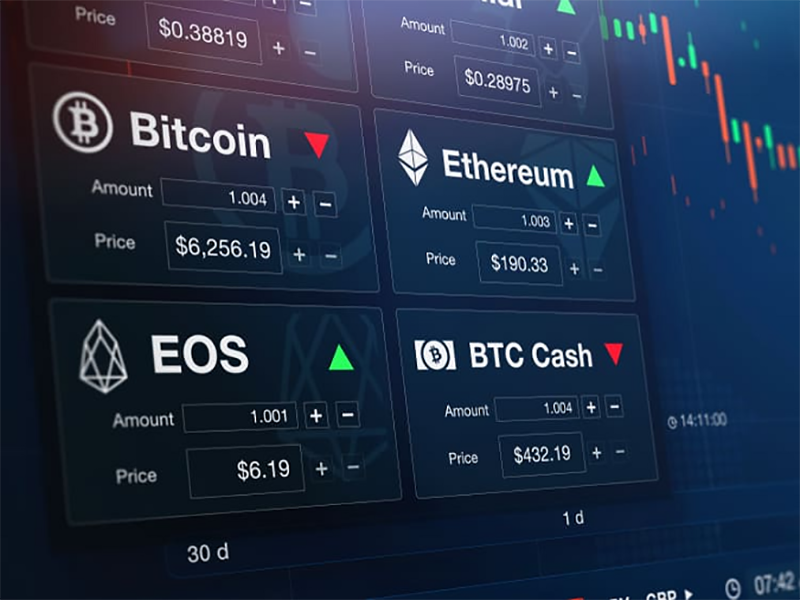 Every investor out there has their own unique preferences when it comes to cryptocurrency trading. The best crypto trading platforms offer three key benefits to the user: firm security with an extra layer of protection, a cold storage and incorporated secure wallets. Secondly, the platform should be user friendly and finally the platform should be able to provide a range of cryptocurrencies to trade such as bitcoin and ethereum.
While so people join the crypto world for luxuries, others have joined for the technology. Whatever your intentions for boarding the crypto train are, just know that everyone that is thriving was a newbie at a certain time. With the right information, resources and tools every one can succeed no matter their reasons for joining the bitcoin revolution.
Before settling on a crypto trading platform, it's good to have a plan and know what you exactly want. Having a clear plan makes your work easier. It's easy to get a cryptocurrency trading platform that satisfies all your needs. In this article, we have compiled a list of some of the best trading platforms that can earn you profits. 
Best cryptocurrency trading websites
1. Bitcoin Profit
Bitcoin profit is a technology trading platform that uses cryptocurrencies such as bitcoin and ethereum. The platform leverages AI and its segment of machine learning to study market patterns and movements to identify, and generate profitable trades. The platform allegedly has a 90 percent success score while using effective bitcoin trading strategies, and automatically places these trades on behalf of the user. 
Bitcoin Profit claims to have a 99.4 percent accuracy in executing trades. The software provides its users with various cryptocurrency pairs to trade such as Bitcoin, Litecoin, Ethereum, and Ripple. Moreover, the Bitcoin Profit website is easy to navigate and user friendly which makes it a great option for both novice and expert traders. Transactions on this platform don't really take long, deposits take less than ten minutes, while withdrawal transactions are processed within 24 hours. 
2. Gemini
Gemini is a regulated digital assets trading platform that was founded by the Winklevoss twins back in 2015. Gemini is both a custody platform and a crypto exchange which allows both individual and institution investors to purchase, preserve and sell BTC, ETH, BCH, LTC, ETC and ZEC.
Gemini has a highly responsive 24 hours customer support service and offers free deposits and withdrawals. More importantly, crypto on Gemini is held offline to reduce the risk of theft. The platform has a friendly and intuitive user interface.
3. Bitfinex
Bitfinex is among the earliest crypto exchange platforms to be established. The hong-Kong-based cryptocurrency platform has existed since 2012. Bitfinex is tailored for advanced expert traders and offers options for margin trading and lending. However, the exchange does not serve customers from the United States.
Notably, Bitfinex has the most advanced order book globally. This ensures the spreads are low which is essential for users. The platform also boasts a top notch customer service desk which is ready to attend to client concerns 24-hours a day. 
4. Kraken
Kraken is another crypto exchange platform that is worth exploring. The platform is characterised by its robust security and the low transaction fees. The US-based Kraken offers its users with futures and margin trading. There are more than 20 major cryptocurrencies supported by the platform. 
Kraken would be a perfect fit for professional and institutional investors due to its location and compliance with authorities. Trading charges on Kraken are lower than average and they keep reducing once a trader reaches a monthly trading volume of $50,000 and above. 
5. Bittrex
Bittrex exchange is well known for its swift speed and stability. In fact, Bittrex has never been hacked or suffered a security breach. The crypto exchange has been at the forefront on security matters to ensure client funds and private information is secure. 
Bittrex offers a wide variety of cryptocurrencies to trade and permits for standard spot trading. Bittrex trading engine incorporates auto trading functionalities like stop loss, GTC, instant buy and sell and all the tools that both average and expert traders require. 
Bottomline

 
Crypto trading is expanding across the worlds as more people and investors get more comfortable with blockchain tech and digital assets. There are a variety of crypto trading platforms that exist and they are still springing up. Furthermore, the security measures for cryptocurrency wallets continue to advance giving traders more confidence that bitcoin is secure. 
When it comes to security, number of crypto assets offered, ease of use, Bitcoin Profit is one of the best in 2020. The automated trading platform offers more than just security, but guarantees high profitability on capital invested. 
The views expressed in this article are those of the authors and do not necessarily reflect the views or policies of The World Financial Review.