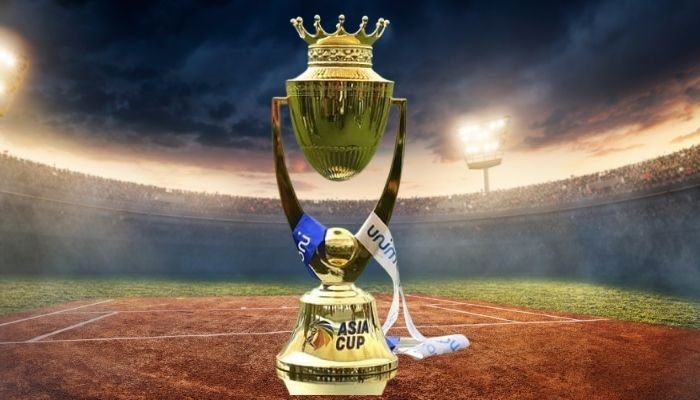 The schedule for the 2022 Asia Cup might be released shortly. There may be a game between Pakistan and India under this situation.
Team India was the winner of the 2018 Asia Cup. It was a game similar to an ODI. Although the Indian team had previously won the title in 2016, the game's format was T20. The T20 format will be used to hold the competition once more. The dates of the 2022 Asia Cup are a topic of debate on social media.
As per media reports, the Asia Cup matches for this season will take place between August 27 and September 11. However, there hasn't been a public announcement on this yet. This time, you may watch the Asia Cup live stream on Hot Star. According to reports, viewers will also be able to see it on Star Sports. It will be broadcast concurrently on PTV Sports and Ten Sports for Pakistani viewers. It will be telecast in Bangladesh on Ghazi TV.
There may be a game between India and Pakistan on August 28. Even if the tournament can start on August 27. These two teams can now participate in the second game of the tournament.
Format of the Asia Cup 2022
The Asia Cup schedule edition is likely to be similar to that of 2018. The six teams will be divided into two groups of three teams each. India and Pakistan are in the same category. After playing one another, the top two teams from each group will move on to the Super Four. Each club will participate in three games during the Super Four. The top two teams will compete in the finals.
The Asia Cup is a round-robin tournament, thus viewers may anticipate seeing another T20 game between India and Pakistan. Afterward, the most gripping performance will be seen at the T20 World Cup.
Asia Cup 2022 Venue
Bangladesh hosting the Asia Cup in 2022 rather than Sri Lanka will have a negative impact on Sri Lanka's board.
The next major decision about the competition will be made by the Asian Cricket Council. Due to the difficult situation in the host nation of Sri Lanka, the ACC is thinking of staging the Asia Cup in Bangladesh.
Following last week's protestor occupation of Rashtrapati Bhavan, they set fire to the Sri Lankan Prime Minister's private residence. Outside the Galle Stadium, a big throng was seen participating in the demonstration.
Betting on Cricket 
Like other sports, cricket has unique regulations that must be observed. As a result, it's crucial to memorize these guidelines. To make the most of these regulations while placing your wager, it is highly advised that you have a basic understanding of them as well as more in-depth research on them. It's crucial to emphasize that you may wager on draws in cricket. 
The reason for this is that cricket matches may go anywhere from one day to three days, and in some instances, even up to five days. As a result, draw bets came into popularity in this type of sport. By placing draw bets, several online cricket betting aficionados and enthusiasts have doubled their money.
Cricket Betting Strategies
Cricket betting is a straightforward way to get income. Success requires perseverance, in-depth game knowledge, and team betting know-how. A sharp presence of mind is also necessary.
Research about the participating teams 
Be sure to research the two competing teams before making a stake. It goes without saying that if both teams have a great winning history, the odds for both teams must be high.
When betting on cricket, there are many different ways to win. If you're unclear about who will win the game, you may place a stake on specific individuals. For instance, you might bet on the player who will score the most runs or the bowler who will take the most wickets throughout the match.
Take care of your betting budget 
It's necessary to use the utmost caution to avoid losing a substantial sum of money when betting, despite the fact that it may be a successful enterprise. Make sure you never stake more than 5% of your original deposit on a single wager as one of the safety measures you should follow.
Betting often results in losses, so you shouldn't stake money you can't afford to lose. By creating and adhering to a budget, you can get things done most effectively. You must use extreme discipline in this. For instance, if you have $20 put up for betting, you shouldn't attempt to go above this limit.
In a game, the weather has a significant influence. Always check the weather reports before placing your wager. You should be aware, for instance, if it is windy, sunny, or wet.
Conclusion 
Cricket is a perennial favorite with bookmakers and punters. Cricket has easier betting regulations than other sports. But it's always a good idea to familiarise yourself with the guidelines beforehand.
If you're seeking for a trustworthy and safe sportsbook where you can wager on cricket, you should sign up with Parimatch.
Disclaimer: This article contains sponsored marketing content. It is intended for promotional purposes and should not be considered as an endorsement or recommendation by our website. Readers are encouraged to conduct their own research and exercise their own judgment before making any decisions based on the information provided in this article.


The views expressed in this article are those of the authors and do not necessarily reflect the views or policies of The World Financial Review.