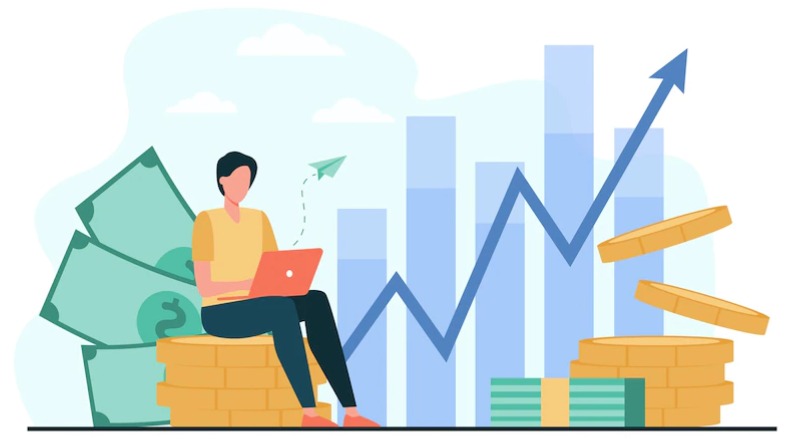 Premium bonds are a form of investment vehicle. Instead of placing your money into a standard savings account and earning interest, premium bonds provide the opportunity to win tax-free cash awards. Each £1 you invest in premium bonds enters you into a monthly prize draw where you could win up to £1,000,000.
The government's National Savings and Investment Agency issues bonds (NS&I).
You're not alone if the possibility of winning £1 million seems more appealing than placing your funds in an ordinary account. More than 25 million individuals in the United Kingdom have decided to put their money in premium bonds. This amounts to an astonishing aggregate savings of £100 billion. Clearly, the opportunity to earn tax-free money is a significant incentive, which is why the government created the programme.
Premium bonds provide monthly chances to win between £25 and £1 million. In contrast, wins in a game of chance may be minimal or non-existent. There is no assurance of winning anything. HM Treasury and the government guarantee premium Bonds, so your money is entirely protected. Theoretically, this makes your money safer and more secure than it would be with banks or building societies.
Premium bonds have become the most popular in the country. However, like with any savings product, there are pros and downsides to consider before choosing whether or not they are the best option for you.
How can I Purchase Premium Bonds?
The most convenient method is online on the NS&I website.
The minimum purchase quantity of £25 for both one-time and recurring orders.
Maximum allowable balance: £50,000.
Under this age, they may be held in the name of a minor by a parent or legal guardian. Anyone may now purchase Premium Bonds for children under 16 and choose a parent or guardian to keep them.
Typically, bonds must be held for a full month before they are eligible to win. Therefore, bonds purchased in June will be eligible for the draw beginning in August. The final week of the month is optimal for transferring funds from other savings accounts to Premium Bonds; since this minimises the period, the funds are not generating interest and are not eligible for Premium Bonds draws.
The exception to this rule is if you reinvest your rewards, which means these bonds will be eligible for the following month's draw. So, if you won £25 in June and set up reinvestment, the new £25 worth of bonds would be in the July draw.
Bonds remain eligible until they are cashed in, which may occur at any time. You may request payment online, over the phone, or by mail. After NS&I receives your request, it will take up to three business days for you to receive the funds.
Purchasing Premium Bonds for Children
If you are a parent, legal guardian, grandparent, or great-grandparent, you may purchase bonds for children under the age of 16 online or over the phone.
The parent or guardian named on the application must manage the bond until the kid becomes 16 years old. Once the kid reaches the age of 16, NS&I will issue a letter on how to maintain the bonds. They must print and submit a registration form, and their signature may need to be witnessed and submitted as well.
Once enrolled, they will obtain their own NS&I number and password and will be able to access the premium bonds purchased for them.
How Likely is it to Win Using Premium Bonds?
For each £1 bond number, you have a one in 24,500 chance of winning the lowest monthly reward of £25.
However, these computations are difficult and should not be depended upon. This is because many rewards are awarded each month. You may, for instance, win several £25 prizes and a £50,000 reward in the same month.
The amount of the overall prize pool fluctuates each month based on the number of bonds clients hold.
Also, note that, unlike typical savings accounts, you do not get this interest rate as a monthly income.
How Likely is it to Win the Premium Bond Jackpot?
The odds of winning the £1 million prize, of which there are two winners each month, are 1 in 56,199,445,087 for every £1 bond held in a given month.
NS&I reports that the odds of winning the £1 million jackpot over the course of a year (or 12 monthly prize drawings) with £100 in Premium Bonds are 1 in 41,219,096.
The chances of winning with £1,000 invested are 1 in 4,117,912. And if you own the maximum amount of £50,000 in bonds, your odds climb to 1 in 81,458.
Each £1 bond has the same probability of winning. Therefore, the more you purchase, the greater your chances of winning the monthly prize draw. The two jackpot winners in June 2022 had Premium Bonds of £10,001 and £50,000, respectively.
Therefore, refrain from dwelling on any large Premium Bond reward fantasies involving real estate, automobiles, or quitting your work just yet.
Should I Invest My Money in Premium Bonds?
Premium bonds remain very popular even though they do not give any assurances, and the possibility of earning a substantial amount of money is quite low.
Premium bonds provide gambling excitement without the danger of losing your initial investment. Still, since they do not give a guaranteed return, they are not suited for those who want to produce a steady income from their money.
If you don't win often, your money might be eroded by inflation over time so we wouldn't advocate investing all of your money into them. It is preferable to diversify your resources over different choices, such as savings accounts and cash Isas that provide a guaranteed rate of interest.
Conclusion
Every month, NS&I creates two new millionaires, and several Premium Bond holders win additional cash rewards ranging from £25 to £1 million. These savings accounts are popular because they are guaranteed by the government, permit withdrawals at any time, and provide the opportunity to win a £1 million jackpot.
Disclaimer: This article contains sponsored marketing content. It is intended for promotional purposes and should not be considered as an endorsement or recommendation by our website. Readers are encouraged to conduct their own research and exercise their own judgment before making any decisions based on the information provided in this article.


The views expressed in this article are those of the authors and do not necessarily reflect the views or policies of The World Financial Review.