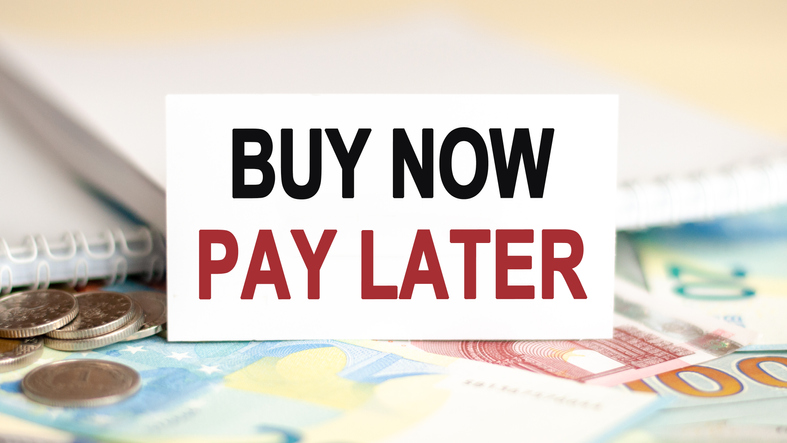 On the surface, "Buy Now Pay Later" (BNPL) services are an attractive offer. You make a purchase, and instead of paying it all at once, you pay over several installments. This makes it easier to handle big expenses, especially when you don't have enough cash to pay in full.
Some schemes can give you up to 30 days to pay, while others can allow you up to 12 months. However, unlike credit cards, BNPL plans don't charge interest on the items you pay off over time, provided you make payments when you are supposed to.
But is there a catch to this convenience? Read on if you'd like to find out.
How does Buy Now Pay Later work?
Buy Now Pay Later programs aren't all the same. Every company has its own terms and conditions. However, the services generally operate along the following lines:
You buy something at a participating retailer and opt to 'buy now, pay later'.

If you are approved (which only takes seconds), you're told to make a small down payment. For example, 25% of the total.

You then pay off the remaining amount over a period of time in regular installments until the whole amount is paid.

You can pay the installments yourself or the amounts can be deducted from your debit card, bank account, or credit card.
There usually aren't any interests or fees with BNPL. However, they have a fixed repayment schedule which usually lasts several weeks or months. You're told upfront what you'll need to pay every time. The thing is, you cannot miss a single payment.
For approval, most of these services don't really consider your credit score. So just about anyone can access it. But, not all purchases are eligible. There may also be limits on how much you can pay this way.
With Buy Now Pay Later services seeming so attractive, it's only natural to wonder whether it's convenient or just a risk. Is it worth it?
What are the advantages of Buy Now Pay Later payments?
In recent years, Buy Now Pay Later services have become quite popular. So, why are so many people opting for this payment method? What are its advantages?
More flexibility

– With the payments spread out over several weeks or months, Buy Now Pay Later services give you more flexibility when you have your heart set on buying something. 

No interest rates

– If you make your payments on time, you won't get slugged with extra costs. You just pay for the product itself, nothing more, nothing less. 

Easy approval

– The best thing about BNPL services is that it's quite easy to get approval. However, not all stores offer this. Some that do, make it simple for customers to access the service.

It's convenient and easy to use

– Most people find the service more convenient than using credit cards or paying the full price for a product upfront. It's also easy to make the payments.

Good credit or a high credit score isn't necessary

– To qualify, you don't need a high credit score.
All in all, these are some of the reasons most people prefer BNPL payments. But like with most things, there are risks involved.
Risks of Buy Now Pay Later payments
Some of the dangers include the ones listed below.
1.   Unaffordable debt
It's easy to spend more money than you can really afford. Prices can seem cheaper when you split them into smaller repayments, but the truth is that you may end up losing track of how much you owe.
This is especially true if you make multiple purchases on different days. You could quickly find yourself spending far more than you intended or more than you can afford to pay. This could cause financial problems for you.
2.   It's difficult to track spending
BNPL purchases can sneak up on you. You can easily go from paying $25 weekly over 8 weeks for a nice shirt, to buying even more items the next week. You may end up finding that you've committed the equivalent of your food budget for the week on BNPL payments.
3.   You can get hit with expensive fees and penalties
What makes this service attractive is that you're not charged interest right off the bat. But watch out if you fall behind on your payment plan! You could get hit with expensive penalties and fees that would make your purchases cost a lot more than you thought. This can turn out to be quite the headache!
4.   Vulnerable groups
The easy approval process means vulnerable groups like low-income customers (students, teenagers, etc.) will jump on this service. These groups are more prone to buying on impulse. Unfortunately, this means they are most likely to fall down a debt rabbit hole. 
Don't miss a payment
BNPL can quickly become expensive if you don't make payments on time. While BNPL is a convenient way to shop, it could be problematic later down the track if you're not able to meet your repayment obligations.
Late or missed payments may be reported to the credit bureau which can impact your credit score.  If your various repayments are piling up and you're feeling overwhelmed, Credit24 could help.
Simply consolidate all your BNPL repayments into one manageable Credit24 account.
We provide you with the flexibility to spread your repayments over 36 months. This could reduce your fortnightly instalments into a more manageable and affordable amount. You can also repay the loan early with no penalty. The earlier you pay it back, the more you'll save on interest.
Conclusion
BNPL has really revolutionized the way we shop. It's such an ingenious idea but you need to have your wits about you to stay on top of your repayments.
But don't stress, Credit24 is here to help if things go awry. If you're looking to consolidate BNPL payments that are getting out of hand, visit our website today at www.credit24.com.au
Disclaimer: IPF Digital Australia Pty Ltd, trading as Credit24, ABN 59 130 894 405. Australian Credit Licence 422839. Lending criteria, fees and charges apply.
Disclaimer: This article contains sponsored marketing content. It is intended for promotional purposes and should not be considered as an endorsement or recommendation by our website. Readers are encouraged to conduct their own research and exercise their own judgment before making any decisions based on the information provided in this article.


The views expressed in this article are those of the authors and do not necessarily reflect the views or policies of The World Financial Review.