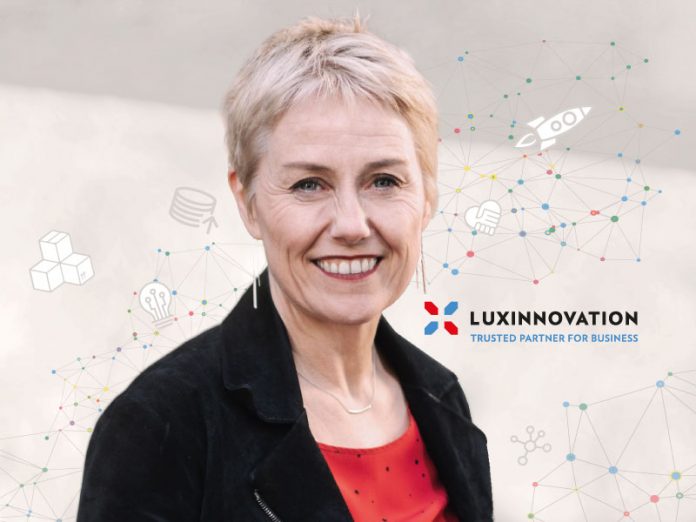 Luxembourg takes advantage of its small size by being light on its feet when it comes to attracting investment and innovation to the country. Luxinnovation CEO Sasha Baillie recounts how her agency's multi-faceted campaign plan spans industries, technologies and public and private sectors in pursuit of the government's ambitious economic objectives.
Thank you so much for taking the time to meet with us today. To start with, can you please give us an insight into how top-level business leaders like yourself kick-start a day? What are your tips for optimising daily productivity?
The most important thing is to be well surrounded. The accumulation of requests and the need to respond favourably to them very often mean that you have to rely on your employees to be able to gather all the key information relating to each of the files under review.
Based on a good briefing and relevant guidelines, it is easy to be able to make the right decisions at the right time. It also requires, of course, great flexibility and agility to be able to cope with any last-minute changes, as well as a clear mindset to be able to deal with dossiers that sometimes contain a very different content.
You became the CEO of Luxinnovation in 2018. How has it been so far? What are some of the important highlights or milestones of the agency under your leadership until now?
First of all, I had to immerse myself completely in the structure, which was facilitated by the fact that I can count on a very dynamic organisation of some 70 people with different professional and cultural skills and experience, with whom it is very stimulating to work.
We are a small country
and one of our great
advantages is the
real accessibility to
decision-makers.
It was then necessary to articulate the government's approach, its economic development priorities and the diversification of the sectors of our economy, with the notions of innovation for which Luxinnovation lends its full support.
It was therefore first imperative to clarify what Luxinnovation is and what the agency is tasked to do. This could only be achieved by constantly listening – and still listening today – to understand the expectations that the country's various economic players have of Luxinnovation, whether they be companies, from the smallest to the largest multinational groups, or public players, particularly in the field of research.
We must constantly understand their needs in order to understand what they expect, knowing that there is really a great diversity in these expectations.
This has led to a reorganisation of our services, with a resolutely customer-centric approach, which allows us to be even more responsive and efficient.
Luxembourg is strategically located at the heart of Europe and is referred to as "the gateway to the European market". What are the unique advantages and business opportunities in the Grand Duchy? What industries are most likely to be attracted to what Luxembourg has to offer?
We are a small country and one of our great advantages is the real accessibility to decision-makers. Combined with great agility, this allows us to make things happen quickly and pragmatically. This is an approach that is highly appreciated by companies from abroad.
We are attentive to the needs of companies and we know how to adapt and find solutions that meet these needs. Moreover, interactions between the private and public sectors are notably direct and are always part of a joint desire for efficiency.
In particular, we have identified three priority sectors on which we focus our efforts: automotive, cleantech and ICT. However, more broadly, we are also very committed to the development of initiatives around Industry 4.0. We know that this requires significant investments to integrate new technologies, artificial intelligence, the use of massive real-time data, the sustainable use of resources and, in this context, the development of new materials. This is also one of our priorities, in order to improve productivity and competitiveness.
Luxinnovation is a key
and trusted partner for
those who areinterested in – and committed to
– launching successful
innovative activities
in Luxembourg, from
entrepreneurs, managers
of start-up companies and researchers to foreign enterprises and investors.
Luxinnovation is a key and trusted partner for those who are interested in – and committed to – launching successful innovative activities in Luxembourg. Can you describe Luxembourg's innovative start-up ecosystem today?
Historically, this ecosystem has developed under the impetus of the public sector, with the establishment of the first incubators (Technoport, Ecostart) and support initiatives (via Luxinnovation, the Chamber of Commerce or through state subsidies).
However, in recent years, the private sector has also positioned itself strongly, with many investments and initiatives that have enabled the development of a complete ecosystem dedicated to the creation and acceleration of innovative start-ups. This ecosystem is now emerging on an international scale and we can see this with the high attendance at our pavilions at events such as VivaTech or the Web Summit in Lisbon.
The strength of this Luxembourg start-up ecosystem is based on the ability of public and private players to work together in the interests of entrepreneurs. The greater the proximity, the more efficient this ecosystem will be, as the emerging "seeds" will be quickly identified and efforts pooled to make them the success stories of tomorrow.
Luxinnovation offers a range of performance programmes (like Fit 4 Start, Fit 4 Innovation, etc.) that aim to support SMEs in developing their innovation activities. Can you tell us more about these programmes and share with us some of the best feedback that you have received from the programme participants?
These performance programmes are one of the pillars of our business. We undertake, with eligible companies, a 360° analysis of their situation, to fully understand their business and guide them towards appropriate solutions to improve their performance and, by the same token, their competitiveness. It is also about strengthening their capacity to innovate, develop and ensure their sustainability while sustainably increasing their activity.
We undertake, with eligible companies, a 360° analysis of their situation, to fully understand their business and guide them towards appropriate solutions to improve their performance and, by the same token, their competitiveness.
As I said earlier, our approach is customer- centric and is applied through these different programmes, whether it is for digitalisation (Fit 4 Digital), innovation capacity (Fit 4 Innovation), business model improvement (Fit 4 Growth), implementation of circular economy principles (Fit 4 Circularity) or improved customer services (Fit 4 Service).
These programmes are both unique and complementary; with the help of consultants, a diagnosis is established within the company and an action plan is then put in place to improve performance, with precise KPIs that guarantee the success of the programme.
These programmes are co-financed by the Ministry of the Economy and the Ministry for Small and Medium Sized enterprises, which provides considerable government support for our companies.
Fit 4 Start is a little bit different; it is an acceleration programme for innovative start-ups. Twice a year, a 16-week coaching session is organised. For the edition that just started this autumn, more than 300 start-ups from all over the world applied and we selected 20 companies in the ICT, healthtech and space sectors.
The feedback we have is very positive, without going into detail.
"

Thanks to Luxinnovation, research and development and innovation have evolved in an unparalleled way in Luxembourg and probably even in international comparison over the past three decades",

said Deputy Prime Minister and Minister of the Economy Étienne Schneider, in his opening speech to celebrate the 35th anniversary of Luxinnovation
14th November.
Long established as a world leader in the twin sectors of fund administration and private banking, Luxembourg is the eurozone's leading financial centre and number 12 in the world. How does the agency help in fostering solutions to shape the future of financial services?
This more-specific component is provided by another national agency, Luxembourg for Finance (LFF), which is specifically dedicated to the development of the financial centre's activities. It goes without saying that we work closely with LFF, as well as with the Luxembourg House of Financial Technology (LHoFT), housed in the House of Startups. We are in regular contact with entrepreneurs who have created solutions or applications for the financial sector and we obviously ensure the link with our various partners.
How will the rapidly developing financial technology start-ups in the country be likely to transform the current financial landscape of Luxembourg and globally?
The challenge for so-called "traditional" financial institutions is enormous. If they do not adapt and radically transform the way they operate by offering their customers the fluidity they can find in most of the other services they use today, they will very quickly be overtaken by other players.
However, since, at the same time, these banks have had to face a sharp increase in the costs associated with all the new regulations and legislation that have come into force, this has given the scope for fintech to develop and offer digital solutions for the entire financial sector. In particular, there is a special enthusiasm for regtechs, which work to facilitate the implementation of all these new regulations.
The creation of the LHoFT in 2016, which welcomes start-ups from all over the world and benefits from partnerships with prestigious international organisations, contributes to the dynamism of this ecosystem.
Green technology is one of the emerging industries nowadays. Can you share with us what are the inimitable advantages and features of Luxembourg's green tech platforms? What are Luxinnovation's initiatives to develop and encourage sustainability in Luxembourg's business and financial sectors?
Promoting clean technologies and the transition to a circular economy is a priority in Luxembourg. The country is a strong advocate of sustainable development, in economic, ecological and social terms, with the implementation of policies to facilitate the adoption of clean technologies and products. We benefit here from an attractive economic environment for entrepreneurs who seek to create value while reducing pollution, waste and energy consumption.
Business opportunities are quite wide for companies in the cleantech sector in Luxembourg, knowing that facilitating the transition to a circular economy is a national priority.
Innovation and research in the fields of renewable energies, energy efficiency and smart cities, districts and buildings are among the areas in which we are involved, both with companies and with the University of Luxembourg or the Luxembourg Institute of Science and Technology (LIST). The government's programme also includes the upcoming creation of a centre of excellence around green technologies and the promotion of an ecosystem conducive to spin-offs/start-ups.
There is already an incubator dedicated to ecotechnologies, which opened a year ago in the south of the country, and for which we are partners.
Business opportunities are quite wide for companies in the cleantech sector in Luxembourg, knowing that facilitating the transition to a circular economy is a national priority. The demand for innovative solutions is, for example, stimulated by cradle-to-cradle construction projects and by the continuous conversion of former brownfield sites into ecological districts. There is also a clear focus on developing smart mobility and supporting developments in areas such as clean transport, shared mobility and intelligent transport systems.
Luxembourg also plays a pioneering role in the use of finance to achieve sustainable objectives. The Luxembourg Green Exchange is the first global platform exclusively dedicated to sustainable securities, with nearly half of the world's green bond volume and an estimated one-third of sustainable and social bonds. The Luxembourg Finance Labelling Agency (LuxFLAG), an independent and international Luxembourg financial labelling agency, awards a responsible investment label to investment vehicles.
In the latest edition of the Global Green Finance Index, Luxembourg ranks fourth (after Amsterdam, London and Zurich, out of 64 financial centres) and more specifically second only to Amsterdam in terms of green finance "penetration".
It is also for all these reasons that our country has been chosen to host the Cleantech Forum Europe in 2020 (on 18-20 May 2020), an international event that will bring together for three days the best of the best in Europe in this sector.
Luxembourg's forward-thinking regulators and partnership with other countries for the exploration of space resources make the country a hub for technological advancement. Recently, Luxembourg joined Russia in the field of space innovation, extending its expertise and a global network of partners in scientific cooperation and research. How do these developments help Luxembourg position itself as the global leader and the centre of space business?
It is not only with Russia that we have signed partnerships. This was the case with China and the United States. Wilbur Ross, the US Secretary of Commerce even came to Luxembourg in person to sign such an agreement.
In the coming years, Luxinnovation will have to inspire our companies to innovate, to grow in an intelligent way and to prepare themselves well for the challenges of the future, with new and partly also disruptive technologies.
It would be pretentious to position ourselves as a world leader and centre of the space industry, but we are clearly positioning ourselves as a major player in this "New Space" industry. We want to attract companies active in this field to Luxembourg and by this means create a hub of experts. We have already set up a chair and university training in this area. The "New Space" sector will undergo profound disruption in the coming years and Luxembourg is already playing a role in these changes.
The Director of the European Space Agency perceives Luxembourg as a pioneer in this field and this autumn we also just signed agreements with NASA and the ESA.
What are the agency's short-term and long-term plans for the country's economic development and innovation capabilities? Where do you see the agency in the next five to ten years?
More than ever, we want to be recognised by companies and entrepreneurs as a trusted partner for them, enabling them to find pragmatic solutions for their innovative development projects.
We have formidable diverse and complementary skills. If we can communicate well with each other, if we can dialogue, if we can bring out these skills, we will make exceptional progress.
Luxembourg promotes networking, confidence-building and the implementation of joint projects. This is an advantage we have over other countries. In addition, Luxinnovation must be an essential link in this collaborative approach.
In the coming years, Luxinnovation will have to inspire our companies to innovate, to grow in an intelligent way and to prepare themselves well for the challenges of the future, with new and partly also disruptive technologies.
We would like to be the aggregator of all the players of economic development so that they all join forces to advance the country in a sustainable way.
Our ambition is to be a facilitator of synergies and to bring added value to the country's economy, whether at the national level or by promoting the country internationally, by enhancing the strengths of our economy and by encouraging companies around the world to carry out projects with us here.
What are the key messages you would like to get across to industries and businesses that are wondering about the status quo of Luxembourg's investment and business opportunities in today's global environment of political and economic uncertainty and volatility?
First of all, I would like to tell them that, as far as stability is concerned, Luxembourg is positioned comparatively at the forefront, whether in political, social or fiscal terms. This is obviously a highly valued asset for foreign investors – not to mention that the country is also among the safest in the world.
As far as stability is concerned, Luxembourg is positioned comparatively at the forefront, whether in political, social or fiscal terms. This is obviously a highly valued asset for foreign investors – not to mention that the country is also among the safest in the world.
Many international benchmarks also show the country's attractiveness in terms of the business climate: the country has the second highest level of productivity in the world behind Norway, according to a study by the Conference Board Productivity Brief and is also considered by U.S. News & World Report's 2019 "Best Countries" study as the most open country for business, due to its favourable tax environment, the government's transparent and business-friendly approach and the low level of corruption.
Throughout its history, Luxembourg has always held a strategic position as a crossroads of nations. Over the centuries, the country has encountered many influences and struggles of occupation and to survive, it has had to endure, observe and understand. We have maintained this habit and we are trying to foresee the challenges ahead and are working to adapt to them.
Luxembourg comes out on top in a recent study of cities in the world that offer employees the best working conditions. As the president of the agency, how do you keep yourself happy and motivated whilst looking after your employees' well-being?
You have to listen to your employees, give them the opportunity to express themselves, to evolve, to contribute to the company's results. I am convinced that a participatory approach is not only rewarding and stimulating for employees, but is also an essential vehicle for innovation and progress.

On a lighter note, we are interested to know what the top things or activities are that a high-calibre business leader like yourself does to recharge her batteries during a day off from work.
It is always very difficult to disconnect completely from work, but family time spent with my children is naturally a very valuable breath of fresh air. I really appreciate these special moments, whether at home or while travelling, in surroundings that help one revitalise, and also in the company of good friends.
To end this interview, would you share with us your views about the important business and technology trends to watch out for in the coming years?
I am convinced that the economy will be fundamentally transformed by access to data and opportunities to develop new business models. Countries that can ensure through the establishment of reliable and secure data-exchange platforms that public and private data can be shared and valued while ensuring that privacy and individual freedoms are maintained are those that will enjoy a favourable economic development in the future.
Thank you very much Ms Baillie. It's a pleasure speaking with you. We learned a lot.

Luxinnovation offers a wide portfolio of services to companies and public research organisations in order to foster innovation, thus supporting the Government's economic development objectives. The agency also ensures that Luxembourg continues to attract international investment, companies and skills that are a perfect fit for the country
Executive Profile
Sasha Baillie is also a member of the Coordination Committee of the Ministry of the Economy, which she joined in 2014 as Deputy Chief of Staff and Diplomatic Advisor of the Deputy Prime Minister, following her 20-year career as a Luxembourg diplomat.
Within the Ministry of the Economy, Sasha Baillie ran the initiative to reform Luxembourg's economic promotion that led to the creation in June 2016 of the Luxembourg Trade and Investment Board. She also chaired the Luxembourg Nation Branding Committee until 2019 and steered the work that led to the creation in 2015 of LuxGovSat (a joint venture between the Luxembourg Government and SES) where she serves as Chair of the Board.
The views expressed in this article are those of the authors and do not necessarily reflect the views or policies of The World Financial Review.