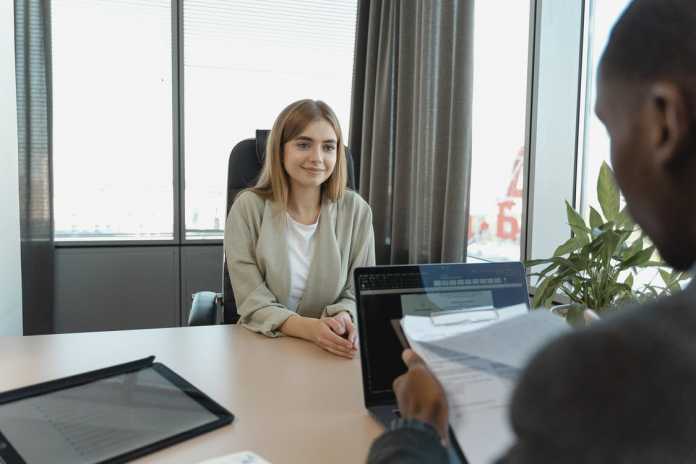 If there is one thing that an applicant can be sure to expect in an interview, it is that they will be required to describe themselves to the recruiters. 
Most interviews start with the question "Tell me about yourself," and how you approach it will leave an impression on the interviewer – whether in a video call or an in-person meeting. 
However, after interviewing several applicants, the recruiter might be too familiar and used to the different types of responses. So, what can you do to stand out and make sure that you describe yourself with confidence? 
Why Should You Describe Yourself?
There are plenty of times you will hear a variation of the phrase "describe yourself" during your job interviews. However, despite that they expect this question, many applicants feel overwhelmed at the time of answering it. 
However, "the purpose of this exchange is to ease you into the actual interviewing process," says Anna Thompson, a career advice expert working at a reputable top affordable resume writing service that helps job applicants find ideal opportunities. The recruiter might have your bot-beating resume in front of them, but this question helps start with small talk and transition into the interview. 
How the interview proceeds and the questions that follow will also be based on how you describe yourself at the beginning. 
What's in It for the Company?
Remember, while the introductions can serve as an icebreaker, the point of answering this question is to ensure that you present yourself as an attractive candidate to the hiring manager. And this means that there is no need to talk about the entire history of your path in the chosen career field. 
Instead, you will have to sell yourself to the company and stick to the points that will showcase your qualification and reveal what the employer will gain by hiring you. 
Stick to This Simple Formula 
To give a proper, structured answer, you can employ this formula while preparing a response.
Present Situation.

Begin by talking a little bit about your current role, its scope, and recent accomplishments. 

Past Experience.

Give an overview of how you got to occupy your current position. Include details about your previous experience and qualifications relevant to the role and company you are applying for. 

Future Direction.

Continue to describe what you are looking for in the next phase of your career and why you think you will be a great fit for the opening. 
Now, to be clear, this isn't the only way to work your response. The key is that, no matter how you approach the question, the answer should always tell the recruiter what you are willing to bring to the company. Before that it is better to find someone to help me edit my resume to achieve great results. 
Fill in the Gaps, If Needed
Some recruiters also recommend using the "Tell me about yourself" part to mention something that you might feel less than confident about on your application. For instance, you might have a gap in your career, or you might have left a job too soon after joining. 
In all likelihood, the recruiter might have already picked up on these things, and there might not be another chance for you to address this in the interview. Moreover, by speaking about this directly, you come across as upfront and proactive. However, if you are doing this, make sure to weave this well into the overall narrative, and do not go overboard with the details. 
That being said, if you have gotten fired in the past or the issue is more sensitive, you might not want to open your interview with this. Instead, wait until things get more comfortable and for the recruiter to ask about the gap before you offer an answer. 
Include Examples 
The answer you offer can get much more interesting if you strengthen it with examples. For instance, instead of merely describing yourself as a team player, consider what incidents you can use from your previous experience to illustrate the point. 
You can talk about a time when you beat a deadline by working well on a team or how the results were improved due to collaboration. Or, if you think you are detail-oriented, how has it helped you in your previous role? 
Avoid Talking About Personal Life 
It is common for candidates to get sidetracked and talk about points that aren't particularly relevant. It's best if you are conscious about discussing your personal life and avoid it. 
Of course, you can and should include personal details that will support your professional story, but only sparingly. Moreover, the interviewer does not need to know all your interests and passions unless you think it fits the company culture. 
Talk About Key Skills 
Also, make sure that you tweak the narrative to tailor it to the specific role you are looking for in the job market. You should discuss both technical and soft skills to stress the fact that you are a well-rounded candidate. 
You can then dive into any role-specific skills that appeal specifically to the job you are seeking. In case you are applying for a managerial role, you should highlight any successes you have had in leading a team. 
Be Concise 
You want to pique the interest of the recruiter to hear what else you have to say. But there is no need to describe every single detail of your career or resume. One common complaint from recruiters is that most job applicants approach this question like a dissertation. 
There is no ideal length that you should stick to; however, you might tend to start losing steam after the first one or two minutes of uninterrupted talking. Therefore, it is up to you to decide how you should answer. Additionally, you should also read the room. If the other person looks or sounds bored, it is best to wrap it up. 
Practice but Don't Memorize
Now that you have a clear idea about the points you need to include, it is time to think about what you want to convey and how you want to do it. After preparing a narrative, read it out loud to yourself. 
If you want to go one step ahead, record your answer and wait for a while before you listen to this. This will allow you to distance yourself and the perspective you had when you were writing it.
So, when you play it back, you will be able to see if your response sounds solid and credible. You can also ask other people to hear your pitch and ask for feedback. Needless to say, there is a difference between practicing and memorizing. You do not want to do the latter as it will not come off as authentic. 
Takeaway
Bear in mind that every interview will be different, and each recruiter might have a different set of scales to measure a candidate. However, you will invariably find yourself talking about your previous experience at some point in the interview. 
Now that you have a basic idea about this part of the hiring process, you can start preparing your answer. An interview is all about having a conversation that puts you forth as a confident candidate. 
The views expressed in this article are those of the authors and do not necessarily reflect the views or policies of The World Financial Review.