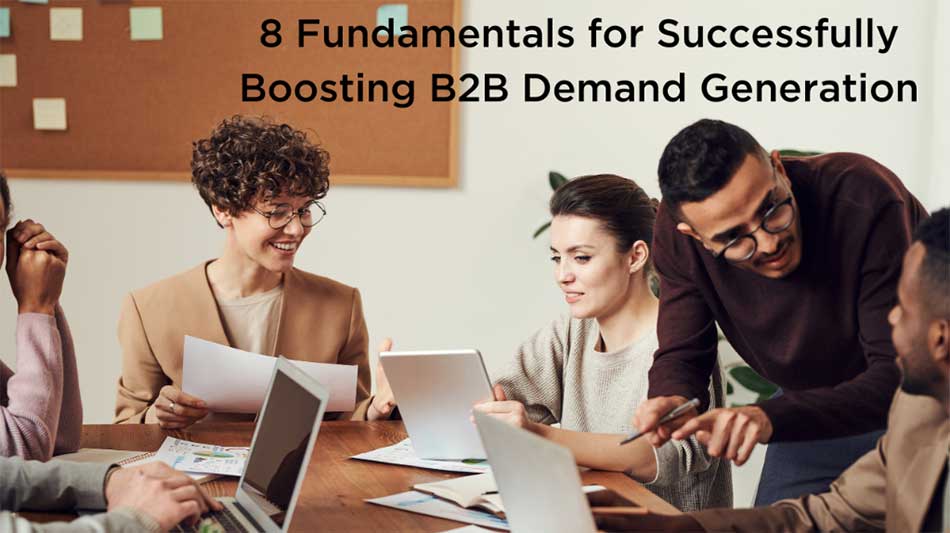 By Daniel Martin

The success of a company depends on getting customers through the doors. It doesn't matter whether you're dealing with B2B or B2C customers. Creating awareness and interest in what your company has to offer is vital.
Brand visibility is important because of the amount of competition in the market. Many other companies may be offering the same products or services as you do. Indeed the same applies to your specific niche.
A winning strategy is to create awareness within your audience of the need for your brand. And that is the critical role that demand generation plays.
Demand generation is changing the way marketers think. It means paying attention to the top of the funnel, which is about getting the customers to know your brand. This is unlike lead generation, which goes further down the funnel.
The mistake many marketers make is thinking that anyone who visits the website is ready to buy. Yet up to 96% of site visitors want more information. A paltry 2.35% of B2B customers who end up on your landing page will convert. Yet a simple solution could be to give more product information.
Our article explores some fundamentals for successful boosting of B2B demand generation.
Understanding Demand Generation
It is common for people to confuse lead generation and demand generation. Yet, from the introduction, it is clear that demand generations' focus is on the top of the funnel. At this stage, customers are in the knowledge-seeking phase. They want more information about the brand, products, or services.
Therein lies the strength of demand generation marketing. It is a concerted effort to boost brand awareness with the right strategies. In B2C marketing, the brief is a little bit simpler. It is about targeting one customer; who is the final decision maker.
In B2B, it is quite different. Typical organizations have many decision-makers before buying a particular product or service. You have to convince more people within the chain that your services are superior. 
As it is, demand generation marketing is quite tricky. It applies the pull method of marketing, where the power resides in the customer. They should seek you out because what you offer them is relevant to their pain point.
Pull marketing is different from push marketing. In the latter, you send out marketing messages as you deem fit. The disadvantage is that you can't be sure whether it is reaching the target audience. Indeed, measuring ROI can sometimes be quite difficult.
We can summarize the key points of demand generation as follows:-
 

Creation of brand awareness and authority

The creation of engaging content whose aim is to arouse interest and cultivate leads.
B2B Demand Generation Fundamentals
Let us look at some fundamentals of B2B demand generation.
1. Start With a Good Understanding of the B2B Target Audience
Let's take the example that you sell business software. It would be a big misconception to think that all companies need your services. A solid first step is to understand who your ideal buyer is.
That is why marketing 101 insists on developing a buyer persona. It should encompass all the qualities of your target customer. Understanding their pain points makes it easier to customize your offering.
It also helps to understand the buyer's intent. That entails knowing how customers will find your company. What platforms do they use in their search for information? Many B2B customers will use websites, including landing pages and blog posts. They may also have an interest in advertisements and face-to-face events. The latter include trade shows and conferences.
At the end of this part, you should have a list of prospective B2B customers.
2. Get Your Foot in the Door with an Appointment Setter
An appointment setter is the bridge between the sales team and potential clients. They have the vital role of making calls and scheduling appointments. But beyond that, they identify prospective customers.
Remember, the appointment setter's role is not to sell. Rather it is to start that relationship that could lead to conversions further down the line. But, the appointment setter must be a good communicator. At the initial interactions, they should spark the prospective client's interest.
3. Develop Quality Content
Quality content is a running theme in any digital marketing strategy. You will often hear of consistent, engaging, and relevant content. 
Many modern buyers will conduct proper research before making a buying decision. The same applies to B2B customers. For them, it may even be more critical because of each decision's weight.
A wrong decision can impact the bottom line. Also, it can interfere with normal business operations. That is why a typical B2B purchasing decision can take a very long time to reach. 
Research shows that B2B customers only spend 17% of their time with suppliers. It becomes even less if they are vetting more than one supplier. That means your sales representative may only get 5 to 6% of the time.
Yet, it does not mean that the teams do not do proper research before deciding. That means they depend a lot on your publications. Other sources of information are blogs, case studies, videos, and whitepapers.
So be very strategic about the type of content you have. Also, have a good understanding of the buyer journey. 
Only then can you develop materials that will meet the needs along the sales funnel. This would be:-
Awareness creating material at the top of the funnel (TOFU). Videos and blog information go a long way in helping you achieve this.

 

Educational content in the middle of the funnel (MOFU). White papers, eBooks, and tutorials would be the right content.

The bottom of, the funnel is about closing the deal. Live demos, case studies, and consultations are ideal tools.
Content generation is also great for thought leadership. It requires putting out content that shows your expertise and authority. So look for guest posting opportunities, link building, podcasting, webinars, or speaker opportunities.
4. Content Syndication to Improve Engagement
Content syndication is a concerted step to get your content in front of the ideal customer. You can never be sure who will see your posted content. The same applies to guest-hosting opportunities and so on.
You need to be more aggressive in ensuring content reaches target customers. Some practical ways to do this are to:-
Target the B2B decision-makers through targeted outreach

Use paid ads or boosting posts to push content

Harness the power of

distribution platforms

to promote your content. These include Social media platforms like Facebook or LinkedIn groups. Others are Reddit, Taboola, and Outbrain.
5. Advertising
Advertising will continue to remain relevant in B2B lead Generation strategies. You can go for traditional/ analog media like TV or print. There is also the option of branded PPC campaign strategies on online platforms.
Advertisements are an effective way of increasing brand visibility. The more visible, the more of an authority you become.
6. Email Marketing
Email Marketing is effective because it allows for better targeting. From our first point, you should have a comprehensive list of prospective clients. Proper targeting will allow you to segment them depending on their needs. That makes it easy to send targeted communication which improves open rates. 
Remember, the B2B customer is not buying a product for personal use. Thus, your brand proposition must be powerful and have relevance to them. 
Segmentation also allows for email customization and personalization. A busy procurement manager will not open an email you address to everyone else. But you could catch their attention by addressing them by name.
Email Marketing also allows for further engagement with the customers. Also, keep them up-to-date on new products/promotions that may benefit their business.
7. Event Marketing
After the Covid outbreak, there was a decline in face-to-face events. But, online/virtual events picked up quite a bit. You still get the benefit of what you would with physical interactions.
Event marketing is a fantastic way to achieve B2B demand generation. It provides a platform to get and build trust with prospective clients. The networking opportunities provide a means to showcase expertise.
Astute marketers can also seek speaker opportunities to showcase industry authority further. Prospective clients can see your expertise. All while gaining from your knowledge of the industry. If you position yourself as a solution provider, they seek you out more.
8. Social Proof 
Testimonials and customer reviews are powerful tools for B2B demand generation. It is a clear testament that your products or services are high quality. Respective customers will develop trust in your brand, thus higher chances of conversions. 
Final Thoughts 
B2B demand generation requires proper strategizing and planning. Remember, you're dealing with a whole chain of people who make decisions. That means you must convince each one of them of how good your products or services are. We have looked at some fundamentals to boost your brand visibility. 
Trust is a significant issue. If the prospective clients do not know about your company, they will not buy. There are so many demand generation marketing tactics you can use. These include social proof, events, advertisements, email marketing, and content syndication.
Finally, ensure you have relevant metrics in place. It helps to measure the success of whichever strategy you use.

About the Author:
Daniel Martin has hands-on experience in digital marketing since 2007. He has been building teams and coaching others to foster innovation and solve real-time problems. Dan also enjoys photography and traveling. Linkedin: https://www.linkedin.com/in/adanielmartin/
Twitter: https://twitter.com/danielmartin_a
Facebook: https://www.facebook.com/a.danielmartin
The views expressed in this article are those of the authors and do not necessarily reflect the views or policies of The World Financial Review.