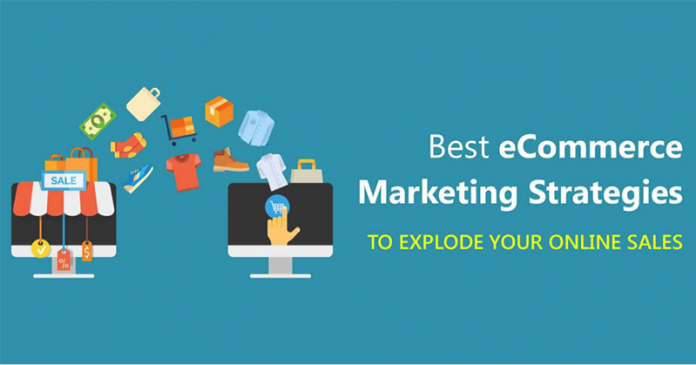 Starting an ecommerce platform is definitely a complex and tough task. However, depending on your financial terms and availability of time there are many different ways in which you can develop your own multi-vendor marketplace platform. Post starting your own online platform, directing the traffic to your website is the most challenging part. This is what will make your website a hit. I.e. the success of your website depends on the amount of traffic your online marketplace platform attracts. Once you gain good ranking on the SERP (Search Engine Ranking Page) you will automatically gain attention as your name will appear on the very first page of the search engine.
This is obviously the dream goal of all the online marketers. To make this possible, one has to know the nuances of how to market the website and what are all the viable eCommerce marketing strategies that can be used. To build a steady building a strong foundation is a must. Likewise, one needs to be aware of the basics for the end result to be the best there could be.
Deviating traffic to your website is not as easy as it might seem. There are different types of web traffic as well. And you will be able to make proper informed decisions only if you are aware of them. Let's take a crash course on the different types of website traffic there is. This will gear you for all the marketing related strategic planning.
Organic Traffic: considered to be your highest traffic source, this is the type where the traffic who visits your website through a keyword based search on the search engine.
Direct Traffic: This is the kind of traffic that is directed to your website when the user directly visits your site, without conducting any type of keyword search. Usually through directly typing your web address or they would have bookmarked you.
Referral Traffic: The kind of traffic that you earn when you are referred by another web site. It can be intentional or not. Eg: through backlinks
PPC Traffic: Pay-per-click is a type of traffic that you pay for. It can be Google ads or any other PPC ads on search engines or other websites.
Social Media Traffic: The most well-known type of website traffic. It is the traffic that you get from social media platforms such as Facebook, Instagram, LinkedIn, Twitter etc
Now that you are aware of what kinds of traffic you can attract, you can plan your marketing strategies accordingly. Depending on your budget and time, you can go about it all by yourself or you could hire a marketing team to do it for you.
However, here are a few proven eCommerce marketing strategies that will definitely get you the required attention.
1. Media Advertisements
Is one of the easiest and cost-effective ways to direct traffic to your website? Google shopping spend grew by 41% from last year over just text ads in the first quarter. Just like television advertising, online ads also play an important role in the growth of your online platform.
There are many types of online advertising as well.
Paid Search Ads: The PPC traffic is earned through this strategy. These text only ads will appear at the top of your search engine results. They produce a high conversion rate and hence a must include in your marketing plan strategy. You can find suitable PPC management software for your business at adplorer.com.
Display Ads: Also known by the name banner ads, these are the advertisements that you can see on your mobile games, other websites, and applications. They are popular for advertisers and publishers alike as they provide high ROI due to CPM pricing. What Is CPM? Cost Per Mile or cost per 1000 impressions, meaning you pay a certain amount per 1000 views. The CPM formula is, CPM = 1000 * cost / impressions. This helps in building brand awareness and tends to follow your browsing history. Hence it is also referred to as retargeting. And according to word stream's latest study, an average conversion rate across all industries is about 77% through display ads, compared to 3.75% for search ads.

Product Listing Ads: This kind of advertising is on the raise since 2018 since it created about 60% of the clicks in its first quarter. The multiple products with their prices that appear on the top of your SERP is nothing but product listing ads. Be mindful of the competitive prices.
2. Influencer Marketing
This is the current trending advertising method. This helps in gaining the attention of all the users who actively follow that influencer. This method helps gain trust and recognition in an otherwise narrow eyed market. Apparently 49% of consumers rely on influencer recommendations for a purchase decision. A user's content has more weightage than the brand's content. These are usually seen in social media, YouTube, and some famous blogs. Than the international celebrity influencers, customers are relying more on micro influencers' content.
3. Content Marketing
This includes all the newsletters, emails, blog posts etc. The term used for such a plan is in-bound marketing as the customers come to you for purchases. This is not only educational but also helps in gaining organic traffic through the keyword search. Long blog posts consisting of informational guides boosts organic traffic by as much as 2 to 3 folds over the course of a year. You can also use multiple tools such as MozBar that will help you identify the websites with good domain authority. You can also initiate sign-ups through personalized emails. You should also look into email marketing software, like these mailchimp alternatives that deliver better analytics for your use.
There are two ways to about it-
Product recommendation and targeted promotion during customer's digital shopping process

Personalized follow-up emails: This is what will remind your customers to visit your website again and check out the products that may have been left in the cart.
4. SEO Optimization
One of the oldest and main digital marketing strategies that has been made use of over two decades. This is a fundamental part of digital marketing that helps drive organic traffic to your site. It is basically the method used to optimize your webpage and its content so that your website will be easily discoverable on the search engine. There are many resources available online that will help you build a strong SEO content which in turn will help you gain a good SERP ranking resulting in great visibility and traffic.
5. Social Media Marketing
A well-known marketing method; don't think there is much to be explained in this aspect. The whole world is connected through one or the other social media platform like twitter, Facebook, Instagram etc. These platforms have to be considered to be a boon in this field of marketing. As per consumer market insight for Germany, the most used social media platform in Germany is Facebook, followed by Instagram. The only demographic where this isn't the case is 14-19 years olds where Instagram is the most used. The ever evolving platforms have made it easier for customers to reach out to the brands they are interested in. All the popular social media platforms are continually rolling out new features and tools to help brands effectively reach their customer base. It plays an important role in building your brand awareness, by just maintaining a strong SEO. Social media marketing can also take the form of video ads, produced by experts such as https://tinglymedia.com/.
The key to successful marketing lies in understanding that there is no particular or fixed way to market your online platform. You can devise your own formula and come up with a new concoction of a successful marketing strategy. Always be meticulous in approach. As long as you know your product and are detail oriented, there are fewer chances of you going off the rails.
Don't worry we are always here to help you out in any way possible.
Leave us a message and we will get in touch with you.
The views expressed in this article are those of the authors and do not necessarily reflect the views or policies of The World Financial Review.