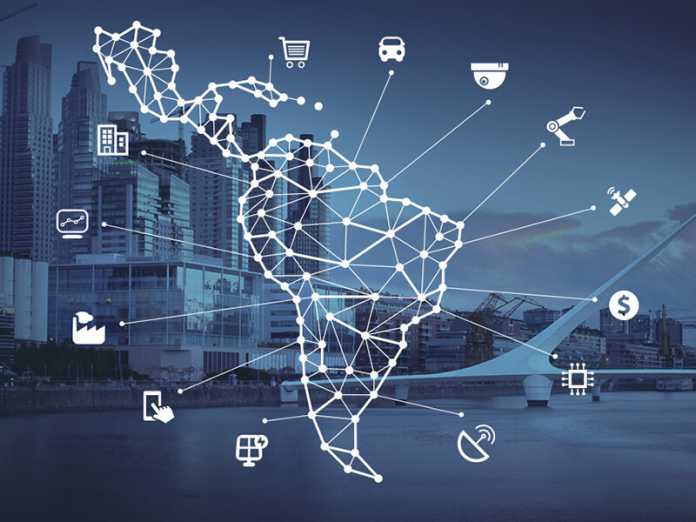 In Latin America, as in much of the world, the ongoing global pandemic has hammered economies, as people and businesses have been forced under severe restrictions intended to hold back the advance of COVID-19. Yet with vaccines now being widely dispensed, the end of the crisis appears in sight. For businesses that were able to adapt or respond to the pandemic in order to grow, including many financial technology (fintech) companies, the future looks bright.
Digitization and the shift online was already underway at a considerable pace, however, the global pandemic has seen it explode. With people increasingly forced to shop and carry out day-to-day tasks via their phones and computers, companies offering consumers opportunities to make online commercial life easier have been well positioned to expand during the pandemic.
Their success has seen a number of tech companies pivot to move into the fintech sphere, while traditional financial institutions have also been forced to sit up and take notice, with major banks embracing fintech solutions and partnering up with some of the budding young companies that are disrupting the finance industry.
Recently at Biz Latin Hub, we ran a series of articles highlighting some of the tech companies from the 16 countries around Latin America where we have a presence. Having achieved expansion during the crisis, we expect them to keep growing once the pandemic subsides.
Here, six fintech companies from countries around the region that I expect to have a bright post-pandemic future are considered, including firms based in Colombia, Costa Rica, Mexico, Peru and Uruguay.
PayU (Colombia)
While Rappi, Colombia's most famed tech company and first unicorn, has recently moved into the fintech sphere by announcing the launch of a digital bank in partnership with Colombian banking heavyweight Davivienda — and as such is certainly one to keep an eye on — I have picked out PayU as a Colombian fintech to watch in the post-pandemic future.
That is because the company, which was already on a strong upward trajectory before the crisis, has seen a significant growth during the pandemic, as highlighted by statistics published on their website.
According to company figures, during the first seven months of 2020, PayU saw more than 120 million transactions processed in Latin America alone, as 47 million individual accounts made purchases from more than 25,000 e-commerce platforms.
With a presence established in Argentina, Brazil, Chile, Mexico, and Peru, as well as its home country of Colombia, the firm has its fingers in some of the biggest economic pies in Latin America and is only likely to grow in those markets and expand into new ones.
OMNi (Costa Rica)
OMNi started out in November 2019 as OMNiBici, a bicycle rental application based in Costa Rica's capital city, San José. However, founded and backed by a group of highly-regarded investors, the company rapidly expanded, first into ride hailing with its OMNiTaxi service and subsequently stepping into the fintech sphere with OMNiMoni.
Today OMNi is categorized as a 'super app', due to that range of tech-based services, with OMNiMoni, which was launched in July 2020, serving as a digital wallet to manage funds and debit cards, make payments, transfer funds, and request loans.
Having ridden out the impact of the pandemic and overcome the enforced shuttering of its bicycle sharing service by branching into fintech, the company has shown the sort of resilience that is essential for success in a competitve commercial environment.
Given that the company announced it would be employing 2,500 more people in April 2020 — amidst severe commercial pain and uncertainty due to the pandemic — the company looks to have a very bright future indeed. 
Konfío (Mexico)
Located in Mexico City, Konfío provides various types of loans for small- and medium-sized enterprises (SMEs), offering business loans of up to $6 million, credit lines of up to $2 million, and "entrepreneur credits" of up to $85 million. On top of this, Konfío's catalog of services includes a virtual credit card and life insurance with a value of up to $1.5 million.
The company also provides a tool to access the credit score and credit history of a business.
Founded in 2013, the company has seen considerable growth over recent years and today is one of the biggest recipients of funding in the Mexican fintech ecosystem, having generated more than $143 million in investment, including from Japanese corporate titan Softbank.
In a mark of the demand the company has witnessed during the pandemic, in September 2020, Konfío announced that it reached an agreement with IDB Invest to receive a new credit line of up to $64 million.
With many businesses struggling during the pandemic and forced to seek lines of credit, and given the economic bounceback that will see many companies being founded in the post-pandemic period, Konfio can be expected to continue on its upward trajectory.
Kambista (Peru)
Kambista is a pioneering digital currency exchange platform allowing users to easily convert Peruvian soles to US dollars, both via its website and via its mobile application.
As a winner in 2018 of Startup Peru — a competition run as part of the country's National Program of Innovation for Competitiveness and Productivity — the company received seed capital and assistance in scaling its business.
Notably, the platform reported a tripling of users during the pandemic, with 1,000 new accounts opened per month during the first months of the pandemic, while the company reached more than 300,000 transactions in the midst of the crisis.
In a mark of the bright future ahead for the company, CEO Daniel Bonifaz, who only set the company up in 2016, reported in July that the company had managed to reach a much wider demographic than it was initially intended for, with smaller-scale and older users adopting the platform. As such, it can be expected to continue to grow once the pandemic subsides.
Paganza (Uruguay)
Paganza is an application that allows its users to pay bills from their smartphone by directly scanning invoice barcodes and debiting the money directly from the bank account they have linked to their account.
With Uruguay witnessing exponential growth in electronic and online payments even before the pandemic struck, the company had built up a strong client base and was well-positioned for the newfound reliance on digital payments that the crisis brought about.
Having established partnerships with locally-based banks including BROU, BBVA, Scotiabank, HSBC, and Santander — the latter of which had 300,000 users, or approximately 10 percent of the adult population in the country — the company is well established in the market, helping it to rise to be one of the top financial apps downloaded in the country.
With a significant share of Uruguay's already $15 billion per year digital payment market, Paganza can be expected to continue its upward trajectory once the pandemic is over.
About the Author
Craig Dempsey is the co-founder and chief executive officer of Biz Latin Hub Group, an organization dedicated to assisting investors in Latin America and the Caribbean by providing market entry and back-office support services. Craig is an Australian military veteran and has been deployed overseas on numerous occasions. He is also a former mining executive with experience in Australia, Canada, Colombia and Peru.
The views expressed in this article are those of the authors and do not necessarily reflect the views or policies of The World Financial Review.