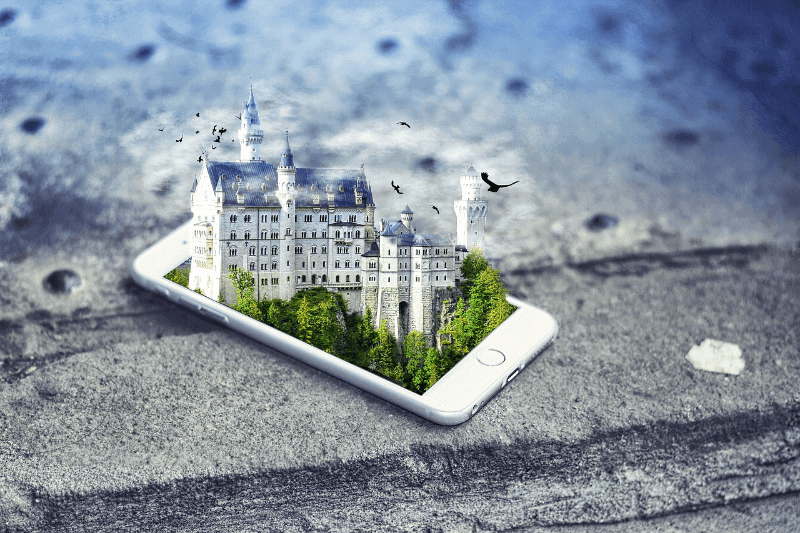 In 2017, it was predicted that more than half of colleges will be using virtual reality for educational purposes in 2021. Now, in 2021, the global VR market size is around 5 billion USD, and it's projected to grow to more than 12 billion in just three years.
Benefits of VR
Schools have a lot to do with it as VR and AR technologies proved to be the perfect means to enhance students' learning experiences. In recent years, the implementation of such cutting-edge technologies has allowed students to
become more engaged;

bring out their creative potential;

understand complex topics and concepts better;

improve the overall performance.
With cutting-edge VR solutions, it's now possible to present many tasks – from a typical poem analysis essay to a complex research paper – in a new and exciting way. With this technology, no assignment is boring anymore.
Projects to Use in Your Studies
During the pandemic when schools switched to online learning, VR and AR solutions for education thrived even more. Without the opportunity to explore the world outside of their own apartment, both students and educators turned to technology, and it, in turn, provided seemingly endless possibilities.
If you're willing to explore the new exciting learning experiences that modern VR technologies offer, here are a few projects for you to start with.
 HistoryView VR – History
History is one of the disciplines that can benefit the most from implicating VR solutions. Now, even with the travel restrictions still not lifted in many countries, you can visit numerous historical sites for free with the help of the HistoryView VR project.
What's more, you don't even need a VR headset to do that as HistoryView is available on tablets and Chromebooks. As of today, this highly impressive online tool offers immersive tours of famous historical sites globally, as well as the world's best museums.
With HistoryView, you can visit the Titanic or Salisbury Cathedral, Roman Colosseum, or the Amazon rainforest… Isn't it a perfect way to find inspiration for your next history or geography essay?
However, there's always a problem with essays – proper formatting. When your paper is ready, don't forget to check this annotated bibliography example APA to make sure your formatting meets all the requirements. Otherwise, you may get a lower grade than expected, even if the contents of your essay are flawless.
Story Spheres – Making Presentations
"Everyone has a story to tell and a place they'd like to tell it," Story Spheres creators state. What they do is offer the tool to create that unique story in the chosen setting.
Story Spheres website enables students to upload 360-degree images – the ones they've taken themselves or downloaded from open sources. Then, they can add music, narration, and sound effects to complete their VR story.
Thus, any essay – a film or a book review, for example – can be presented in a far more engaging way than simply reading it aloud to the class. You can even present critical lens essays in a similar way if you are creative enough! You'll just need to find the right images and switch your imagination on.
Mondly – Language Learning
It may seem unobvious, but language learning is a field of knowledge that has benefited a lot from the development of VR technologies in recent years.
According to experts, learning a foreign language is much more effective in a natural setting than in an instructed one. Now, there's no need to travel abroad to find that natural setting – with the help of VR, you can have it right in your headset or tablet.
There are many VR language-learning tools out there, but Mondly has long established itself as one of the best solutions. Once you enter the virtual setting as your avatar, you can experience some of the most common situations that a tourist in a foreign country would. Then, you can talk your way through them without anyone actually hearing you speak!
Merge Cube – Tangible Experience
It's impressive enough to see something that is not real, but what about being able to touch it? This is exactly what Merge Cube enables you to do: with its help, you can hold (well, not physically) digital 3D objects and interact with them in a whole different way.
You can hold practically anything, even something you could have never imagined to touch, like the Earth or a DNA molecule. Medical students can dissect a virtual frog, history majors – touch ancient artifacts, and future engineers – explore complex mechanisms.
What's more, the tool is compatible with 3D creation software (Paint 3D, Tinkercad), which means you can preview your 3D design before printing it.
Final Thoughts
The world is changing rapidly, and every year students are offered new exciting tools to enhance their learning experience. However, it's vital to understand that all the impressive VR projects mentioned above are just the tools – the ideas still have to be your own!
The views expressed in this article are those of the authors and do not necessarily reflect the views or policies of The World Financial Review.