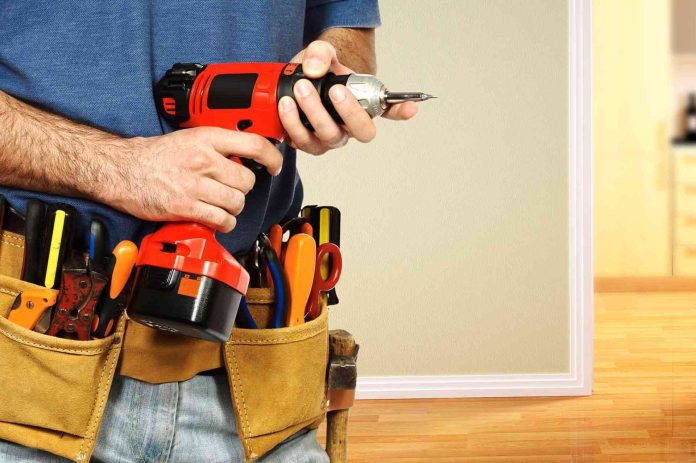 3 Handyman tools
How can you improve your handyman business without taking on more workers? Here are 3 top apps to help you out on any job site. Therefore, by adding technology to your arsenal of knowledge, experience, quality tools, and handyman insurance, your business will have a real competitive advantage.
1. Bubble Level
One of the most important tools in any handyman's belt is the spirit level, or bubble level. Bubble Level is the highest rated app of its kind on the Google Play Store, with nearly a quarter-million positive reviews. In addition to using he traditional horizontal spirit level to determine whether a surface is level, it also includes a bull's eye level which is circular- allowing you to measure how level a plane surface is on an additional axis. Moreover, Bubble Level also allows for recalibration in case you need the calibration of your device redone, or if you need a custom measurement for your needs. With handyman mckinney using Bubble Level, you can easily guarantee that all their projects are perfectly level and that the results are accurate.
• Why is the Bubble Level app useful for your handyman business?
There's nothing that slows down your work than not having the right tools. And why wouldn't you have your spirit level with you when you get to the job site? You may have misplaced, or forgotten it.
You have inland marine insurance to cover tool theft in transit, don't you? Moreover, your insurance company would have insisted that you add it to your general liability insurance, especially as your line of work means driving to different job sites.
Just like your handyman insurance coverage gives you peace of mind, so will this app. When you get to your job site and discover that your spirit level is gone, you can still do your job.
2. Handyman Calculator
If you are frustrated with how simple and basic traditional calculators are and wished they were more useful, this is the calculator for you!
Handyman Calculator is neatly divided by calculator type, including highly specialized ones like:
Cut List Calculator,

Board Food Calculator,

Feet and Inches Calculator (with the ability to round),

Right Triangle Calculator,

Fraction Calculator Metal Calculator and many more.

How does Handyman Calculator make your job easier?
It doesn't just do calculator stuff. It also includes additional tools like a Note Pad, TO-DO List, Time Tracking Tool and others. This app is definitely a must have for anyone doing handyman work, from DIYers to the professional handyman contractor and the handyman small business owner.
Here's another reason to get this app: inaccuracy. Anyone in the handyman business knows the rule, Measure Twice, Cut Once. What does bad workmanship mean to your business?
The worst scenario is that something breaks off or falls down and causes bodily injury to your client. You could find your handyman business-facing medical bills that you are not in a position to pay.
Unless you have invested in general liability insurance or handyman insurance, of course.
General liability insurance or handyman insurance will cover your business in the event of bodily injury to a third party. This type of handyman insurance policy also covers your small business against property damage. It is best to prepare yourself, as anything can go wrong in your line of work.
3. Woodworking 101 – Woodwork Lessons
The design of this app is to introduce beginners and DIY enthusiasts to the world of woodworking, it is also useful for handyman veterans as a refresher or quick reference. Alternatively, it serves as useful quick training for a handyman business owner or contractor hiring a first-time handyman.
• Why is Woodworking 101 valuable to your handyman business?
In addition to the wealth of theoretical lessons, there are plenty of resources. It gives you quick reference if you are unsure about a task, or if you have an interest in expanding your knowledge further in your free time. But if you make a mistake, your handyman insurance will have your back.
Get it right with the right tools … and handyman insurance
General liability insurance for your handyman business will protect your small business from third party claims relating to bodily injury and property damage. A good insurance company will customize your insurance coverage to include inland marine to protect your tools. Contractors Liability will provide a free quote from the best carriers at the best rate. Call (866) 225-1950 for a free 5-minute quote.

The views expressed in this article are those of the authors and do not necessarily reflect the views or policies of The World Financial Review.