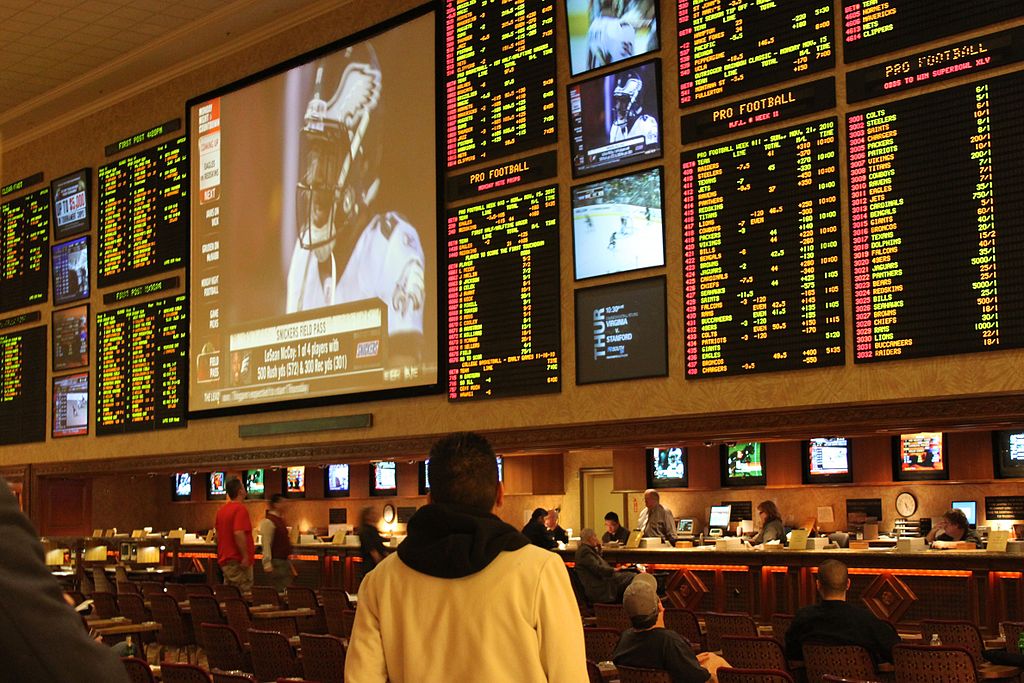 It's been almost 12 months to the day since the U.S. sports betting industry received the biggest possible shot in the arm from the Supreme Court. On May 14, 2018, the Supreme Court ruled against the Professional and Amateur Sports Protection Act of 1992 (PASPA). This federal sports betting legislation prevented any state but Nevada from accepting wagers on America's four major professional sports leagues.
However, following a protracted legal battle between the state of New Jersey and the PASPA, the U.S. Supreme Court ruled 6-3 in favor of New Jersey's efforts to establish a legalized sports betting industry in the state. The court declared that PASPA was unconstitutional, opening the doors to several states that have long since planned to operate legalized sportsbooks both offline and online. One thing is for sure, whether it's betting on the American League Central winner in Major League Baseball or the playoff finals winner in the NBA, pre-game and live sports betting has captured the imagination among Americans once again.
Six states hop on the legalized sports betting bandwagon
By the time American sports bettors celebrated the 12-month anniversary of legalized betting, some six states have opened up regulated sports betting industries within their state lines. This includes New Jersey, Delaware, Mississippi, Rhode Island, Pennsylvania and West Virginia. According to ESPN, these states, including Nevada, have taken in sports wagers to the tune of almost $8 billion in the first year. There are plenty more states set to operate regulated sports industries in the months ahead, but we'll touch upon that in greater detail shortly.
Fox Sports confirms the launch of a new sports betting app
One of the biggest revelations to come out of U.S. sports betting's legalization is the announcement of Fox Sports' plans to launch their very own sports betting app this fall. It is by far the biggest move by any sports media company looking to take an interest in the world of sports betting. Fox Sports 1 and ESPN have already scheduled daily television shows dedicated to sports betting opportunities, so it seems only right that Fox looks to partner their shows with a reliable and regulated sportsbook of their own.
The new sportsbook app is set to be called FOX Bet, with real-money sports wagering set to operate alongside a string of free-to-play contests. Users wishing to play for free can enter to win cash prizes by predicting the game outcomes of specified major league sports games across North America. It's hoped that the free-to-play model will provide the perfect Segway into real-money betting for those across the U.S. that are entirely new to the concept of sports betting.
It appears that FOX Bet will be initially launched in New Jersey, with plans afoot to expand its offering beyond NJ's state lines in the months ahead.
MGM unveiled as the official sports betting partner of three of America's major league sports
Three of America's major sporting leagues, the NHL, MLB and NBA have moved quickly to embrace the new sports betting landscape. MGM has signed deals with all three leagues to become the "first official sports betting partner". Although the deal does not provide exclusivity for sports betting, it does grant MGM granular access to betting data and statistics that competitor sportsbooks won't have access to. The MLS has also agreed a four-year deal with MGM, giving MGM the ability to position their adverts down at pitch level. Meanwhile the MLS is also deep in discussions to decide whether franchises should be allowed to agree jersey sponsorship deals with sports betting companies from across the U.S.
Early indications also suggest that MGM and the MLS are keen to launch a free-to-play game of their own. Reports suggest that a fantasy sports-style game is likely to be their approach, building upon the success of the recent English Premier League fantasy sports game that has taken American soccer fans by storm.
Which states are set to launch regulated sports betting industries next?
A bill has been introduced in Connecticut this year to launch legalized sports betting via mobile devices and its tribal casinos. The state may be in negotiations to alter its current deal with the tribal casinos as, 25 years ago, the state agreed to give the tribal casinos exclusivity to casino gambling in exchange for 25% of gross slots revenue. Whether sports betting is considered "casino gambling" remains to be seen.
In Illinois, four recent amendments were filed in March regarding the state's placeholder sports betting legislation. The amendments will enable the state to decide the right model for its regulated industry, choosing from New Jersey's model for 15% and 20% tax on offline and mobile sports betting respectively; Mississippi's model that all online sportsbooks must be linked to land-based properties; the professional sports league model that sees the state take 0.25% royalties on wagers on the leagues; or a model that gives the Illinois lottery a monopoly over sports betting within the state lines.
Indiana's governor recently signed its sports betting bill into law on May 8, becoming the first Midwest state to legalize sports gambling. Meanwhile Montana's governor has also approved legislation for regulated state betting, giving the State Lottery 12 months to arrange a deal with contractors to provide sports betting at locations within Montana that already permit wagers e.g. bars, taverns and lottery machines. One state that has gone back to square one with its sports betting legislation is Michigan. A bill was passed at the end of last year, opening the door to a regulated sports betting framework in the state. However, the state's outgoing governor vetoed the bill, with the people likely to have to wait some months before a renewed challenge.
Even Washington D.C. has passed a legalization bill on sports betting, with New York rumoured to not be that far behind either. If experts are correct, almost three-quarters (70%) of U.S. states are expected to offer legalized sports betting in some shape or form by 2024. For sports fanatics in all four corners of the U.S. that is certainly a mouth-watering prospect.
Feature image: Land-based regulated sportsbooks like this one in Las Vegas could be nationwide soon (Photo by Baishampayan Ghose, CC BY-SA 2.0)
Disclaimer: This article contains sponsored marketing content. It is intended for promotional purposes and should not be considered as an endorsement or recommendation by our website. Readers are encouraged to conduct their own research and exercise their own judgment before making any decisions based on the information provided in this article.


The views expressed in this article are those of the authors and do not necessarily reflect the views or policies of The World Financial Review.