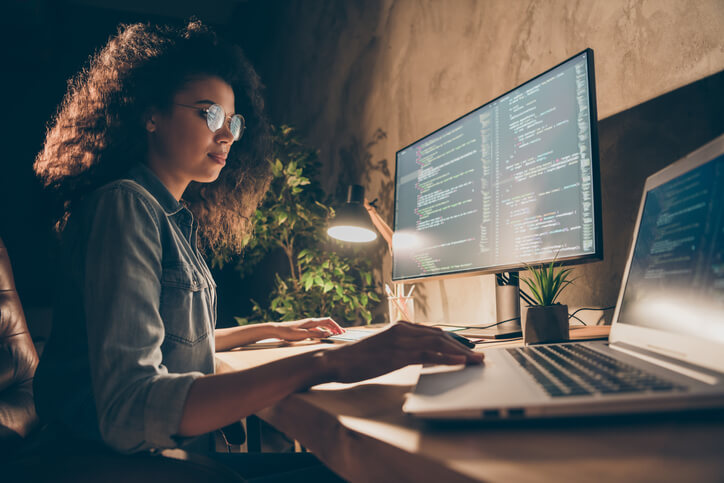 A talented developer is a rare bird and we all would love to get one. However, this species is not an easy catch. You can't just copy-paste a job description from Glassdoor and expect the best candidates to apply relentlessly. 
Just like the potential hires spend hours trying to create an impeccable eye-catching resume, you need to take time to make your offer stand out of the dozens of other options. 
In this article, we're going to talk about the dos and don'ts of writing software developers' job descriptions. What are the things you need to mention to make the candidates fly to you as if you're giving out free cookies? Spoiler alert: cookies alone won't do. 
Without further ado, let's begin! 
Make it readable 
Make sure that your software developer job description looks professional, appealing, and readable because the formatting matters. If your job posting looks like a wall of plain text, nobody is going to read it. And it won't matter how eloquent of an HR you are. 
The ideal length of your job description is around 200 words. That would make a few paragraphs with proper breaks. Also, you can use bullet points to make it more structured, but it's generally recommended to not go over five items because the longer the lists, the slimmer the chances that the reader will make it till the end. Leave out everything that's obvious or not essential. 
Use accurate key phrases 
To have the candidates check out your job posting, you need to make sure it catches their attention. And how to catch the person's attention on the internet? By using the relevant key phrases. Make sure you not only use the readable formatting but also the language that appeals to the people you're looking for. 
Mind you, these are not only the people who are actively seeking a job. You might as well catch the attention of someone who wouldn't mind changing their current position for a better offer. 
Say, you need to fill out the position of Senior Java Developer. Instead of writing "Senior Java Developer required, 5+ years of experience, X, Y, and Z qualifications is a must", try a more descriptive language that tells something about what's in it for THEM.
"A rapidly growing innovative team is looking for experienced Java Developer" – this phrasing brings more results because it basically "sells" the position to a candidate. Simply by reading it, they can imagine themselves in a new, better environment, and motivates people more than any financial perks. 
Write in normal language
It's hard to tell at which point in the history of recruiting it became hip and original to put words like "guru", "ninja", "wizard", "rockstar", and so on in the job description… As of now, every time a company starts looking for a digital virtuoso or IT shark, one developer hiccups. And we get it, people use this kind of language because they want to attract outstanding talent. But it's not working. 
This kind of phrasing may potentially attract two kinds of candidates: either those who are full of themselves or those who send CVs everywhere and hardly ever read past the title. 
So it's better not to use extreme modifiers and superlatives. 
Also, remember not to make it too specific because it might limit the number of potential candidates, and especially women. You've probably heard that most women won't apply for a job unless they are 100% qualified. So if you mention "motivated self-starter" as a requirement, some people might not apply because they aren't quite sure what it means. 
Tailor job requirements to the specific project/product 
To elaborate on the previous point, too many requirements can rob you of lots of good candidates. Try to include no more than four "must-have" qualifications and two to three "good to have" ones. These would be the optimal amounts. If you cut it down to fewer options, there won't be enough space for essential stuff, yet if you make the list longer, it will look overwhelming.  
Get help from other developers 
That's when it gets tricky with the requirements. How do you single out what's non-negotiable and what's unimportant/ optional/ can be taught? Ask your team members! The software engineers that are involved in the same project will help you figure it out. After all, they are the ones who will be working with the new employee, so it makes total sense to include them in this process. 
Tell more about your company culture 
Cultural fit is just as important as having the right qualifications, so make sure you include a couple of words about what it is like to work at your company. Mention your mission statement, your vision, what makes your organization special, and what people work in your team. 
Software developers spend a lot of their time at the office, so the workplace vibe makes a massive difference. Do you support remote work? Do you have flexible hours? Do you hang out with colleagues after work? You probably planned to bring it up later after they pass all the circles of the recruitment process, but it won't harm to give at least some idea why (and whether) this position is worth fighting for. 
Make it look urgent 
You probably have enough time to find the best candidate for a software developer position, but if you add some psychology to the mix, it won't harm you. Those candidates that are currently employed but consider changing their job deep inside will be more likely to apply if this is URGENT. You can compare the effect of this little trick with a hot goodie that's on sale now and runs out of stock soon. 
Check the spelling
If you noticed a grammar error in the candidate's CV, how would that change your perception? The same works vice versa. There are not many things that affect the company's image in the eyes of a potential employee, and a typo in the job description is one of them. Always proofread your tech recruiter job description, preferably a couple of times. Use spell-checking tools or ask the colleague to read it. It's never too much with things like that. 
Get rid of all the gender-specific language 
Looking to attract more diverse candidates? Then this is the first thing you want to do.  People might not admit it consciously, but gender-biased language can put them off any attractive position. To be on the safe side, don't assume that the readers are males or females for that matter. Using "they" instead of "he/she" is the way to go.
Make a video 
If there was one thing you could do to incorporate and convey everything we've just said… oh, wait. There is. Why don't you make a video? If your company has the time, resources, and creative potential to film a short video showcasing the team and explaining who you are looking for, that would be amazing. A sweet and short one-minute video will tell more about your organization than any written job description. Be sure that the candidates will notice you.
The views expressed in this article are those of the authors and do not necessarily reflect the views or policies of The World Financial Review.