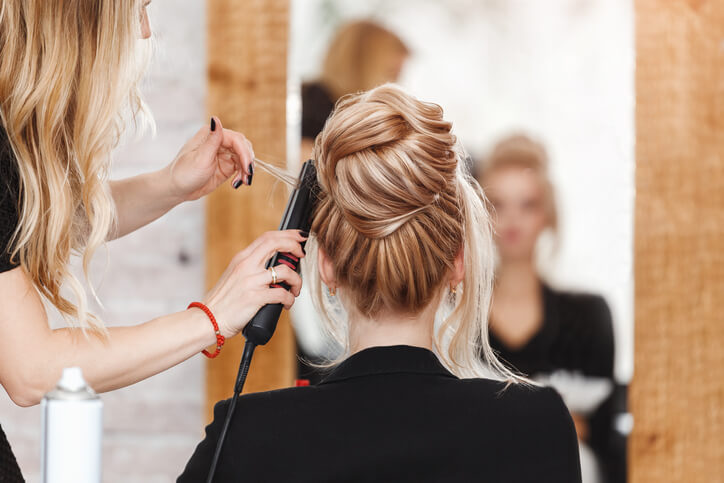 Tech adoption is now the single most important part of the big puzzle that's life. It has revolutionized life as we knew it, creating a wave that businesses have to either ride on or perish. For small businesses such as hair and beauty salons, it is almost impossible to market your services, interact with clients, or even stay afloat without integrating technology in your operations. And because technology evolves by the minute, there is always a new tech innovation that you haven't tried yet and that has great potential to make your life easier. It could be an app, software, or a machine designed to streamline the key aspects of everyday management of your salon.
This article highlights 10 of the important tech tools that can potentially transform your salon business.
1. Meet Your Stylist Software
According to the founder, Kati Whitledge, the software can help your salon attract high-quality clients and improve customer retention from the industry average of 30% to over 80%. This software is designed to match clients with the most favorable stylists in your team based on a client's styling preferences and personality, and a little of the stylists' experience and expertise. That increases your chances of satisfying clients, which then cultivates long-term, profitable, and all-around mutually beneficial relationships.
2. Intelligent hair brushes
Meet Kérastase Hair Coach by L'Oreal, the first in the line of intelligent hairbrush technology. Its inbuilt features will blow your mind. First off, it has sensors that measure and record the pressure you apply on a client's head during combing. It has an accelerometer and gyroscope, both of which analyze the speed of a stylist's hand during combing. To measure the dryness of hair, the brush has a microphone that magnifies the sounds hair makes during combing.
The beauty of these hair brushes is that you can pair them with a mobile app and then create a database for every client's hair condition and treatment patterns.
3. Virtual imaging apps
Your client wants to change her hairstyle but isn't sure of the best look to go for? Don't panic. There are digital makeover apps that you can install on your iPad or smartphone and use to help clients out with their makeover decisions. Virtual imaging apps allow people to "try out" different hairstyles and/or colors virtually before committing to a makeover. Some of the apps you should check out include Hair MakeOver, Perfect365, Hairstyle Magic Mirror, Beautify, and Hair Colour Booth. Most of these apps are free.
4. Online scheduling software
Not many people fancy phone calls when booking salon appointments or inquiring about your salon's services, payment methods, or rates. Online scheduling enables clients to remotely make appointments fast and conveniently. It also minimizes your front desk staff's workload so that they can focus better on serving the customers who are already in the salon. If you invest in futuristic salon software, it will significantly complement your inventory management, staff management, finance management, and customer management efforts.
5. MyChair App
This app helps you to keep track of appointments, send appointment reminders to minimize no-shows, and stay on top of your financial records. It is like one big storage unit for all your important business information.
6. Coffee brewing technology
Technology doesn't have to be based online to help your salon business grow. It could be as simple as a Keurig Mini Brewing System. This technology ensures there is enough coffee for everyone at your salon. In case you are hearing this for the first time, offering clients complimentary coffee is one way of building your reputation and convincing customers to spend a little bit more at your salon. It creates a welcoming, warm vibe space that clients want to keep coming back to. A good mini brewing system allows you to brew just the right amount of coffee needed at one given time, even if it's just a single cup. That minimizes wastage.
7. VISH
This hair management software is designed to help you manage your clients' hair color more effectively. It enables you to optimize your clients' hair color results while using minimal hair color products. The software doubles up as an inventory management tool that you can use to lower inventory costs.
8. Cryptocurrency
There are tons of payment processing systems out there for salons and spas, and that makes cryptocurrency payments seem a little unorthodox. But some salons have already started accepting Bitcoin for hairstyling services. One of the reasons you might want to consider this technology is because a good number of your clients already trade with Bitcoins. Such a move could help you make inroads into a huge untapped market of cryptocurrency enthusiasts.
From a financial management angle, cryptocurrency is beneficial because it eliminates the huge processing fees that your salon pays for credit cards. Secondly, it eliminates the probability of your unscrupulous customers issuing bad checks. And from a global perspective, cryptocurrency is a bit more stable in the face of inflation and currency fluctuations.
9. Social media
It is easy to not think of social media as a tech tool mainly because it is free (to some extent) and it is used by literally everyone. But businesses who know social media for the marketing powerhouse that it is have benefitted a lot from it. Think of any social media platform- Facebook, Pinterest, Instagram, or Twitter; all these platforms can help you grow your salon's clientele by huge margins. You can use Instagram or Pinterest for visual content marketing, paid Facebook ads to get more online traction, or Twitter hashtags to create a strong organic social presence for your brand. Social media is also the single most effective online reputation management tool. You can use it to engage prospective clients, showcase your expertise as an industry leader, and influence how online users perceive your brand.
10. Smart skincare
This technology allows you to evaluate and rate your customer's skin with regard to wrinkles, red spots, pores, and fine lines. The tech then gives you tips and recommendations of how to treat your client- and the products to use- for optimal results. A good example of this technology is HiMirror.
Conclusion
Each of the tech tools we have discussed will help you get ahead of the competition. However, you need to be creative and innovative in how you utilize them in order to be different from other salons. And for the apps that customers can download on their own, make sure you familiarize yourself with them because your customers might seek your expert guidance. You want to be seen as a top-drawer expert in your industry, so you cannot afford to "not know".
The views expressed in this article are those of the authors and do not necessarily reflect the views or policies of The World Financial Review.